Reflecting on 2022: Growth, Struggles, Lessons, & Goals for 2023
(Last Updated On: January 17, 2023)
In this post, I will be reflecting on 2022, How My year went in a nutshell!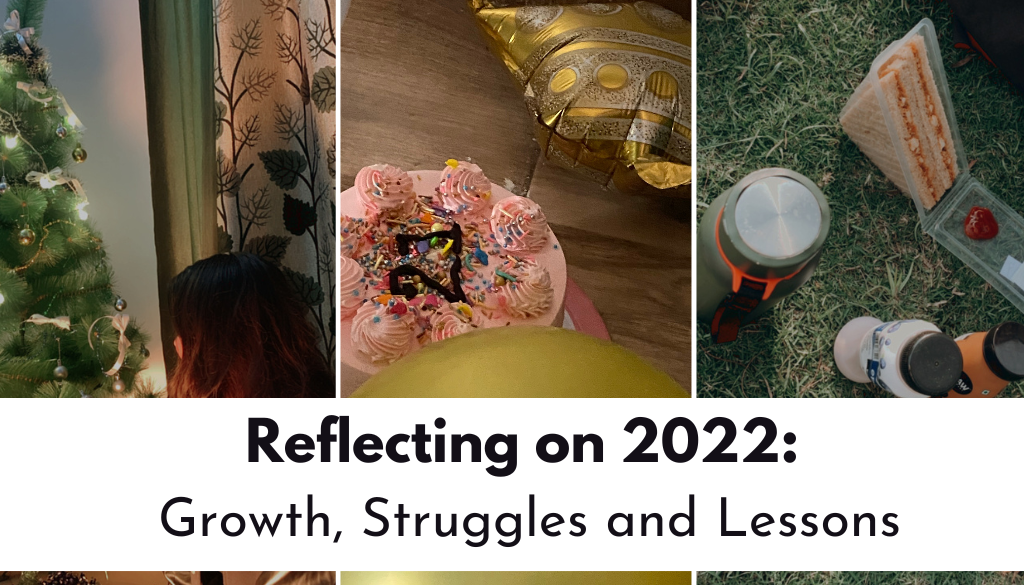 This post may contain affiliate links, which means I'll receive a commission if you purchase through my link, at no extra cost to you. Please read full disclosure here.
Hello My Beautiful readers, This is probably the first time I am putting up a personal Post about myself on this Blog. I figured since my blog is all about self-improvement. I Should share with you How my year went.
At first, I was skeptical about writing this, as this year wasn't the best for me in many ways but regardless now I have decided to open up a little and see How it goes
I will be mainly reflecting on this year in three simple Points: Growth, Struggles, and Lessons
Before I Start, I want to share, this year started not in the most pleasant way, I was not sitting down with my yearly goals like I used to every year, mainly because I was not doing my best mentally. I could not even see how my next month would be. I felt hopeless and did not know what my future would be like.
As I am writing this, I remember I had a few things I desperately wished for, and I am so glad that they came true. I will be sharing them with you now.
Reflecting On 2022
Growth: What Went well in 2022
Blogging
At the end of last year, One thing I desperately wanted was to do something of my own, I wanted to do something I love and also make money, and had no idea what and how will I find something that could serve me both.
At that time I was going to a workplace doing something I did not enjoy even for a bit and felt scared that This will be my future from now on. As I could not leave the job, I remember thinking What can I do while I am sitting with my laptop here in this office and still make money?
And so, Somewhere in all that confusion, I found out about blogging or blogging found me…
At the beginning of 2022, is when I learned about blogging. and within a week without a second thought, I started My blog: Bellflower lifestyle
Bellflower is a beautiful flower that symbolizes gratitude, Hence why I came up with this name.
It has been 1 year since I started this baby and I am so grateful and proud of it. This blog is so much more than a hobby or profession for me. Throughout the tough times, This blog is the only thing that kept me sane and going.
I have learned so much and made many mistakes in the process and I am still just getting started! I still consider myself a beginner and have a long way to go.
But I am happy to share that I have been able to grow my blog, make decent money from it, and leave my old gig!
So so so Grateful! I cannot express this emotion!
One year back, I had thought there is no way I would be able to get out of this situation and do something all of my own! This Blog means so much to me.
This is my blog stats from Jan2022 to 30 Dec 2022…You can see it growing slowly with time
I am extremely grateful for this growth all in just one year of blogging!
Journaling:
I spent plenty of time Journaling this year. Journaling really helped me in feeling better mentally and emotionally! I spend so much time writing in my notes, expressing emotion, and practicing affirmation!
This is why I love sharing journal prompts and affirmations with you all because they are so helpful when you are struggling! I want to continue to journal even more and Practice Affirmations.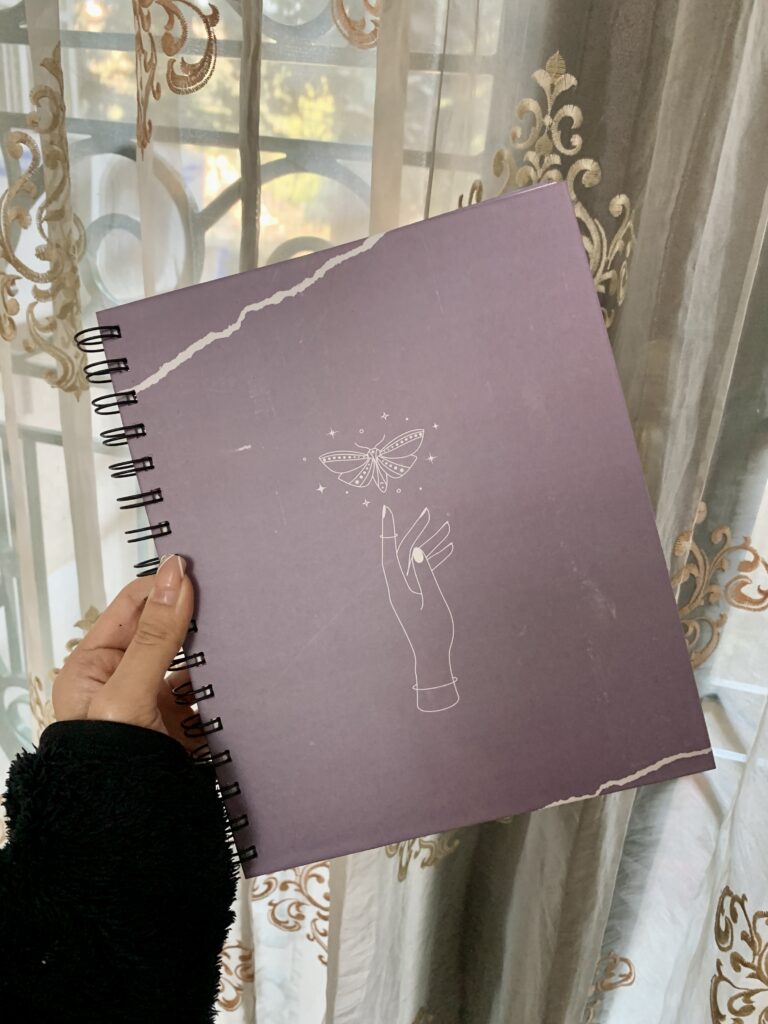 Learning:
This year I spend a good amount of time learning new skills and educating myself on self-growth and life. As I started this blog, I learned so much about this world and spent my time researching, learning, and practicing everything related to it.
I also read a few books and found myself reading lots of blogs and listening to podcasts.
Struggles : What did not go well in 2022
Mental Health
As I already mentioned above, The year 2022 was one of the most emotionally and mentally challenging for me. I struggled with feeling depressed, low, and anxious all the time. I spent most of the days and nights crying, than experiencing joy.
There was no one particular reason for it but many combined and it was difficult as I did not have a good support system around. I spend all the time on my own trying to figure out my emotions.
Now as I am writing this, I am in a much better place than I was at the start of the year. Now I am okay and able to manage my mental health in a better way 🙂
Exercise
This year I hardly moved my body more than I used to, Before 2022, I had spent good 2 years working out almost every day or 3 times a week. I was very consistent, but this year I did Way less.
Socializing:
Something I am a little bumped about is not going out much. I spent most of the time at home working and not going out to hang out with friends or travel. For the past month, I have already started to go out as much as I can and explore!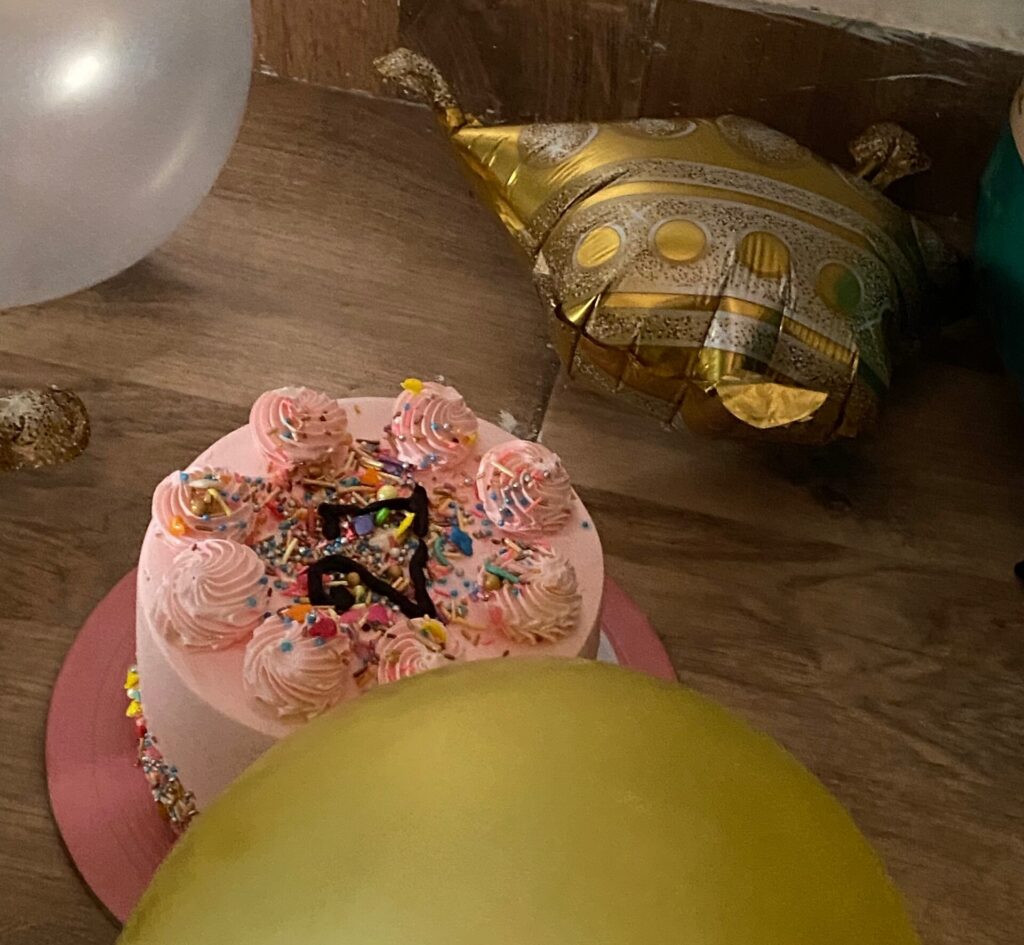 Lessons: What I learned in 2022
1. Choosing yourself isn't easy, you will find yourself surrounded by people who may not like when you choose to think for yourself, However having said that, IT IS WORTH EVERY SHOT!
2. Life is not fair to anyone, everyone is suffering from something or the other, Instead of wondering and complaining, Do what is in your control and do not give up
3. There will always come a situation where you will find yourself thinking constantly " there is no way out, I cannot find myself getting out of this mess" and you will, just like you did last time!
4. I read this post recently: "Allow yourself to get discouraged" and it changed my whole perspective on feeling discouraged and going through tough times.
I never thought that feeling discouraged or having different challenging emotions, can be such a good thing and is a sign that we are doing something meaningful in our life. These feelings are a sign that we are out of our comfort zone.
Notes I wrote
These out-of-comfort zone feelings, and experiences, I went through for the first time are exactly what pushed me to do something for myself. I considered this year to be "bad" or the worst year of my life before, but now, after reading this post, it has shifted my perception to see it as the year where I went out of my comfort zone and took charge of my life for the first time. And I have realized that there might be many more unfamiliar emotions and experiences I will go through that will help me grow.
Here are a few notes I want to share, This shows how my mental health progressed over the year from writing and feeling this way to by the end of the year, feeling more grateful and better.
May
Dear god, I don't know why I am going through this again. It sucks, I feel really sad, exhausted, lonely, and whatnot. Please help me out, It is hard to stay like this every day, Please god help me How do I deal with this sadness god? Please help me out.
I remember feeling so down, I went to my notes and wrote it…
Oct
Dear god
Its been so long since I have talked to you ❤️
I want to start by saying I am grateful for everything I have in my life…over the last 1 year I had been in an extremely negative headspace and low point in life …now a lot has changed I feel better…I feel okay…there are still days I cry. Feel empty and behind in life
I don't have any friends or exciting travel social life
Moving on I want to experience all these things and grow
One of the things I am most grateful for is, my blog
My blog has given me hope and will to continue too and it feels good to see it improving slowly but growing ❤️
I hope that it continues to grow
Whatever is written for me looking forward to it…
I love you god and thank you for everything
I trust you and the fate you have decided for me
Books I Loved reading this Year
This is My favourite book of the this year and I highly recommend everyone to read it! As someone who overthinks a lot and spent way too much time doing it. I really needed this book
This books has such powerful factual lessons that is helpful to everyone who is suffering right now.
This goes on to explain how are thinking is the cause of our 99 problems in life and how we can stop ourself from overthinking and enjoying life
Our feelings do not come from external events, but from our own thinking about the events.
" think and think and think, I've thought myself out of happiness one million times, but never once into it."
– Jonathan Safran Foer
There is no other answer to why we feel negative emotions other than that it is from our own thinking. Everything can be traced back to our thinking, which makes problem solving very simple. Once we realize that our thinking is causing how we feel, we can let go of it and we return to our natural state of peace, love, and joy. When we let go of our thinking, it creates space for us to be able to allow all positive emotions we want to feel to surface from within us.
We think because it is a biological response to survive. Our minds think only because it is trying to keep us alive, but it does not help us thrive. It is only concerned with our safety and survival, but not our fulfillment. Thinking holds us back from our Highest Selves by causing negative feelings within Us that prevent us from following our true callings.
Podcasts I loved this year
It gets Better Podcast by Lindsay Adkinson: I found myself listening to almost all her podcasts episode and loved it!
The Ikonns: I listened to many of their episodes from talking about mindfulness, social media and being your authentic self
Apart from reflecting on 2022, My Goals for the new year are…
Goals For 2023
Honestly, I have many goals I want to accomplish this year. With time I will be adding them to my list. However, I want to keep 3 broad goals for The year that I am most certain about-
Continue to work on my blog
Exercise more
And focus on Better Mental health and experience more joy
I know the new year 2023 may come with different sorts of challenges, I may cry again and feel pain but what I am looking forward to, is having more days of being happy and experiencing joy than being sad.
This is all for reflecting on 2022
Posts to help you in 2023
This Post was all about reflecting on 2022
Follow me On Pinterest