How To Create a Digital Vision Board with Canva
(Last Updated On: December 5, 2022)
How do you make a vision board for beginners? Can you make a digital vision board? Are you wondering how to make a digital vision board for free? Once you can access it easily on your device? In this post, I will share How To Create a Digital Vision Board with Canva!
This post may contain affiliate links, which means I'll receive a commission if you purchase through my link, at no extra cost to you. Please read full disclosure here.
If you have ever gone through any celebrity or life coaches' success story like Oprah Winfrey and Lilly Singh, you must have heard about vision boards! Today, I will be sharing with you how to create a digital vision board with canva for free!
If you are new to the vision board and want to know what they are and how they work! You can read my post sharing 5 Steps- How to make a Powerful vision board without magazines
In this post I will be able to answer all your most asked queries !
What are Vision Boards
Vision boards are visual representation of our goals and dream! It is a great mindset and manifestation technique to turn your dreams into reality!
Many celebrities like i mentioned above have said in their success stories that they have been able to achieve their dream life by practicing manifestation!
I personally have been making vision board for many years and find them to be super effective!
Pin for Later!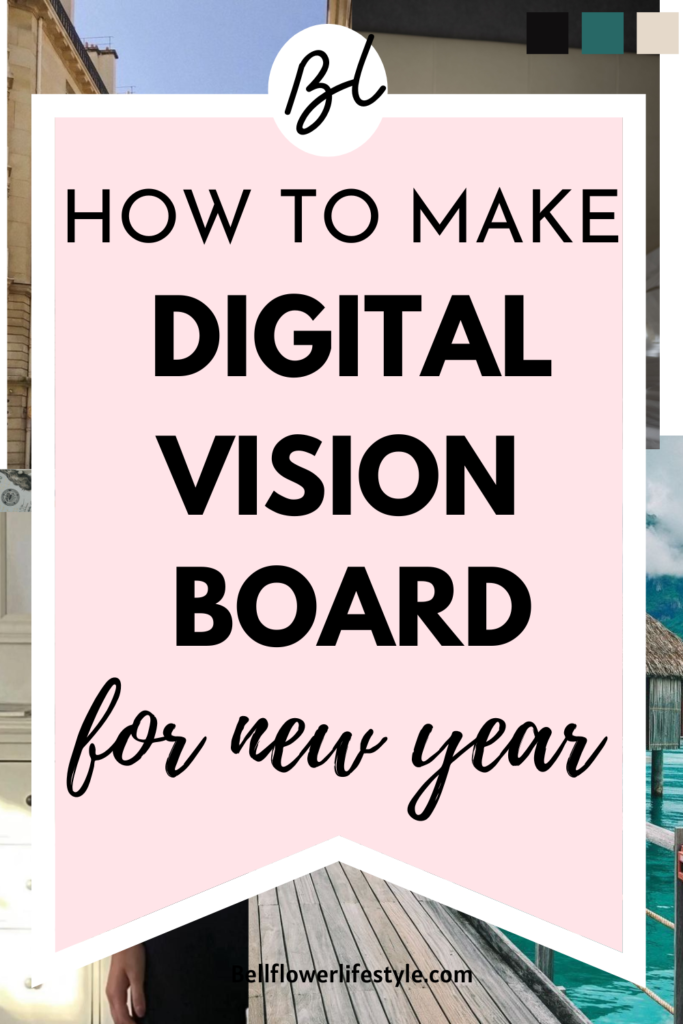 How do I make a virtual vision board for free?
I like to make both digital and physical vision boards as I enjoy making them so much! Although physical boards tend to take a bit more time and money, still they are super fun to make!
Digital vision boards are quick and don't require much time! You do not have to worry about them getting lost either!
To make a Virtual Vision Board all you need is
Canva
Pinterest or just Internet for Picture Inspiration and
Photoshop (optional)
Also, Read 2023 Vision Board Ideas for adults to make now
How to create a vision board in Canva step by step?
Now let's dive into the 3 easy steps that will take less than 1 hour!
Step 1
The first step is to know your goals and note them down! Think about all things you want to achieve or experience in a year
I talk about the full process here!
For example-
Traveling to Maldives
Getting fit
Buying your favorite beauty product
Your dream car
Eating healthy
Learning a language
Step 2
Open your favorite Pinterest and look for Inspirational images!
Pinterest is the best source for aesthetic beautiful pictures of all kinds! You can also go to Instagram to save pictures or sites like Pexels and Unsplash to find Pictures!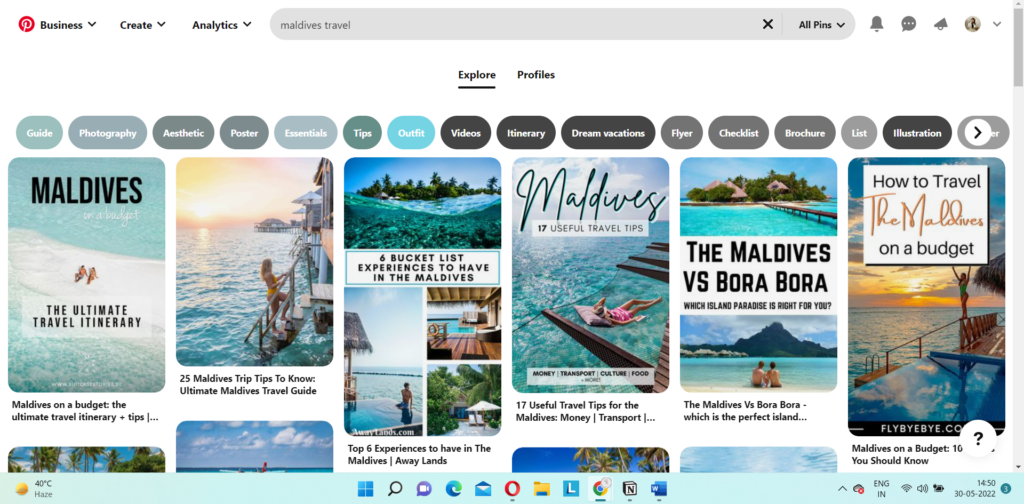 Step 3 ( Optional)
Once you have downloaded them, Its time to do some editing!
Even though I feel it is the important step when making any vision board, its optional for you
This trick I learned recently and I have been implementing since then!
You are gonna edit that picture and make them look real for yourself!
For example
As shown above, If you saved picture of a beach or a girl in beach because your goal is to visit there
then edit that picture and put yourself in it!
I know it may look weird but trust me it makes total sense!
This vision board is what you will be looking at frequently to get the motivation, Then why not make it look real?
Step 4
Next step is to open a Canva and make a collage!
You can use Powerpoint or word as well but
I prefer Canva because…
I like to put my digital board as my home screen for both my phone and laptop and sometimes save it in other places too! hence I can easily customize the size to fit both my phone and laptop as well!
I also find inspiration of photos and amazing templated to make my board look aesthetic
Here is a small example of how can you use the images and make its collage!
Save it as your lock screen or where you can go and look at it every now and then!
STEP 5 Take Action!
This is the most important step that many forget to do! Take actional steps one by one to get closer to your goal no matter what it takes! Look at this every day and save it on lock screen. Its good to remind yourself of your goals and working on them
Frequently Asked Questions (FAQ)
What is the best app to make a vision board?
In My Opinion Canva is the best app to make digital vision Board and that too for free! Canva has their elements and photo library to explore and add fonts! Which leads me to next question
How do you make an aesthetic vision board on canva?
Canva is definitly the best app to make your vision Board look aesthetic! You can find endless templates there! Color them in a theme, change fonts and add graphics of your own choice!
It is Completely customizable as per your need!
Conclusion
A Vision board when made with the right mindset works magically! Make sure to look at your digital vision board once every day with intention to achieve your dream life! Most important is to put in the work to make it happen!
Have a wonderful day
Pin for later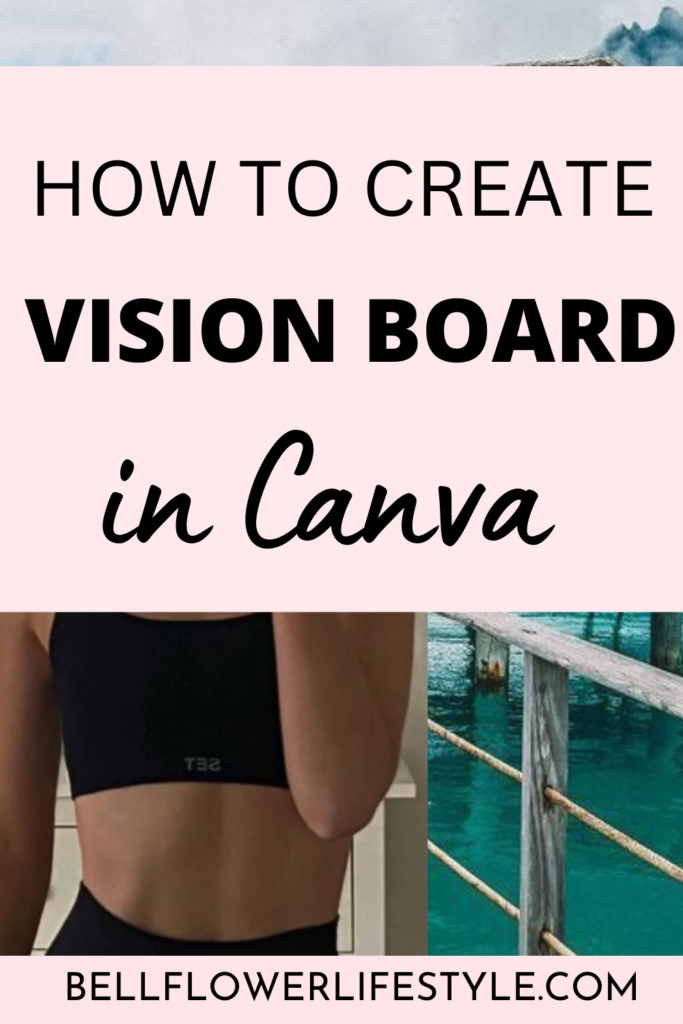 If you liked this, you will love these–
Follow me On Pinterest