43 Creative Things to do with a Notebook!
(Last Updated On: November 16, 2022)
For all stationery or journal holders like me, I will share some creative things to do with a notebook! I am sure many of you have either empty or half-empty notebooks, which we end up not using as often as we thought we would! This is why these empty notebook ideas will help you to fill them out!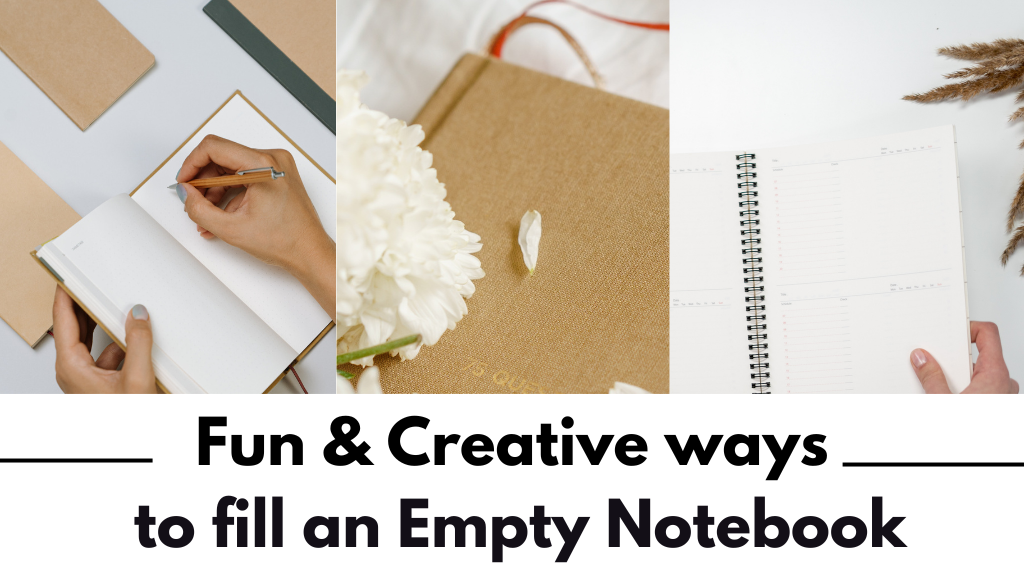 This post may contain affiliate links, which means I'll receive a commission if you purchase through my link, at no extra cost to you. Please read full disclosure here.
Although the world is turning towards digital products, they are accessible and more useful for us! But nothing can compare to the fresh notebooks and the feeling of writing them manually!
Using notebooks feels more intimate and compelling! It takes us back to old times and refreshes our memories! It is also a great chance to get some time off our devices.
What to do with an empty notebook?
Honestly, there are endless possibilities to fill empty notebooks! You can literally use them for anything and everything! On day to day basis- you can use them, whether it is making lists, for work writing poems, or thoughts of the day!
However, today, I will share some creative and popular empty notebook ideas to fill them in.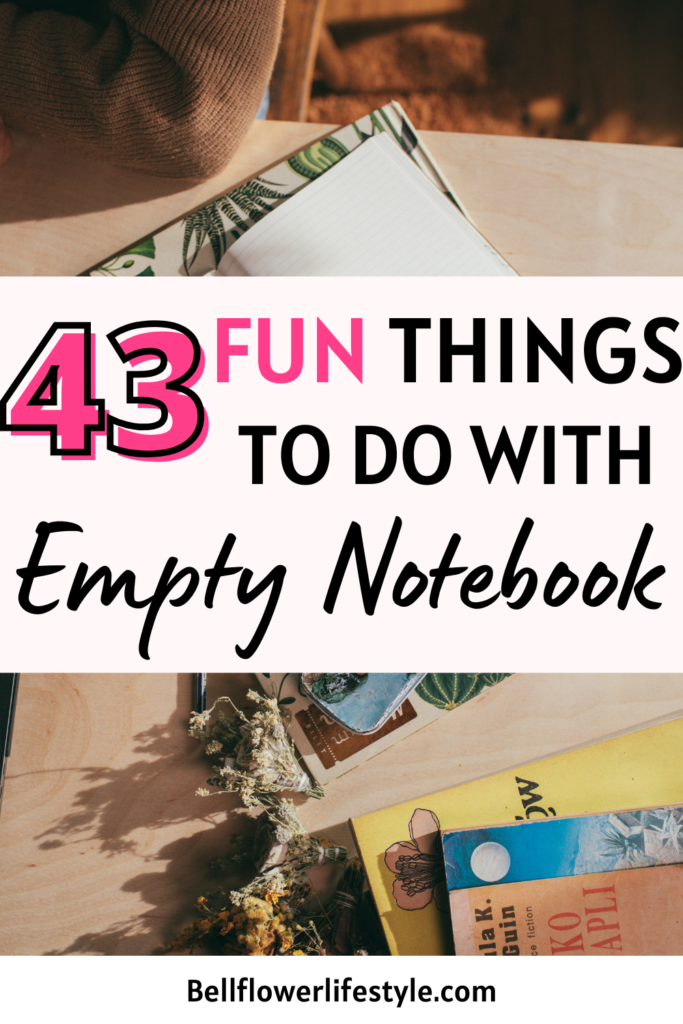 Notebook recommendations!
Here are a few notebooks that are of good quality as well look pleasing!
Here are 23 creative things to do with a notebook
1. Daily to-do lists
Using empty notebooks for daily to-do lists is pretty standard but also one of the creative things to do with a notebook! I have been doing this for years! I love stationery and writing. As I tend to forget things easily, making to-do lists has become a must task of the day for me!
Writing to-do lists is also an excellent productivity habit that keeps your life organized. It keeps track of all the tasks you need to do today! It helps you get jobs done faster when you see them written in front of you.
Writing things down helps our brain and keeps it at ease. It is basically like decoding tasks and helps us understand our work better!
Whenever I feel overwhelmed with work or get confused about where to begin, making to-do lists helps calm down my anxiety and gives me clarity.
2. Journaling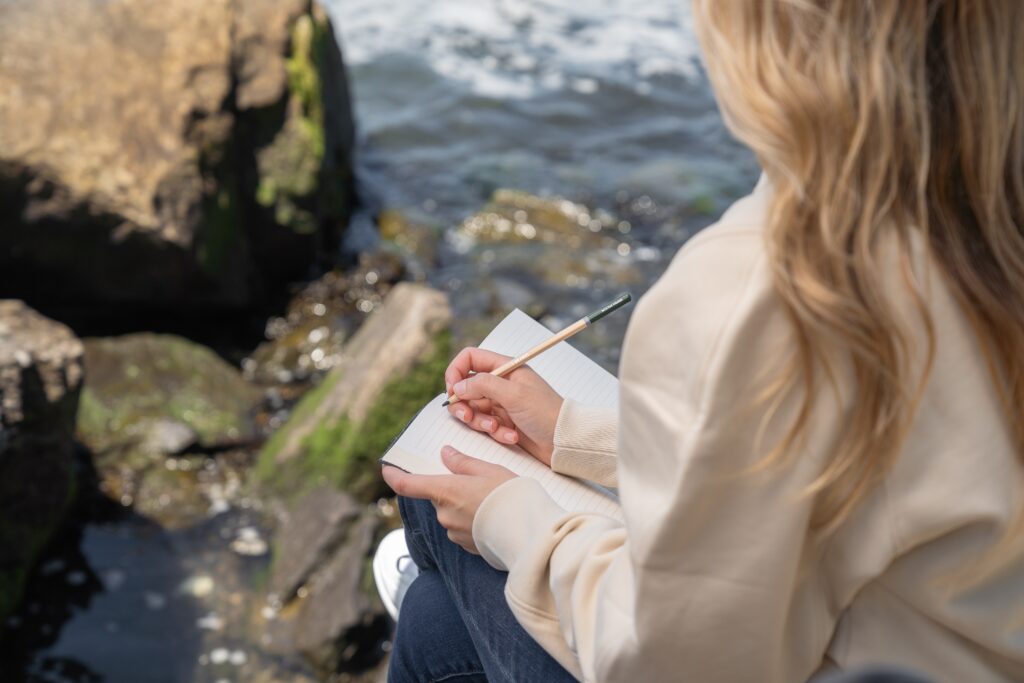 Journaling expresses your thoughts and emotions; we all have ideas and waves of emotional experiences. Sometimes or for some people, most of the time, it is hard to express everything.
You may feel vulnerable when expressing yourself or find that you have no one to vent it to, in those times, journaling is the best way to let out!
Not all thoughts are meant to be shared with another human; sometimes, we need to get things out of our heads; writing down your thoughts and emotions can help you let out and relieve you.
I often overthink situations, and even after sharing a few things with friends, my head still feels heavy, and it gets hard not to think about it.
Whenever that happens, I start journaling and writing everything that is going on in my head, Which many times leads me to even find a solution to a problem!
I recommend everyone start journaling as much as they can! All you have to do is get a plain notebook and write!
3. Bullet journal
A bullet journal is basically a journal, but slowly and artistically, many journals you find in stores are guided. They contain questions, quotes, and various activities for us to perform. Bullet journal comes in an empty plain or dotted notebook you can use it any way you want!
If you love art and want to add fun to your journaling routine, then a bullet journal is for you! It is also designed to implement slow living and use it as a self-care activity.
A bullet journal is only for you if you have time and are looking for some quick journaling for self-improvement! Then, I suggest going for a guided journal like The Five Minute Journal.
Below I have shared a video to give you an idea of what bullet journaling looks like and how it can be done!
4. Scripting
It is similar to journaling. It is a form of manifestation technique that a lot of people use!
Scripting is simply writing down a story, not just any story- a detailed story-like vision of your dream life.
Let me break it down for you.
Suppose you have a goal or dream to live your life a certain way; maybe you want to live alone, start a business, travel, or get married.
These goals and dreams are probably something you may imagine a lot in your head ( we all do). We imagine ourselves doing those talks and living those moments.
And exactly that, you have to write it down – in a very detailed and present form.
Scripting example
For example – you want to travel to Paris.
Then in a scripting journal, you will write down all the details of what you wish to do there and feel as if you are already living it! Here is an example!
Today was a fantastic day for me! I finally landed in Paris and will be staying here for the week! I am so grateful to be finally traveling to my dream city! The weather is fantastic! With a few cold waves and warm sun, it makes the perfect temperature for me!
I wore my favorite beige coat with high boots and accessories with minimal jewelry. I woke up early, went to Miznon restaurant for breakfast, and had some fantastic Israel falafel!
On my walk to watch the Eiffel tower, I went to umami matcha café to get some matcha, which was so good! I sat across a bench to watch the Eiffel tower, which looks so beautiful, and even clicked dozens of pictures with my friends! Going there every day till my trip ends for sure!
This was a small representation of what scripting looks like! I wrote down the outfits I would wear if I travel and places I want to visit in the future! I have never been to Paris, and as you can see, the way I wrote felt genuine!
Scripting is excellent for manifesting your dream, making you feel good, and raising your vibration!
5. Make a life bucket lists
You can make a life bucket list notebook, where you put anything you ever wish to get or experience- You can put all the things together like-
buying a dream home,
watching sunset,
going to an amusement park
trying Korean foods
And so on, from the tiniest little things to big. By writing them down in a designated notebook, you will be able to recheck them, which will help you not forget! In fact, it will help you work towards it more and help you achieve those things faster!
So often, we wish for small things but forget as life happens; it stops us from exploring and having experiences in life! With a bucket list notebook, you can store and remember it.
If you are passionate about a specific topic like food, travel, etc… you can make a separate bucket lists notebook for that, which leads me to my next point-
6. Travel bucket Lists
Similar to our dream/life bucket list is the travel bucket list! If you are passionate about traveling, you should make a travel journal! You can write places you wish to visit and even write down places you have already seen!
Write the experiences it gave you, things you loved, where you wish to travel next, and where you want to stay and experience!
7. Draw/sketchbook
Art is a form of therapy; just playing with colors and your creativity helps relieve your mind; using your empty notebooks to make sketches and painting can be a great hobby and a great way to reflect on your progress. If you are artistic, doing this will be life-changing for you!
8. Make a life memory book
This is one of the most interesting empty notebook ideas that came to mind! I wish I had thought about this sooner and started it!
A life memory book is simply one where you can store various moments of your life from when you were born – to now!
Little things like your first tiny achievements, birthdays, and other celebrations.
You can write down how each year went and what you learned. You would love to look back on some happy days in your life once you are older! Then you can show them to your kids, which will be nostalgic! Looking back at old memories can even push you to create more experiences
9. Goals journal
It is not only tremendous but essential to have a goals journal; now, this is different from a bucket list, as a goals journal is only and only for our professional or personal growth goals!
We all have goals and targets we want to achieve within a certain period; career-wise, it can be small steps you have to take to get to your dream job.
For example, as a blogger, I could write down my goals, such as how many blog posts I plan to submit next month or how many visitors I aim to get on my blog by the end of next month. Hence I can write them down into short goals I plan to achieve
Personal growth goals- it can be many things, and you can go on writing new ones as time passes; for example- this month, you wish to wake up early and start running,
10. Gratitude journal
I have been doing this since school and have filled in many notebooks! Gratitude is an essential part of my life and should be for everyone too! I start my day with gratitude and end it with the same; this helps me lower my negative thoughts and feel at peace!
In the morning, I write 10 things I feel genuinely grateful for, and at night I write something that happened that day; it helps me think and find happiness in small things every day! I 100% recommend it!
If you are finding it hard to come up with things to be grateful for, here I have a post on 100 things to be thankful for ideas!
11. Positive affirmation notebook
Similar to a gratitude journal, I have a positive affirmation journal! I started when I was dealing with extreme insecurities and low self-esteem; it helped me love and accept myself and have a positive outlook!
Positive affirmation has many benefits, and it can be of various topics! Making it a habit to write affirmations every day or week will increase self-confidence and trust in yourself!
12. Book reviews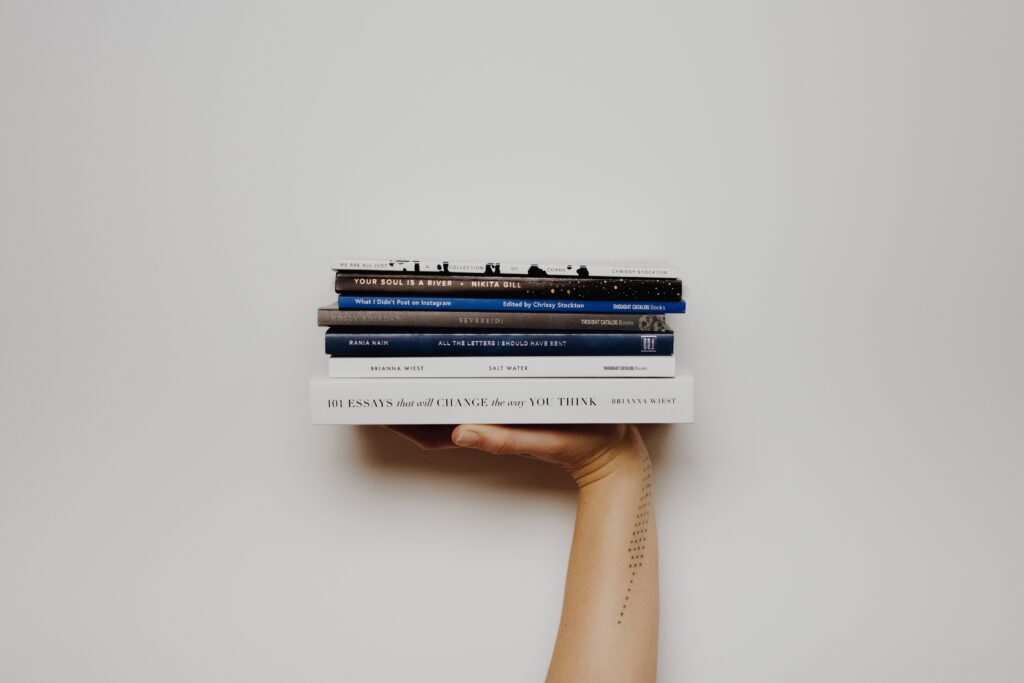 I like to read a lot of self-help books; since I read plenty of them, it gets hard for me to remember all the things I learned from them, I may place a handful, but since a book is full of various learning, it is hard to remember each of them.
This is where keeping a book review notebook comes into play after reading a book or even one chapter. You can write down what you learned from it. Later, you can quickly check them anytime you want or need them.
13. Write life lessons
A notebook where you write down lessons you learn along the way, sometimes, life experiences teach us various lessons, and sometimes we know them from movies, books, or conversations that leave a profound impact for a mere moment.
As time passes, we can forget about them by writing them down; if ever you are stuck in place going through your notebook, you will most likely stumble upon a lesson that will give you an answer or provide comfort!
14. Prompts journal
A prompts journal is a notebook filled with questions to help you find clarity and discover yourself; doing this week to reflect and get closer to yourself will bring many benefits!
As it said, the more you know yourself, the easier your life will be! If you are looking for where to begin writing journal prompts, here are 39 self-growth journal prompts to get closer to your inner self!
15. Work/study note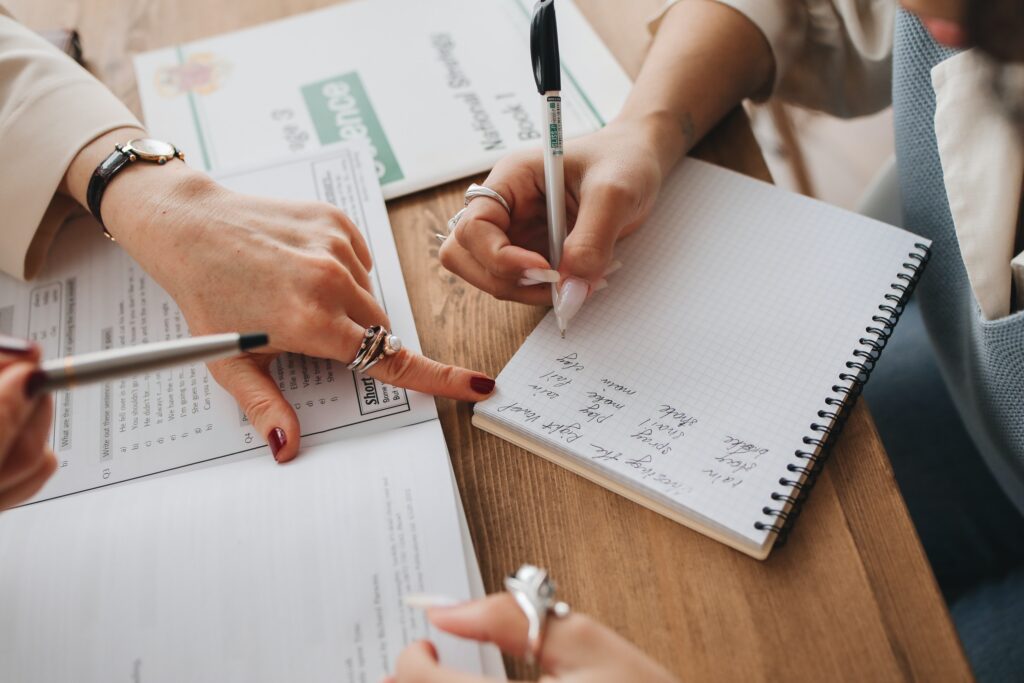 If you are a student, making a study notes notebook will be extremely helpful for you; you can write notes on each subject and chapter. During exams, it will be easily accessible to learn or revise!
Likewise, if you are a working person – you can write down notes related to your work, which will keep you organized and up to date
16. Language journal
Are you planning to learn a new language? Learning a new language can be challenging, thus maintaining a notebook where you can revise regularly! Then, it is a must to make a language journal!
I have recently started learning the German language, and for that, I bought a new notebook! If you are interested to learn German as well, then check out this Youtube channel; they have lessons from A1 to C1
17. Life Planner
Apart from making lists and journals, planning is equally essential, and what better way to use your plain notebook to plan out your life!
You can write down a detailed plan of tasks you need to do for the week or month and how! I use a notebook to plan my life and an app called- notion for designing my blog.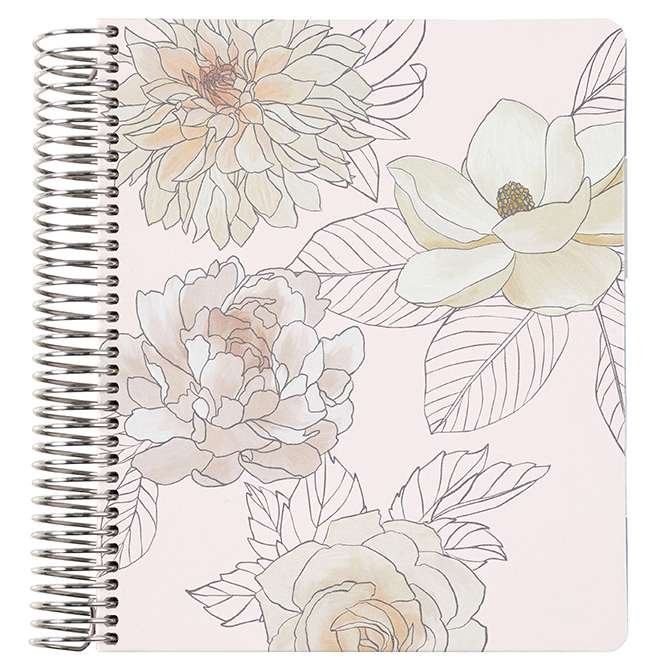 Erin Condren Life Planner
Erin Condren's planners are just amazing! I love the minimal and soft cover; it can be used anywhere! This is an essential Life planner that includes monthly quotes and productivity pages! It also provides a planning Sticker, a ruler, a Calender, and a Folder to keep in!
18. Recipe journal
I don't personally cook much, but even with my little cooking, I tend to forget the whole recipe; this is when a recipe journal came to the rescue!
I learn from watching Youtube videos, and for the first time it is helpful but other times when you know most of the recipe, watching videos is time-consuming. Hence, a recipe journal is quick to look at.
If you look at cooking, you can make your recipe and write it in your journal for future use! I have seen many people who do this and later on share their recipes with other family and friends
19. Grocery list
Since we are talking about cooking, apart from the recipe, maintaining a grocery list can be important too! Make a list of items that are getting finished and need a repurchase, vegetables to be bought for the week, and so on!
20. Dear diary…
The old-school dear diary is back! As a kid, I remember I would make an everyday dairy, but with time I stopped doing it. I recently watched a drama called Twenty-five twenty-One, which takes us back to the life of the main lead through her daughter reading her diary!
The show was full of fun memories, and intense life lessons for the main character went. Watching the show, I wished I had continued writing in my diary too!
21. Habit tracker
Are you planning to start a new habit? Then use an empty notebook as a habit tracker! This will keep you consistent and self-disciplined! You can even use it to maintain and track different habits like your water intake, breakfast time, and what you had!
22. Brainstorming
Brainstorming is vital for creative professions that require lots of ideas and planning creative things! What better way to use the notebook?
As a blogger, I must constantly develop new blog post ideas and themes! Hence, I like to use a notebook to quickly write down or make illustrations, bubble diagrams, and so on!
23. Budget Planning
Financial planning is a must for everyone! Looking at your past expenses and planning to use your many for the future, where to save, where to spend and invest- all become a part of budget planning for effective use of money!
So, you can utilize your notebook to plan out your monthly expenses and track where you spend your money the most! Trying to remember these in our head, we tend to miss out and make wrong calculations; hence writing it manually will make it simpler.
24. Movie Reviews
You can make a movie review or list if you love watching movies! I love thrillers, especially Korean suspense thriller movies, and every time I watch a mind-blowing one, I add it to my movie list!
You can also write reviews and What you liked and did not like about it
25. Quotes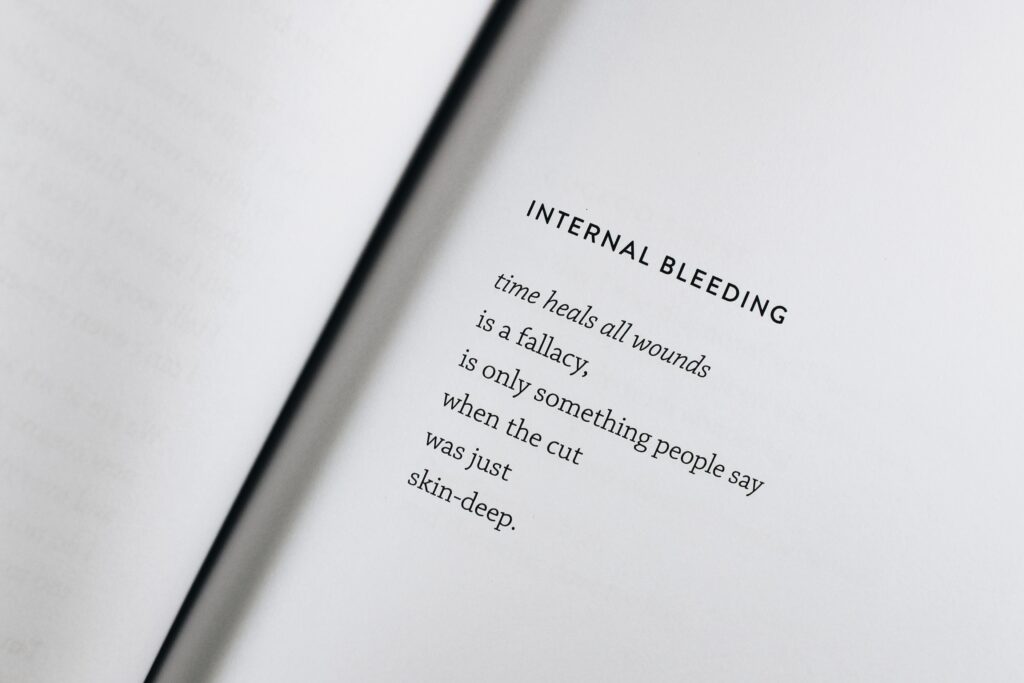 Many times, a line or quote gets stuck with you. When you read it, you can resonate with it deeply or Find it to be helpful as inspiration. This could be one of the creative things to do with a notebook that is inspirational too
26. Passwords
This one is a must! I usually do this in my notes app, but one can literally use their notebook to write in all their passwords! Nowadays, everything is digital and requires a password to access.
27. Letters
Do you like writing letters to your loved ones? Long-distance friends or family? We are all accustomed to texting and doing video calls, even though it is fantastic.
Writing Letter feels so precious and Meaningful!
28. Mind Mapping
Mind Mapping is a great way to find clarity in your thoughts! If you don't know what mind mapping is and how to get started – Check here.
29. Self-care Journal
We all now have learned how essential self-care is in our life; we need to prioritize self-care for our mental health and well being
A self-care journal is a great way to practice, schedule, and track your self-care activities!
30. Fitness Journal
Are you thinking of starting your fitness journey? Then you can try this! It is great to track your progress, make changes and help you stay motivated and consistent!
31. Random thoughts
I do this at times, there is an empty notebook on my side table, and when I am bored or find myself thinking a lot, I end up using the notebook to write.
32. Poems
Do you like writing poems? I have never tried it. But I know some friends who love writing poems. This is another one of the creative things to do with a notebook. You can try
33. Doodle
I remember doing this as a kid; this is such a relaxing activity and creative too! Especially when you are bored, you can start doodling with a pen or pencil!
35. Practice Calligraphy
Calligraphy is another creative Hobby or activity you can do if you love writing.
36. Business Ideas
So many of us are trying to transition into becoming self-employed or Starting a new business. If you have always wanted to start something of your own, This is your sign to grab that blank notebook and start writing!
37. Reflection Journal
Reflecting is essential and a great way to improve your life, whether daily reflection, weekly, monthly, or yearly reflection. It is a beautiful way to look back at your wins and mistakes.
38. Morning Pages
Many years ago, I came across one video of Lavendaire on Youtube, where she shared her morning routine and how she has been writing morning pages every day for years.
There is no rule on what to write and how. You can write your heart out in the morning so you do not have any distracting thoughts floating around throughout the day.
39. Reading List
If you love reading, then you can keep track of all the books you have read and even in order of preference. So many times, my friends ask me to recommend a good book, and I keep thinking of all that I have read…This comes in super handy!
40. Prayers
If you actively pray or have some prayers, you love recalling, then write them down in your notebook
41. Wedding Planner
If you are getting or planning to get married soon, then it's high time for you to start preparing it already! Even if it is little by little, you can write your ideas and what you want.
42. Notes
Any work note you may want to write so you can remember later can also be written
43. New Words
A lot of times, when you are reading, you come across many words that you have heard for the first time; you can write them and their meaning in a separate notebook; it will also help in improving your vocabulary.
End Note
I find these 43 creative things to do with a notebooks handy and fun! And I am sure there are even more empty notebook ideas you can come up with by yourself; if so – make sure to comment below for us to learn.
I hope you found them helpful; I have shared many resources for you to understand and get inspiration-do to check them out.
This Post Wall all about creative things to do with a notebook
Good luck
Pin for later!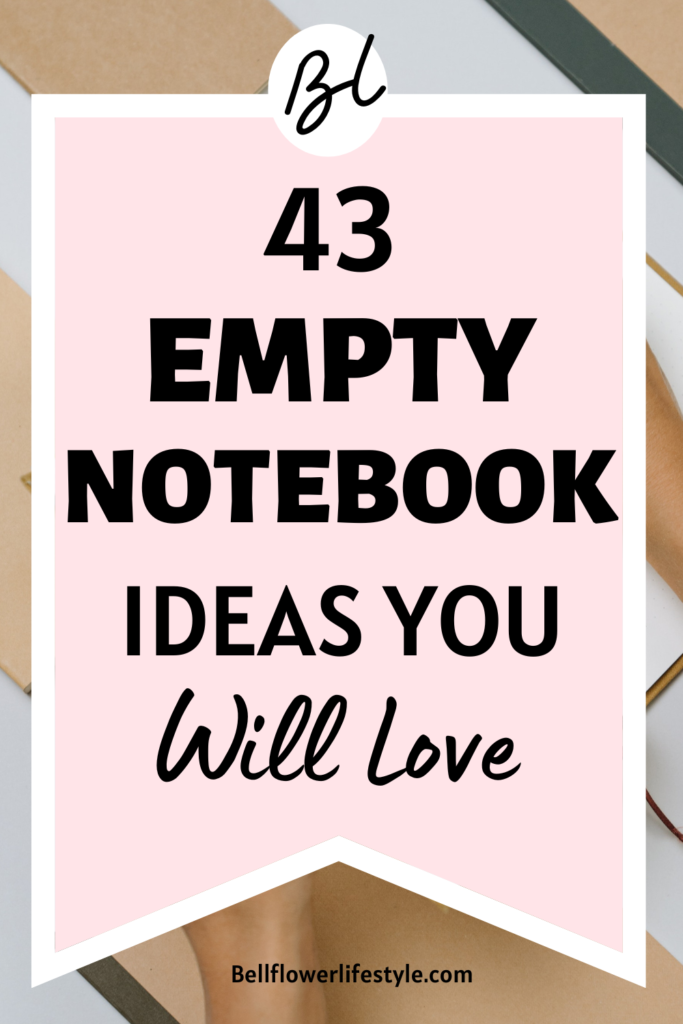 You may also like,
Follow Me on Social Media