The Best Sunday Night Routine Ideas For An Organized Week
(Last Updated On: February 3, 2023)
We usually spend our Sundays resting or going out (as we should!) but did you know, that having simple Sunday night routine can set you organized for the whole week?
Today. I share with you a full guide on the Sunday evening/night routine that will keep you productive and organized for the rest of the coming days!
This post may contain affiliate links, which means I'll receive a commission if you purchase through my link, at no extra cost to you. Please read full disclosure here.
How do I make a Sunday routine?
Many of us spend our Sunday watching Netflix or sleeping all day, there is nothing wrong with this, in fact, if you wish to take break and have Sunday completely offs, then Its okay!
What I think is, that Sunday could be a blend of many things, rather than just binge-watching shows all the time! Apart from work, there are many activities and hobbies that one can blend in that will boost your personal growth.
Here are a Few things to add to your Sunday Routine instead of sleeping all day to have an organized week!
1. Review Your Past Week
Apart from doing yearly and monthly reviews, doing a simple weekly review can simplify your work.
You can note down and do some journal like
How did my last week go?
What all tasks I got done in the past
What can I do to improve my next week
You can download my free weekly planner which also contains weekly reflections to review your past week!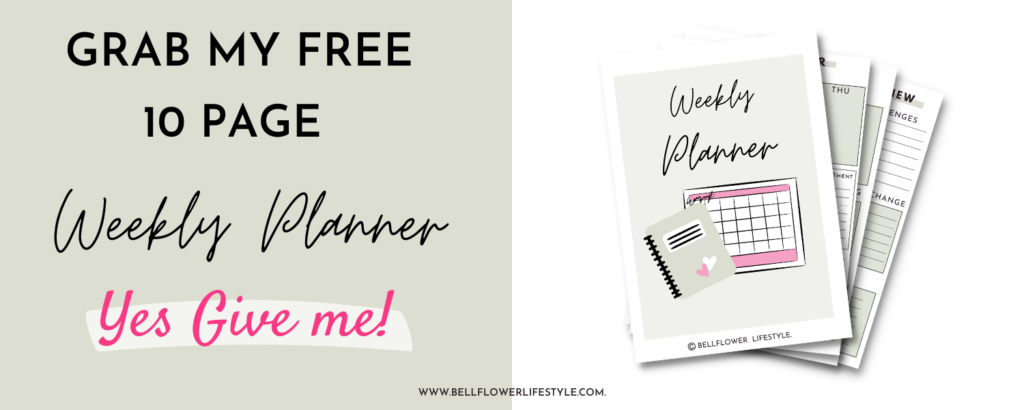 Also read 10 things to do start of every month- Monthly planning checklist
2. Go Grocery Shopping
So many people are working non-stop on weekdays, that finding to stock up on your grocery feels like a hassle! Sunday is the ideal time to go grocery shopping and stock items for the next or more weeks!
3. Do Relaxing Activities
Sleeping is relaxing but there are many more ways to relax apart from staying in bed all day! Practicing hobbies like – dancing, making art, and learning something new!
You can do stretching to relax your whole body and have conversations with friends and family! Going out shopping or doing fun activities with loved ones.
4. Write Down Weekly Goals and List
Take out an empty notebook or a planner and write down your goals for the next week
Make a List of tasks you would need to do to accomplish them! Since a week is shorter and goes by real quick, do not add more than 2 goals or tasks!
Here are 13 Ultimate Lists to Stay Organized In Life
5. Declutter and Clean
Since weekdays are filled with lots of work, Giving attention to your home on a Sunday is a must! Having a clean and fresh home feels amazing!
Rather than doing a full day declutter and deep cleaning sessions once a month, time blocking certain time for cleaning every Sunday would keep it tidy throughout the week and feel lighter.
6. Move your Body
I used to stay in my bed all day in the past, but now I try to move my body by doing a workout in the morning and some dancing in the evening
Even if I stay in my bed after that, I don't feel guilty then.
What is a Good Sunday routine?
In my perspective, A good Sunday routine should be a balance of both having fun, relaxing, and doing tiny tasks to keep your life organized!
My Sunday Routine
As always, before I jump into sharing Sunday evening activities, Let me share with you my routine
Before My Sunday used to go with watching tons of shows nonstop and just laying in bed, However, once I realized I could use this time to do something more meaningful and productive, I added a bunch of things to my routine!
Apart from the activities mentioned above, these are the few activities I added to my routine
Setting Goals & Tasks for the week
I set out my goal for the next week in terms of work, Since I am a blogger, I have to review what I want to achieve by the next week for example – completing 'n' no of posts, Creating other content, and researching about a topic!
I set out my intentions for the next day and what are My main 3 tasks I need to get done!
Dancing
I have always loved dancing ever since I was a kid and have tried taking many classes in past, because I missed dancing again and was looking to add some Hobbies to my routine
I decided to dance at home- I Follow dance tutorials on Youtube and practice them for as long as I can.
The main goal is to add some me-time hobbies that give you joy.
Working on Side Passion/hustle
Since the past month, I have started making time for creating content on a different platform, On weekdays I focus on my work, and Sundays, I make time to focus on content with the help of my friend!
A Thorough Skin care
I like to Wind down my day by doing some skincare at night before going to bed, I love doing my skincare and it feels super refreshing
Sunday Night Self-care Routine
I keep my skincare very minimal and avoid using too many products. I spend a lot of time learning about skincare, as I always struggled with acne and oily skin.
Here are some of the products I have been using for skin
I was looking for an affordable face wash for my skin that is gentle and good for oily acne-prone skin! Usually, people use face wash with active ingredients for acne but i wanted to go with something gentle
After watching Hyram's video I decided to give this one a try! This is a simple and gentle facial gel that will not rip out your skin or feel heavy!
The Ordinary is such an amazing and popular brand, It finally came to India and I knew I Had to buy something for My skin!
After doing tons of research I got to know about the amazing benefits of Niacinamide! It is really great to reduce oiliness on the face and fade acne scars
Please note: This product has a 10% concentration so, you cannot use this every day! You have to start by using it once a week either at night or morning and see how it works,
Over some time you can add it to three times a week at most! If you are looking for everyday use, then please use a product that has a lower concentration.
Best Sunday Night Routine Ideas
Prepare for Morning
Since, you will be starting with work the next day, preparing for the morning in advance is great! Keep your clothes, and bag ready so you don't have to waste time looking for things the next day.
Plan meal
Meal planning in advance for the next day or a whole week is good for people who don't get much time to make food or find it time-consuming!
Go to Bed Early
Saturdays are okay to stay up late and have fun so you can wake up slowly. On Sunday Make sure to go to bed early so you can have a productive morning the next day!
Journal
Using a night-time guided journal that helps you set good intentions for the next day and rest of the week is awesome!
The five Minute Journal comes with a guided night-time journal that takes less than 3 minutes! Check it here
What are the 4 parts of a Good Nightly routine?
To summarize and keep it simple. A Good Sunday Night Routine should include these 4 things
Planning your next week
Alone me-time for reflection and self-care
Taking rest
Making best use of time focusing on other things
That's it
There you have the best Sunday night routine activities to set you for success and fun! Just small tasks can add up to make a major impact over some time!
What are some of your favorite Sunday night routine activities?
Let me know in the comments!
Pin for Later!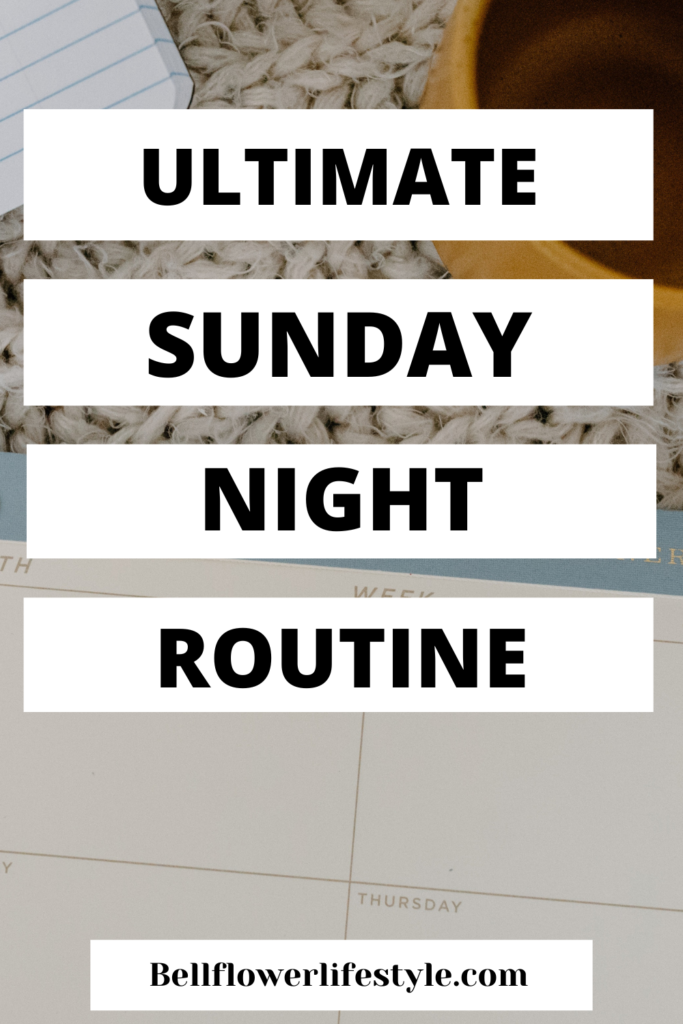 RELATED POSTS
Follow Me on Social Media