39 Journal Prompts for self-development You Need To Practice!
(Last Updated On: December 9, 2022)
If you have been feeling lost or just disconnected with yourself lately, wondering how you can change that to eventually better your life, then these journal prompts for self-development
Journaling ideas for self-improvement
This post may contain affiliate links, which means I'll receive a commission if you purchase through my link, at no extra cost to you. Please read full disclosure here.
The very first time, I practiced journal prompts was probably 4-5 years back,
That was a turning point for me when I began my self-improvement journey!
I did self-discovery journal prompts that asked me very basic questions about myself
Simple things like..
What do I like about myself?
What are the things that bring me joy?
Shockingly, I could not write even one thing
That was the first time it hit me that I don't know myself at all, I have spent time to know things that I like or even tried enough things to know what I like or don't
Since then, I had been actively working on getting to know myself better and journal prompts are the best way to do it!
Also read 30 Best Self-Love Journal Prompts Everyone Should Practice, apart for self improvement, self-love is extremely important and many of us struggle with! By self journal prompts you can help increase confidence and self-love!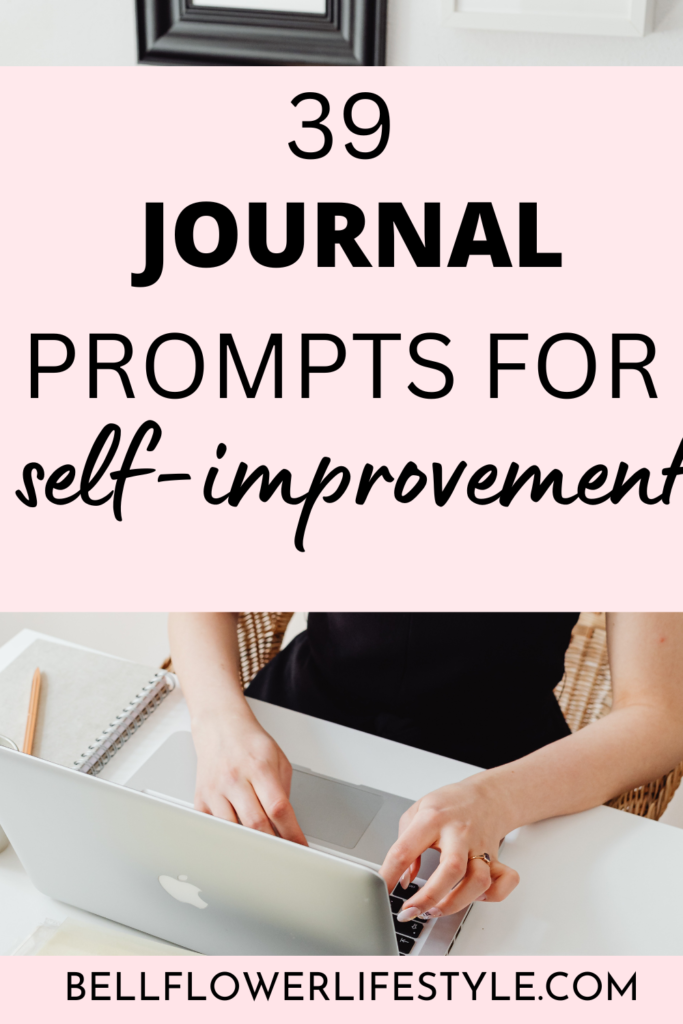 What are journal prompts?
Journal prompts are questions that you can answer while journaling alone, it is a form of self-discovery activity whereby answering these personal questions to yourself
You can get clarity about life!
Self-improvement journal prompts will have questions that will help you find clarity on areas of your life you need to work on!
How to journal for self-improvement?
Journaling for self-improvement is best done with journal prompts that will make you think hard about things in your life!
The best way to do is to do it alone in a quiet place, where there is no one to disturb you!
Get yourself a plain notebook and write down the self-improvement prompts given below!
Start by doing 1-2 questions at a time, do not rush! As the intention behind doing this finding inner clarity, what does our inner self want?!
Do them once every week to keep in touch with yourself!
Here are 39 journal prompts for self-development to know your best self!
1. What does your dream life look like?
2. Describe How does your dream life feels like?
3. If there was no such thing as 'failure' what is it you would want to do first?
4. What are your top goals to achieve your dream life?
5. Does your current life align with your goals?
6. Write one habit you wish to make a part of your life?
7. How much would your rate your physical health out of 10? What can you do to improve it?
8. Write any 3 things you wish to learn this year. Explain how these 3 things will contribute/improve in your life?
9. What are some limiting beliefs holding me back?
10. How much time do you spend in a day towards accomplishing your goals?
Self-improvement journal prompts
11. How have you changed or evolved over the last few years?
12. Which area of your life you are currently struggling with?
13. What does your ideal morning routine look like? Describe in detail
14. What changes in your current routine do you need to take to shift to your ideal morning routine?
15. Write one habit you started last year
16. What tools do you currently use to achieve your goals? Are they working for you?
17. When makes me feel the most confident?
18. Who is/are my role model in life? What do I look up to in them?
19. Write one toxic habit you wish to quit.
20. Am I settling for less than you deserve?
Journal prompts for personal growth
21. Which do I feel the most passionate about?
22. How much would I rate my professional life out of 10? What can I do to improve?
23. What does being successful mean to me?
24.How much would I rate my mental health out of 10? What can I do to improve?
25. Who is the most successful person in my desired field? What can I learn from him/her?
26. What are some things outside of my comfort zone that I'd like to do this year? In this lifetime?
27. How much would I rate my emotional health out of 10? What can I do to improve?
28. Does the process of achieving my dream life feels exciting or exhausting?
29. If I had all the money in the world, what would I do?
30. On a scale of 1-10, How much self-love do I practice?
31. How can I love myself more?
32. What can I eliminate or change to feel better about my goals?
33. What am I most afraid of?
34. What are my top 5 strengths?
35. How would I describe a perfect day?
36. What is the one thing in life I need to let go of to reach my full potential?
37. What is preventing me from pursuing my dreams?
38. Are the people around me supportive of my dreams?
39. What do you love about life?
FINAL THOUGHTS
Journaling is one of the best way to express your emotions and discover yourself, it helps you connect and make better decision!
Through these questions for self improvement you may find yourself more closer to yourself and relaxed
Good Luck!
Pin for later !
RELATED POSTS
Follow Me on Social Media