#32 The Best Night time Reflections Journal Prompts
(Last Updated On: September 20, 2022)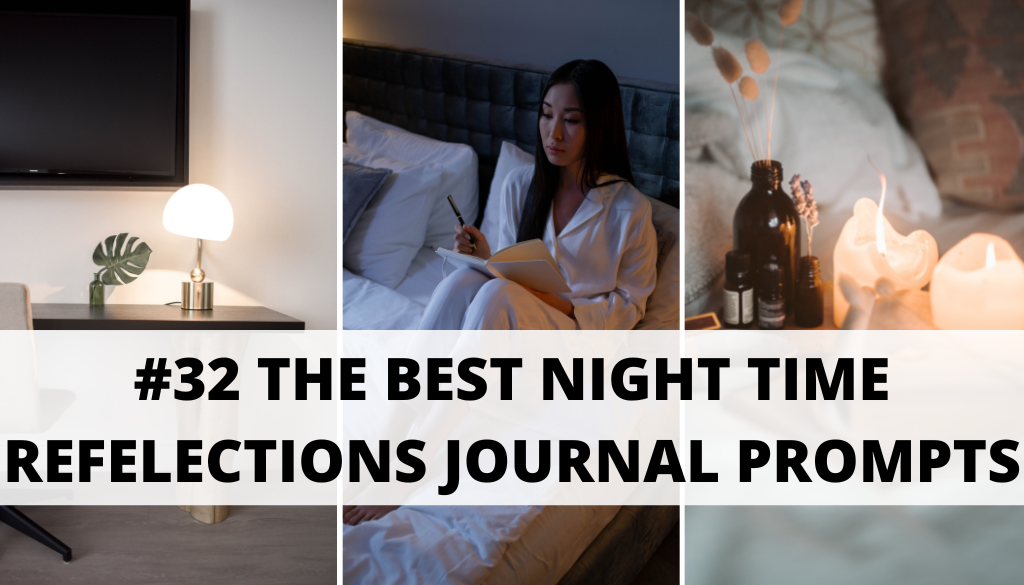 If you are wondering What should I write before going to sleep? or Should I journal before bed? then, you are at the right place! Today, I am going to share with you a full guide and Night time reflections journal prompts you can practice every night before going to bed!
Journaling is an important part of our life, because it helps us express our inner thoughts and emotions, the best way
we may not always have someone to express or maybe we feel hard to express, here journaling helps us taking things out as well as giving us clarity
When you answer journal prompts, it makes you think about some parts of your life and give it the attention that it needs
Pin for Later!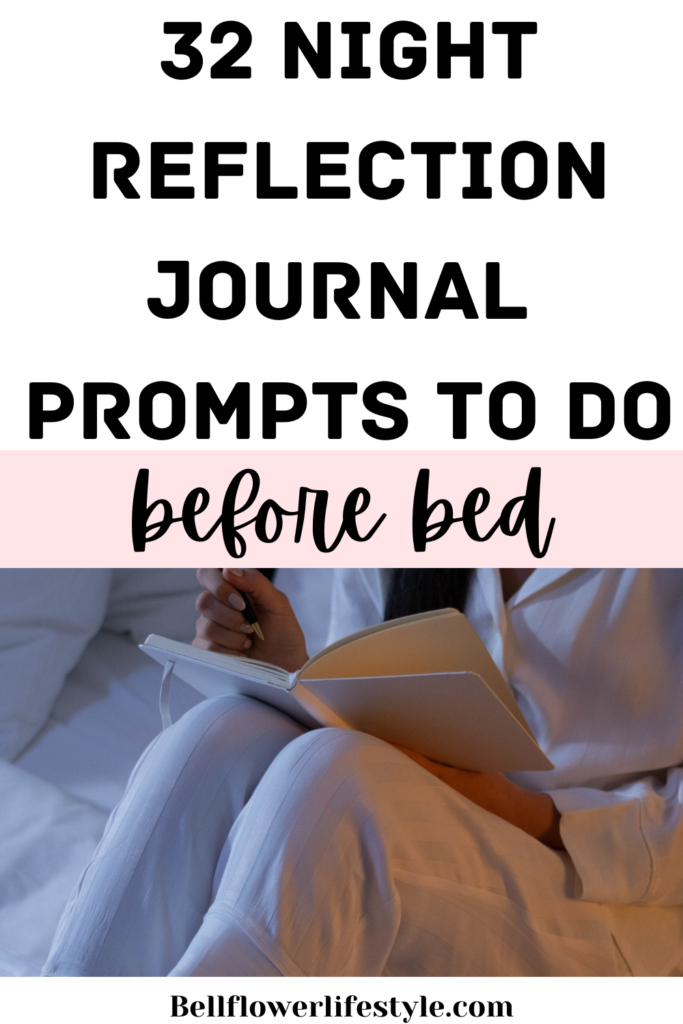 This post may contain affiliate links, which means I'll receive a commission if you purchase through my link, at no extra cost to you. Please read full disclosure here.
Is journaling at Night Good?
journaling at the end of the day is as good as journaling in the morning! Doing some self-reflection for day to day basis to keep yourself connected to who you are and keep growing
These are light and small Night time reflections journal prompts related to your day, apart from the intense deep journal prompts that can be done once in a month or more!
How do you make a Night Journal?
Making a night journal is easy, you can start by either purchasing an empty notebook to write down prompts and fill them or you can buy a guided journal to make it easy for you
Keep the journal on your bedside so the moment you sit on your bed, you can spend a few minutes answering these prompts and go to sleep!
What should I write in my journal at night?
Apart from Journal prompts, you can use your night journal to just vent down! Write whatever you feel like so you can sleep at night with a light head! You can plan your next day or store the highlight of your day!
Does writing help you sleep better?
Yes, like I said above, writing at night can help you sleep better because you will have relaxed mind to go to sleep! So many times we have a hard day or are going through tough times
Our emotions are on the edge of our mind cannot stop thinking, hence writing or journaling your feelings can help calm both your mind and emotions and help you sleep better
What are some benefits of journaling?
If your are wondering what are some benefits of journaling whether before bed or morning-
Reflect on your day: Journaling helps you reflect on your day, we can deeply think how our day and how we can make the best out of it
Give Clarity: Most of the time we are overthinking baseless thoughts, when you write them down, it helps you give clarity on what is just a useless thought and what is an actual problem!
Seize the moments: Journaling is not always about improving and thoughts alone, you can use it to write beautiful moments of the day that you can always look back to read!
Manifest your life: If you have never heard of it, then journaling has been actively used to manifest your dream life, you write down your dreams and vision in detail as if you are already living it! It is a manifestation exercise!
Clear your mind and emotions: If you are emotions are getting the best out of you, then writing them down helps
Become mindful : Journaling is also a form mindfulness activity, the fact that we are reflecting our life constantly and trying to improve, comes into mindfulness
Night Time Reflections Journal Prompts
What are the 3 amazing things that happened today?
How could I have made Today better?
What's one thing you did, you are proud of?
When was the last time you did something out of your comfort zone
what is on your mind right now?
Use one word to describe your day today
What are the three things your are grateful for?
List the tasks you checked today from your list
Did you make time for self-care today? what activity you did?
What lesson you learned from today?
what was the highlight of your day today?
What can you let go right now to have better sleep?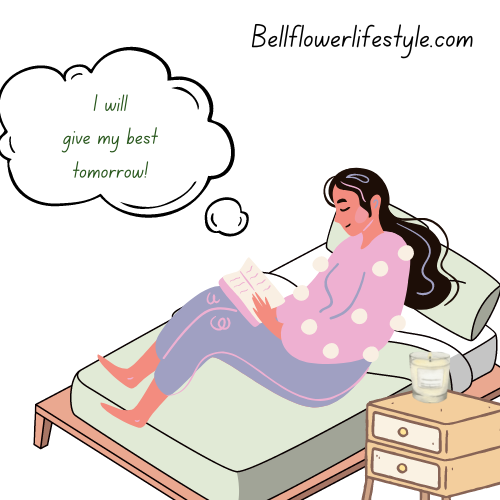 Night Time Journal Prompts for Intentions
What are your 3 main tasks for tomorrow?
What can you do to improve your day tomorrow
How do you plan to do self-care
What do you want to manifest tomorrow
What are some challenges coming up tomorrow or in the next week?
what can you take from today to make tomorrow better?
What is you intention for tomorrow?
Write your Ideal morning routine for tomorrow
Write important tasks you need to get done ( ex- going to bank or other appointments)
Write 3 Positive affirmation to start your day right
What are of life, do you need to give more focus on the next week?
How can I make tomorrow intentional ?
Evening journal prompts
How do you like to wind down your day in the evening?
What are a few relaxing activities that will make you feel great?
At what time do you like to go sleep to wake up on time?
Do you find it easy to sleep? if not, what can you do to save it/
What emotions are you experiencing in the moment? how can you change it?
Write down you goal and purpose to keep yourself inspired
Are there any toxic night habits that you need to stop doing
Whom are you grateful to have in your life?
Night Time Journal Essentials
Prepare yourself for nighttime journaling by setting the mood and curating the essentials you need!-
To set the mood, have a scented candle to have an amazing auro in the room , it will instantly change the vibe and make you journal! This Chesapeake bay Lavender thyme scented candle smells really and last you till the end!
I rave about this product in almost every blog post! The five minute journal is ideal, if you are a beginner and looking for a good and light guided journal! It has 3 prompts for morning and just 2 for night!
It is great to start your journey with regular journaling!
What questions are in the 5 minute journal?
The five minute journal has a quote written on top of every page to inspire you!
Then 3 question for morning that inculdes
I am grateful for…
what would make today great?
Daily affirmation
And for night time, there are 2 prompts
Highlight of the day
What did I learn today?
If you are someone, who want to use journaling freely, with a few prompts, and then just slowly writing your thoughts, then you just need a plain/empty journal!
I found this simple and plain journaling notebook on amazon at such a good price!
So, these were the Night time Journaling Prompts …
Let me know in the comments, how do you like to journal at night?
Pin for Later!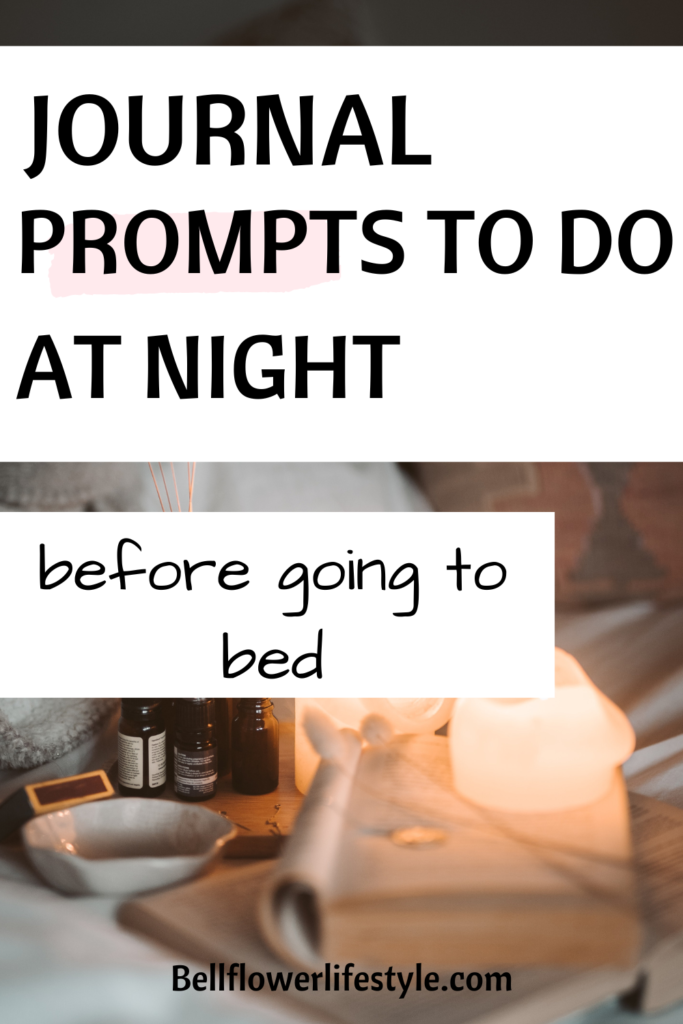 RELATED POSTS
Follow Me on Social Media