(Last Updated On: January 17, 2023)
Going through a stressful period and Don't know how to manage your stress and feel calm? Here are 90 Helpful journal prompts for Stress Relief!
This post may contain affiliate links, which means I'll receive a commission if you purchase through my link, at no extra cost to you. Please read full disclosure here.
Going through stress is normal for everyone, we all are dealing with something or other in our life.
Which is causing us this stress, from careers to relationships, money, to work, there are endless things that give us this feeling.
Even though it is common and normal for humans to go through this
It is not easy and not certainly healthy
Stress can Cause
Increases the risk of physical health problems
Increases, more mental health issues
Lack of concentration
Sleep problems
Affect our relationships
Peace
There are many more things, that stress can do to our life, So…
How can I Manage stress?
Managing stress definitely requires a lot of work, as it is not easy to manage when suffering. However, there are simple ways you can manage your stress
Adding self-care to your routine
Taking care of your body
Taking rest
Talking to someone
Journaling
In this post, I will be sharing one method, that is Writing journal prompts for Stress relief
Is Writing in a journal good for stress?
Writing in a journal is one of the best ways to manage your stress and feel.
When we are stressed, we are full of so many thoughts and feelings that it gets overwhelming to handle
You may not always have someone by your side whom you can instantly talk to feel better.
Journaling is a great way to express all those overwhelming thoughts and feeling to navigate your stress!
Journaling is proven to relieve stress and find clarity.
So yes. Writing in a journal is good for stress!
Read the full post on 21 Day Journaling Challenge to start journaling
What should I journal about stress?
Now, if you are wondering, what can I journal about to calm my stress?
Honestly, you can just take a notebook and write all your thoughts and feelings, it will make you feel better.
But in this post, I share 50 Journal prompts that can help you relieve your stress intentionally and find peace!
Especially if you are a beginner in journaling, this will be ideal for you!
So, Let's get started!
Journal Prompts for Stress Relief
1. Write everything that is troubling you right now
2. What are some of the thoughts you had multiple times in the last few days
3. Is your stress due to something that is happening right now in preset, or is it a past or future thought?
4. What can you do at this moment to bring more peace and feel calm?
5. When you're feeling down, what helps you feel better?
6. I know, during stress, it is hard to feel grateful but think of 3 things you are most grateful for in life
7. Write down 5 things that make you happy or bring you joy?
8. Name 3 things that tend to cause the most stress in your life
9. What actions can you take to minimize or eliminate this stress?
10. Make a list of things that are in your control and other things that are out of your control.
11. How can you let go of things that are not in your control and be stress-free?
12. What are the five good things that have happened in the past year?
13. What do you need the most right now?
14. Think about a time you overcame stress how did you do it? How did you feel?
15. Where do you currently have tension in your body?
16. Is your stressed due to something you are being impatient for? Maybe you need to wait and see how things unfold.
17. How is stress affecting your daily life?
18. Do you feel your stress is because you do too much? How can you manage your time and simplify your life?
19. What helps you calm down? How can you add these activities to your routine?
20. What fears are holding you back?
Stress relief journal prompt
21. On a scale of 1-10, what level is your stress right now and why?
22. Who can you talk to about your problems and feel better?
23. What is working perfectly in your life right now, despite any adversities you are going through?
24. When do you feel most supported and safe?
25. What are 3 good things that happened today
26. If there was a place you could relax right, what would it be?
27. Do you practice self-care? How often? What self-care activities do you do?
28. What are some limiting thoughts holding you from feeling calm and peace
29. How can you spend your time being more present than being equipped with overthinking?
10. When you have a bad day, What or who helps you feel better?
31. What are some inspirational quotes or words that, make you feel better?
32. How can you educate yourself on the topic that is causing you this stress?
33. How does stress make you feel? What emotions are you feeling? What thoughts or situation triggers this feeling?
34. What healthy coping mechanism you can take to get through tough times?
35. Name something you can do today to feel better
36. What does your typical stress reaction look like?
37. Even though you can't change your situation today, what one thing you can do that will be a step in the right direction. That thing is…
38. What do I want my life to feel like? How can I embody those feelings now?
39. How can I make my mornings less stressful?
Writing prompts to relieve stress
40. How is your stress right now? What caused your stress today? Is there anything you can do now which would help your stress?
41. How can you be gentle to yourself?
42. What do you feel challenged by?
43. Imagine yourself living your dream life and write in detail about how you feel
44. What mindset shift can you take to feel stressed?
45. List 5 activities that always bring you a smile
46. Write 10 affirmations to feel calm and inspired again
47. Is there anything you want to change in your life? What steps can you take?
48. Choose one self-activity you would do today to feel better
49. What brings you comfort when you are feeling down
50. At the end of this journaling session, How has your stress level changed? Do you feel better or the same?
Conclusion
And there you have it, those are 50 calming journal prompts for stress!
Hopefully, these journal prompts for stress relief helped you feel better and healthily manage your stress!
Which of these prompts is your favorite? Comment below!
Like this Post? Pin this for Later!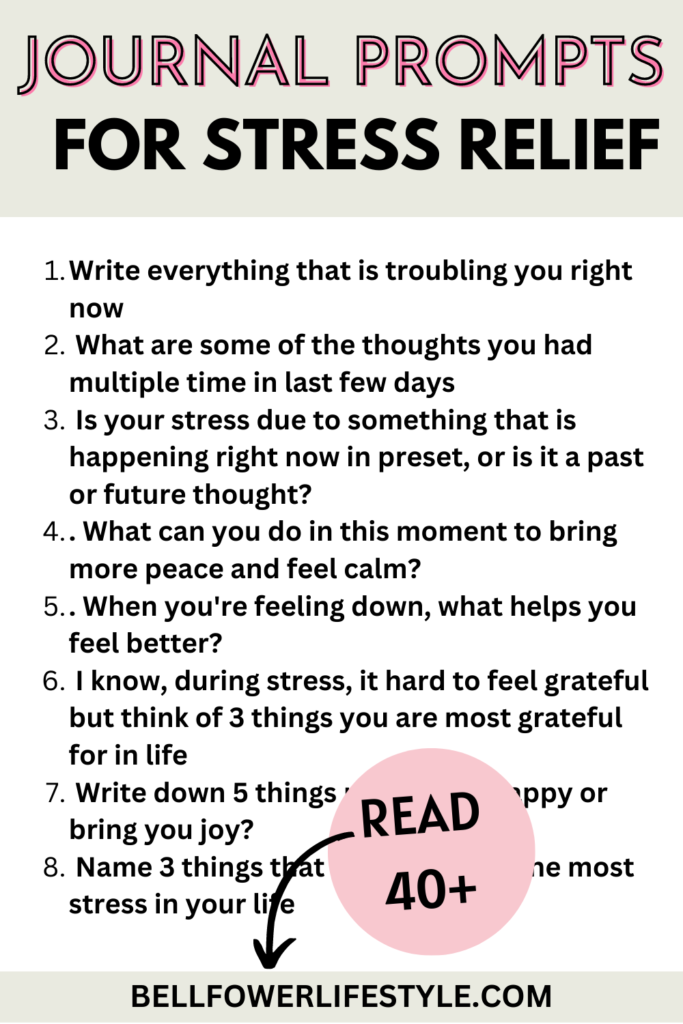 If you liked this, you will love these-
Follow me On Pinterest