9 tips on how to make an easy everyday goal list
(Last Updated On: July 15, 2023)
Are you wondering how to nail your everyday goal list that helps you be productive and achieve your long-term goals? Here are 9 tips to help you guide how to make an easy everyday goal list!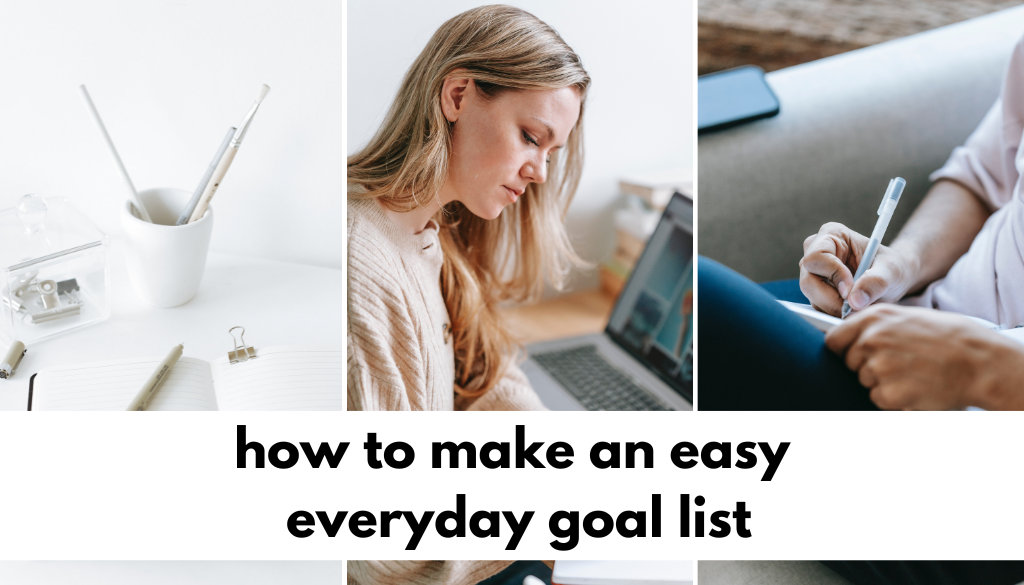 This post may contain affiliate links, which means I'll receive a commission if you purchase through my link, at no extra cost to you. Please read full disclosure here.
Goals are such an important aspect of our life, are they?
It is, in fact, our goals that make us move forward in life and find a will to live and do something.
We all naturally have goals, whether it is relationships, careers, experiences, or something else
there is something we dream to achieve or experience in life
While we all focus so much and make sure to right our Life goals or goals for the year
We somewhat forget that to achieve that goal, we need to make micro-everyday goals
Everyday goals are great for us to achieve our long-term goals, day by day, and have a productive day!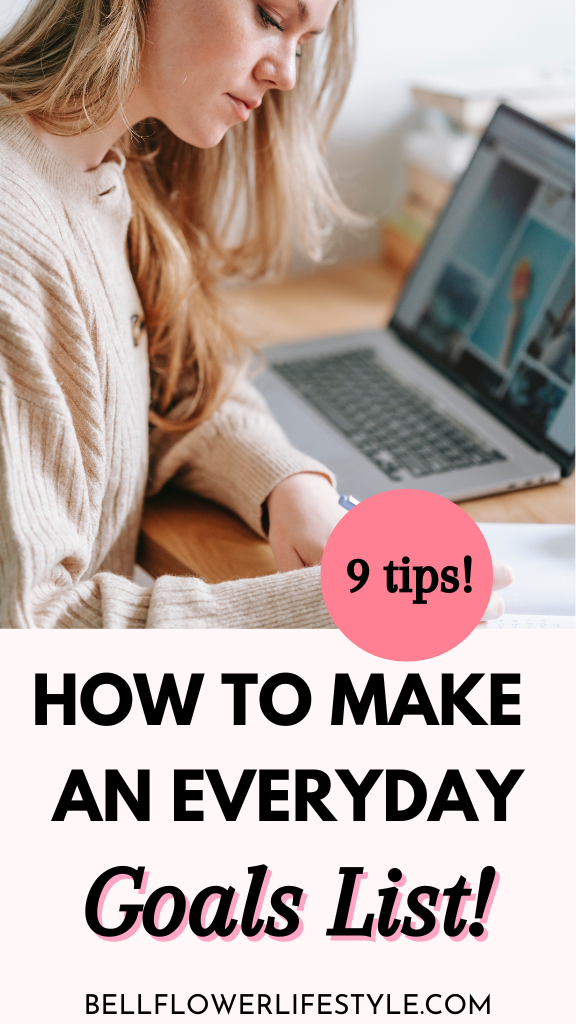 how to make an easy everyday goal list
1. Find and Choose your goal
Start off by making a list of all the goals you have, if you already have a list of life goals written before,
Then all you need to do is choose one goal from the list. When it comes to our goals, we always have more than one for different areas of our life.
We want to achieve so many things
however, it is unrealistic for us to achieve all our goals altogether
Hence, make sure to start with one long-term goal you want to focus on for the time being and work on it every day
2. Prioritize your categories
Another way to help yourself in choosing which goal to start working on, start by prioritizing your categories.
Which category among – health, career, finance, relationships, social, etc, do you want to prioritize first, second, and so on
This will also help you get clarity and choose on main focus for the day
3. Use a Daily Planner
Using a daily planner every day is the most effective way to write your goals and accomplish them.
It will make a habit of writing down your goals every day and keep you focused!
You could use an empty notebook or a to-do checklist notebook to write down if that works for you!
4. Check your commitment timeline
Now you need to set timelines for the goals that you wish to achieve. Apart from this, I am sure those who already have a few timelines related to work are all ready.
Look at your timeline and if there is anything you must get done first before the deadline. Then add it to your daily goal list.
That is your goal for the day to get done! So Simple!
For example: On Thursdays, I send a weekly newsletter to my subscriber
So even if I have many things to get done, I know that my main priority/ goal for the day every Thursday is publishing a newsletter to my readers!
5. Choose no more than 3 tasks in a day for your goals.
One of the common mistakes people end up making in their daily goals or to-do lists is writing tons of tasks for the day.
I used to do it as well when I was in school
Ideally, you should not add more than 3 tasks to do to your list. why?
Because doing less in more! By choosing one task, you are most likely to achieve it by the end of the day and do it efficiently.
It is also unrealistic to work all day and get tons of things done because things require time
you may need to research more, and it may consume your time
Hence focus on choosing 1-3 smart tasks and giving all your focus to them!
6. Choose the most important task…
MIT knowns as the most important task method, is a method to increase your productivity.
In this method, you choose the most important task and give all your focus to it
throughout the day, we have several things to get done, many small not so important things mainly
We get distracted by doing those tiny unimportant tasks first because it makes us feel that doing more is being productive, more
Which is not true
True productivity, is not getting more things done but rather doing the most efficient and important thing first that actually makes a difference in your goals!
Hence, when making your list, make sure you choose the most important task first that helps you achieve your goal.
The most important task also tends to take more time and effort, which is another reason why we must do it first and give all our time and attention to it.
7. Make sure to include self-care goals in your day.
Completing your work/career goals is great. It is what we all thrive for right?
However, while working towards your career, let's not forget our self-care and health goals!
When writing your everyday goal list, make sure to include your self-care goal as well as some health goal to keep you well!
It can be adding a workout for 30 mins, eating your fruits, or making time to go for a walk.
Anything that helps you take of yourself, make sure to add it!
8. Make sure your daily goals help you achieve the long-term goals.
When choosing your goals for the day, don't just any goal .meaninglessly
Make sure the goal or task of the day helps you achieve your long-term goal,
Make sure it is contributing to the long-term vision you have! This will make you do things with meaning/purpose
You will feel more motivated and pumped to do the task because it is going to help you get closer to your long-term goals!
9. Track Your Goals
Lastly, The best way to achieve your goals is to track them every day
We all write goals at the start of a new year but pretty easily forget to do something about it
Tracking your goal every day or everyday week will help you accomplish and make every goal list more efficiently
you will know your mistakes, and you can correct them easily too!
Conclusion
So these were my best 9 tips on, how to make an easy everyday goal list that helps you stay productive, as well as achieve your long term.
In conclusion, the whole aim for making an everyday goal list is to break down our main goals into small micro goals that we can do every day and eventually achieve as we wished
Liked this post? Pin it for later!
If you like this, you will love-
Follow me On Pinterest