67 Insanely Great Hobbies for 20 somethings adults
(Last Updated On: July 11, 2023)
Are you navigating toward your 20s? and feel as if there is something you can do apart from studies and work? Something different from regular parties and hangout with BFFs? Or just Curious to get into new hobbies? Well, regardless of what it is, These 67 Hobbies for 20 somethings are all you need to know!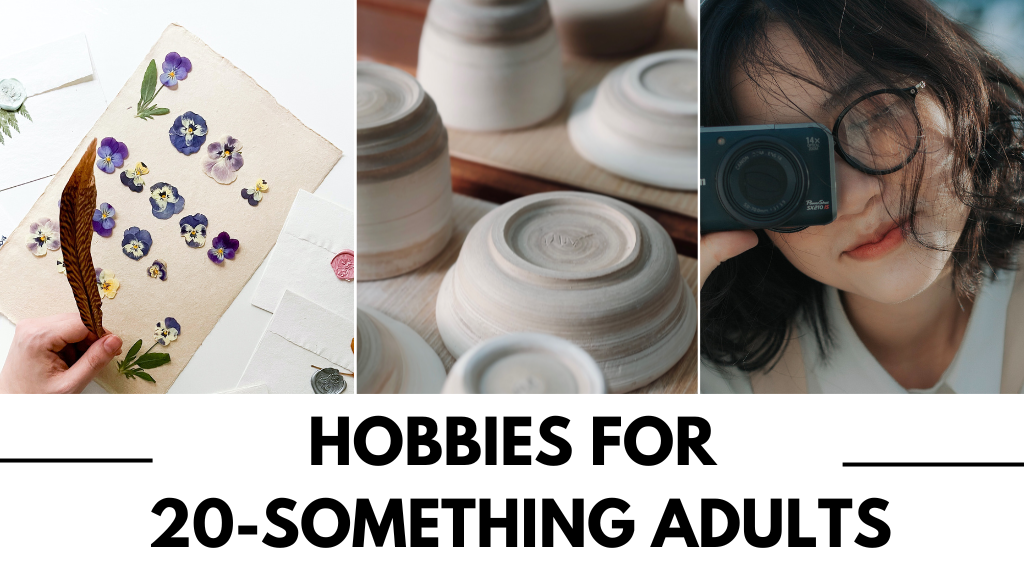 This post may contain affiliate links, which means I'll receive a commission if you purchase through my link, at no extra cost to you. Please read full disclosure here.
What hobbies should adults start?
Our 20s are the time for self-discovery and exploration. We can try so many things and make mistakes. A lot of us don't even know what we want in life and hobbies help us find our passion. Hence, Hobbies for 20 somethings are a must!
How do I find a hobby in my 20s?
When I was in School, I didn't spend a lot of time exploring hobbies and after I entered my 20 is when I discovered, I actually enjoy doing so many things.
The Best Way to Find Hobbies in the 20s-
Find what interests you, Maybe there was something you were always curious about? Think of things you want to try before
Reflect on your childhood and see what you always indulged in as a kid, maybe painting or dancing
Experiment! The best way is to try out a bunch of things and see how you feel about them? Maybe after trying 2-3 activities you will find one that brings you joy.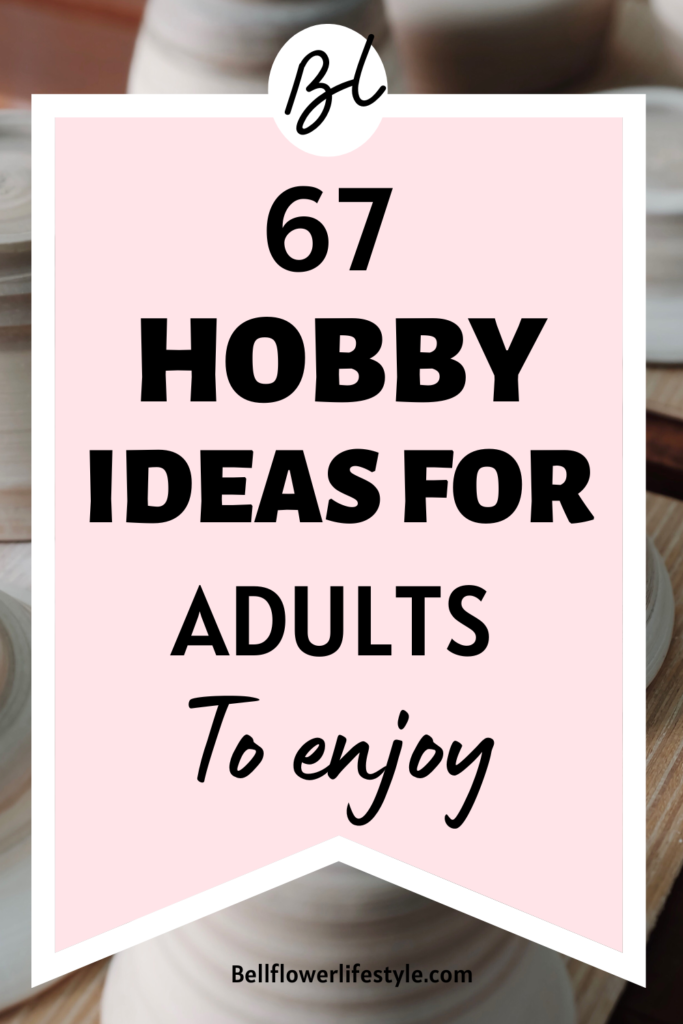 Why Hobbies are Important?
I never knew how much role hobbies play in bringing peace and joy to life until I reached my 20s!
Hobbies for 20-somethings are a must because-
It is a part of self-care, Something you do only for you
It keeps you present at the moment, I realized that true peace and happiness come from being fully present in the moment and enjoying it. Hobbies help you do just that
It helps you with distress from hectic life. If you are constantly hustling and stressing in your work life. Hobbies will help you relax.
It Upgrades your skill! If you try an activity with time you will only get better and have one more skill in your life
It makes you less lonely. We all have separate lives and our partners, friends, and family may not always be there to accompany us. Hobbies make you feel fulfilled in your own Company.
Want to make self-care a part of your daily life without any hassle?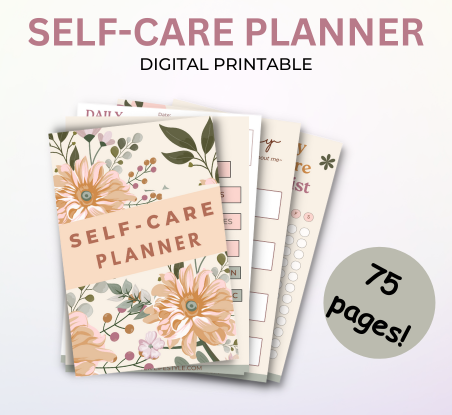 If you find it difficult to prioritize self-care in your daily. You've got to check out my Daily self-care planner journal
it's jam-packed with 75 pages of self-care daily to-do, tracker, affirmations, and prompts for understanding your self-care needs!
A must-have for helping yourself in taking extra care of yourself
101 Hobbies to pick up in your 20s
1. Dance
Dance was one of my first hobbies that brought me pure joy and still do, As an introvert, dance was the only that made me feel comfortable and confident in myself and dwell at the moment.
Over the years, I have made so many friends who enjoy dancing as much as I do and share this love together.
You can easily dance at home following a youtube video or join a dance class (which is much more fun)
2. Blogging
If you enjoy writing, Blogging can bring you joy and connect with others too! I love writing and expressing my love for self-care, and mindfulness which pushed me to start a blog and I am so glad I did!
It may feel Complicated to start but once you do, It will be Awesome
3. Art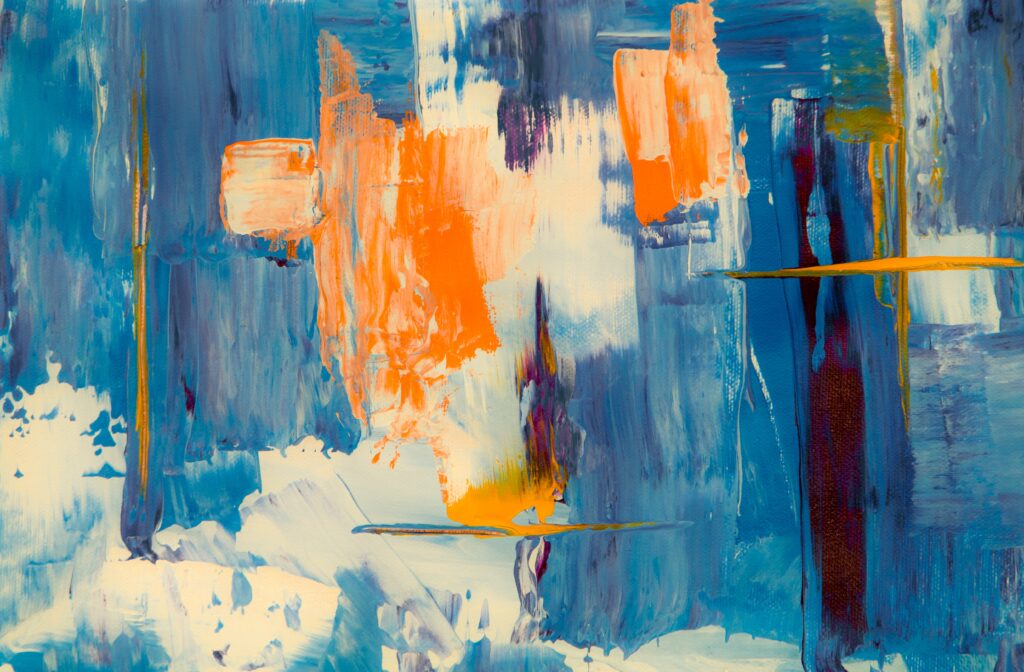 Art is a form of therapy on its own, From painting to sketching, there are so many categories in the art that you can explore.
In fact, there are so many art cafes that have opened now where you can sit alone or with your friends, Eat and draw!
I recently went to one Art Cafe and loved its vibe so much!
4. Learn a Language
If you have a dream city where you would want to travel or live and they have a different language than your native, You can start learning it even if it is a few phrases!
When I started watching k-dramas, I got curious to learn Korean, and even though I haven't mastered it and I love it! I also started learning a little bit of german through Duolingo
5. Cooking
I find Cooking to be more stressful than relaxing but my sister and friends love it! They find it extremely relaxing and enjoy making new dishes every now and then.
6. Gardening
Many people love Gardening, The feeling of collecting and nurturing a plan is soothing for them. If you love spending time in nature then you may enjoy this.
7. Home Decor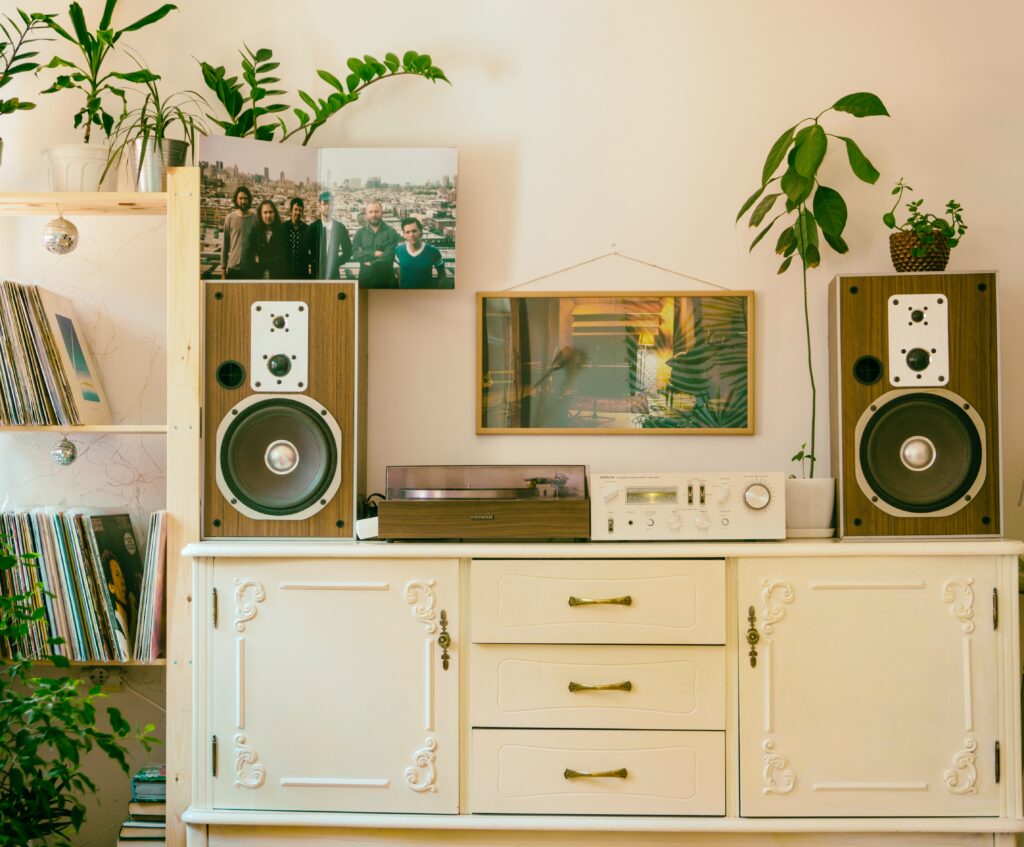 Decorating your home to make you feel calm and connected is an excellent feeling. You can change your colors and add Home Decor items, there is so much you can do! You can check this blog – bysophialee to get great inspiration on college and home Decor.
8. Music
Music is so healing, I am grateful for music to exist in this world. Whether it is listening to music, singing, or maybe playing an instrument. All of these are great hobbies for 20-somethings adults.
9. Learn baking
Many people enjoy baking cookies and cakes, There are many recipes on the internet you can read or watch to start baking!
10. Try Ceramic Pottery Making
Over the last 2 years, I have seen so many Instagram pages of cute and aesthetic pottery making. The mugs are super cute and now they even sell these to their audiences! It requires a little bit of investment in small equipment but I think it would be so much fun.
11. Learn Astrology
I never thought I would be interested in astrology but a few years as a part of self-discovery, I started learning basic astrology. It is complicated and requires patience.
12. MakeUp
We have seen so many makeup artists rise in the past and it is enough proof that makeup is a passion for many started as a hobby once
There are so many layers and techniques that go into makeup and you can learn them on Youtube anytime.
13. Start a You tube Channel
Youtube is a fun place to connect with people and share your show about something, there is a youtube channel for almost everything in this world!
If you have a skill you wish to share with the world in video format, then you can start your own youtube Channel!
14. Bullet Journaling
Bullet Journaling is a form slow and therapeutic form of Journaling that involves art. It is great to implement slow living and as well organize your life. If you are looking for bullet journal supplies to get started then read this post where I share all you need!
15. Reading
Reading is a great way to dwell yourself in a different world while learning so many new things! You can do it alone! Whether it is Fiction or Non-fiction Books, reading is life-changing!
Get Kindle To go Digital and start reading thousands of books in one Place!
16. Journaling
We all know what Journaling is now, expressing your thoughts and feeling on a piece of paper and many enjoy that. You can connect to your inner self and clear your thoughts by just writing.
17. Soap Making
One of My aunts used to make soap at home, she is always into trying new hobbies and it's so good to see her do that!
18. Podcasting
There are so many platforms that have opened up where you can connect with people and one such is Podcasting. it is the new thing everyone is loving nowdays,
I love Listening to a podcast related to mindfulness, entrepreneurship, and growth!
Here are some Podcasts I have been loving lately 12 Best Podcasts For Women In Their 20s
19. Creative Writing
If you always wanted to be a writer, then this can be a great way to get started!
20. Jewelry Making
I remember making Jewelry of beads as a kid, It made me realize that as a kid we use to try so many things without feeling ashamed.
No wonder why babies are always happy and joyous because they get to try so many hobbies! This is why Hobbies for 20 somethings are a must!
21. Start a Book Club
For all passionate readers, Book club is another way to connect with your fellow readers and share the love!

Jenn Im Is one of My favorite Youtibers and she has a Book Club of her own, Check out here
22. Chess
In Lockdown 2020, I spent so much time learning and playing chess! It is said to be good for your brain and fun too!
23. Running
Many People Enjoy Running, It helps in Improving your emotions and staying fit at the same time.
24. Knitting
Knitting is a Great at-home activity especially if you are transitioning into motherhood!
25. DIY Crafts
In school, we use to spend so much time doing DIY and it would be so much fun back then. You could give it a try
26. Learn Coding
If you a good at technology then coding could be your thing, Learning coding can open many opportunities for you in the future!
27. Cleaning and Organizing
Many People Like cleaning and find it distressing. Similarly Organizing your home is what helps them feel calm. It is a great at-home activity to do when bored
28. Photography
With the rise of demand for visual content in the world, Photography could provide you many opportunities!
29. Learn Tarot Card Reading
If you think you are highly intuitive and drawn towards spirituality, then you can try learning tarot card readings.
30. Calligraphy
Another form of Creative Writing is Calligraphy and it is more for writing style. It reminds you of old times and is so relaxing.
31. Candle Making
Last year, I made a bunch of bubble candles and it was so much! I even opened an Instagram page and sold a few! There is no reason to not start it!
32. Writing Fiction
I have come across so many writers who started writing fiction or fan fiction on apps like Wattpad. If you love story writing then you should definitely give it a try.
34. Traveling
You can always travel to nearby places or cities in your free time. There is always so much to explore even where you lived your whole life.
35. Genealogy
If you have always been curious about your history and where you really come from. Then Genealogy could a great hobby for you
36. Video Games
Video Games are going to be the future in the coming time, People will be Paid to play games as it is said. There is no reason to not start!
37. Sewing
If you are interested in fashion and making clothes, you can learn how to sew and make clothes for yourself!
38. Roller Skating
I use to skate as a kid and it would be really fun. I would fall multiple times and eventually learned how to skate.
39. Cafe Hopping
If you are passionate about food and experiences, Cafe hopping could be for you! You can try different cafes and rate their food and experience and share them with the world
40. Ice Skating
Do you live in a snowy area? Then Ice skating could be one of the Hobbies for 20 somethings to try and see.
41. Tennis
Table tennis is great way to distress after a hectic work day with someone.
42. Animation
If you love digital art, the animation could be something you start. Especially if storytelling and art is you love.
43. Adult Puzzle
As a kid, we played many games but now we may not find them as fun as it was before, but no worries because there are so many Adult games and even difficult puzzles out there!
44. Yoga
Yoga is a beautiful form of exercise that helps you stretch your body and slow down this face paced life.
45. Volunteering
Many people Like to Volunteer in Animal shelters and NGOs as a hobby.
46. Zumba
Zumba is a fun way to stay active and move your body! You can watch on youtube or attend a class in a studio
47. Writing Movie Reviews
Do you feel the urge to share your feelings after watching a mind-blowing movie? Then writing Movie reviews could be for you!
48. Digital Creator
Platform Like Instagram and Tiktok has become a hub for people to create content Easily!
49. Rock Climbing
Many Places have Rock Climbing zones to increase your strength and exercise.
50. Hiking
Hiking to go see a sunrise or sunset is what many people like to do every day!
51. Skate Boarding
Skate Boarding is also famous hobby among people in 20s, You just need to get a skate board and get started
52. Making Photo book
You can use your free time to make a scrapbook of your life. From kid to entering your 20s..30s and so on. It is enlightening to look back and feel nostalgic.
53. Thrifting
You can shop for thrifted items or even sell in a thrift shop to avoid wasting money.
54. Graphic Designing
Graphing Designing is Increasing day by day -Making templates and posters could be your thing and are also very much in demand
55. Mukbang
If you love eating, You can Mukbang and share on digital Platforms or with your friends to enjoy.
56. Cycling
Cycling is a popular thing in Amsterdam and people love it there! You can cycle in no matter where you live and stay fit and save $$$
57. Fashion Styling
If You Love Fashion, Then Fashion Styling could be for you! One of my sisters loves Styling and she spends a fair amount of time dressing up and styling outfits.
58. Collecting
Some People Like collecting coins or books, cards, and items from different countries they have been to.
59. Letter Writing
Letter Writing is something many people enjoy.
60. Golf
Another Famous sport is Golf. You can go with your friends and enjoy some time playing it.
61. Karaoke
Many People Like to sing and karaoke is one way you can do it.
62. Workout
If you want to do something which does not involve sitting around, working out can be a great at-home activity that is also good for your mental health!
63. Starting a small Business
In Lockdown, Like myself many people switched to starting their own small business Side Hustle,
Many people after doing their 9-5 Go home and focus on their small business. If you always Dream of starting a business then now is your chance to do it!
64. Teaching
If you love teaching, then you can join online teaching platforms to do this.
65. Learn How to Upcycle
Upcycle is a wonderful and creative Activity, You can read 54 Creative Upcycling Ideas That Are Also Budget-Friendly here
66. Swimming
Swimming is a great way to relax in the water and indulge in physical exercise.
67. Hosting
Many People Love Hosting parties and organizing festivities, if you are one of those people who love hosting then you could do this as a hobby.
Conclusion:
So these were 67 Hobbies for 20 somethings that were looking to learn and indulge in something new!
Hobbies are important no matter what your age is! Everyone must always have something they do, only for the purpose of having fun and learning along the way!
This Post Was all About Hobbies for 20 somethings
Good luck!
Tell me in the Comments what hobbies are you planning to start.
Pin for later!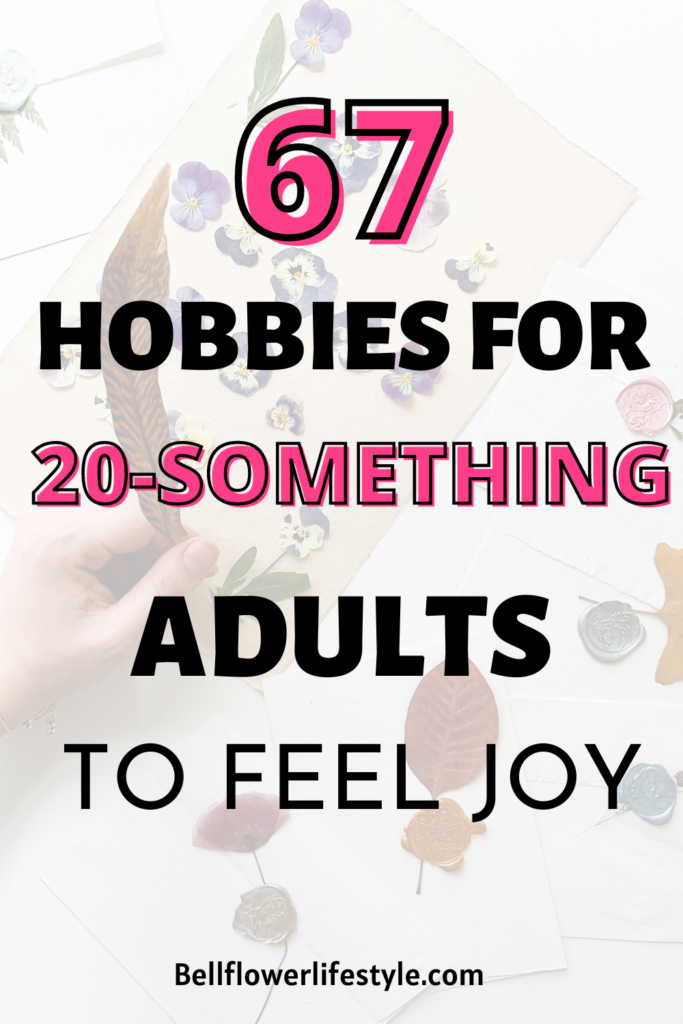 You may Also Like...
Follow Me on Social Media