16 Best Holiday Gifts for bullet Journal lovers
(Last Updated On: September 27, 2022)
Are you thinking of gifting someone things that could lift them and change their lives? With the Holiday season around the corner, Journals are one of the Best Gifts for bullet journal lovers!
Even if They are into or new to organization, planning, and personal growth- They are going to love it!
This post may contain affiliate links, which means I'll receive a commission if you purchase through my link, at no extra cost to you. Please read full disclosure here.
Why Bullet Journals?
If you are new to the concept or wondering what is so great about bullet journals, then let me tell you-
As much as I love guided simple journals and planner that saves time, I feel bullet journaling is best for slow and therapeutic activity
Especially if you want to implement slow living, I think bullet journals are a great way to do it! It involves – creativity, art as well as planning out your life
However, if you are looking for planners and organizers that are guided and instantly improve your productivity, then read this –14 Best Organizing Your Life Planners You Need!
Pin for later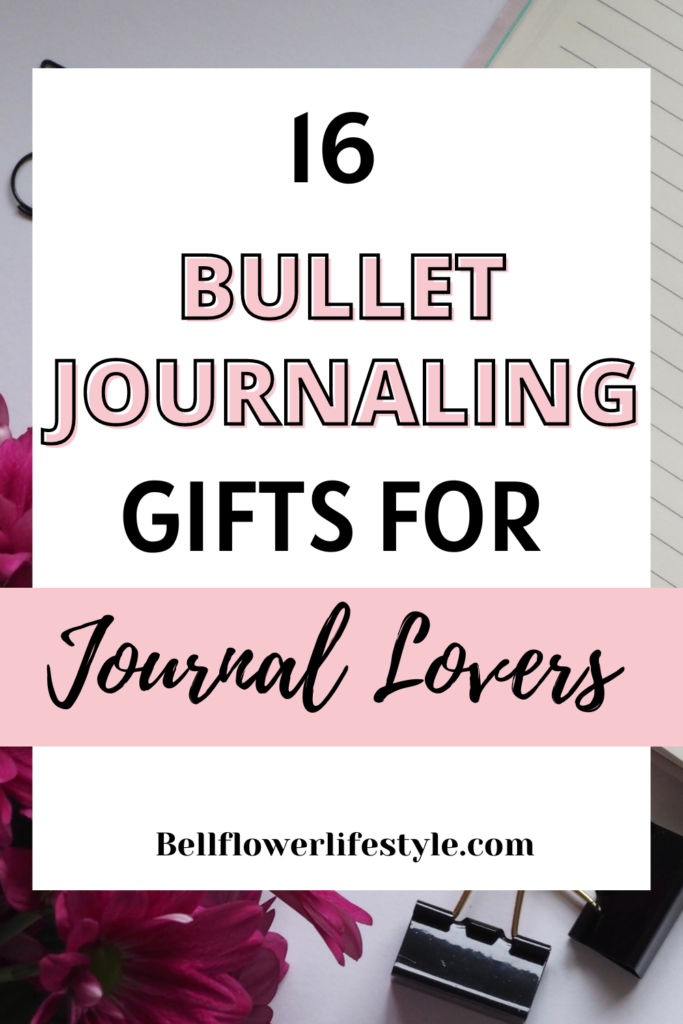 Here is a list of 16 Best Gifts for bullet journal lovers
Bullet Journal Gift box
A perfect gift has to be a box full of everything one needs! These Bullet journal gift boxes, in my opinion, are the best way to give them all in one bullet journal supply!
This gift box is a perfect starter for bullet journaling! The beautiful gift box cover adds a perfect touch of love to the gift Inside! l personally love the pink journal for its soft and minimal look but they also have over 4-5 different colors
The great thing about is that it comes with 75 elements included in it!
1 Dotted Notebook
6 washi tapes
24 fine liners pens, 2 black pens
10 small envelopes with 10 small cards
10 Sticker sheets
12 stencil sheets
This is truly an all-in-one journaling kit as it comes with all the bullet journal supplies one needs and with the price! You don't want to miss checking it out!
I love the gift box cover of this more than above one, you can put a beautiful note while gifting in the holiday season!
You can find an A5 journal, 10 sticker sheets, 9 stencil sheets, 6 washi tapes, 15 fine liner pens, and 20 small envelopes in this.
Bullet Journal Notebooks
A bullet journal Notebook is the most important, It is ideal to go for a dotted notebook that helps in flowing creativity and design. One that is great quality, a clean aesthetic!
The color is so earthy and calm! If you are looking for a high-quality dotted journal ( as you should!) this one is for you! It is pretty sturdy and thick, I like that dotted lines are very light, so I can be as creative as I want and the dots won't show up! Its classic and popular among bullet journal lover!
This Paperage journal comes under amazon's choice (at the time of publishing), but what made me recommend this is how bright and colorful their notebook collections are and the price is cheap!
If you have never tried bullet journaling and still looking for a affordable, yet decent quality notebook, I would recommend this!
I have been in love with pastels all my life, so I had to mention this one! If you are looking for a travel-size-friendly as well as one that looks good on your desk, then i recommend checking this out!
A classic Black journal for only $7 (at the time of publishing this post) is ideal for a newbie! If you are not a colorful notebook lover then you might like this. I personally have not tried this one, but for the price point and Its simple and basic look, picked it
Journaling for a newbie can feel overwhelming, that's why this set of a how-to guide and a notebook is a perfect holiday set. It includes all the how-to guide is perfect to get started with bullet journaling!
Bullet Journaling Essentials & Supplies
This set is amazon's #1 bestseller and for $7 only (at the time of publishing). I would say it is pretty smooth and fine when comes to writing! The colors are more vibrant which makes it great for experimenting with creativity and highlighting!
If you are looking for a dual pen and brush set with a broad collection of colors, you can try these from Walmart!
The Tombow dual brushes are good quality affordable option to go for, as you already know my love for soft pastel colors, I think this is great to just write and calligraphy! It is waterproof and you can find more color set!
If you are not into drawing but still want to be creative and artsy with bullet journaling, I think stickers are great for that, I Love stickers. if it is your daily simple planner or habit tracker this will just be the cherry on top!
Etsy has a great collection of stickers and with the holiday season, Your journal can be all fall and festive-themed too!
You don't necessarily need washi taps but again to be more creative with your journal, they come very handy and add fun to it!
Moving onto Stamps, they can be a real time saver! You can just paste them to your journal whenever needed!
If you are good at calligraphy, you don't necessarily need this but for someone like me whose handwriting is not the best, these Number and letter stamps are a great addition!
Some other stamps That I love are these calendar and habit tracker ones, which make the perfect planner+ journal!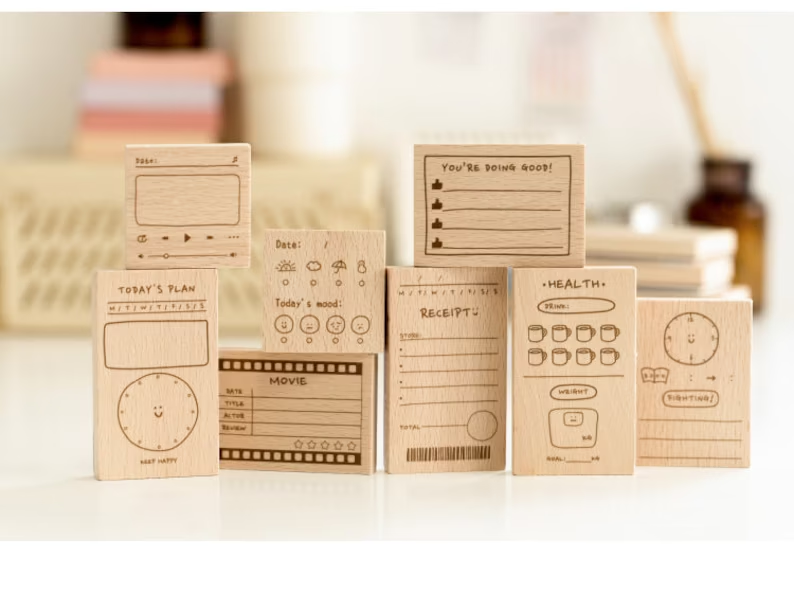 So, These were all 16 Best Holiday Gifts for bullet Journal lovers!
What are some bullet journal gifts you will be giving your friends, family and loved ones ?
Looking for more Holiday Posts?
Pin for later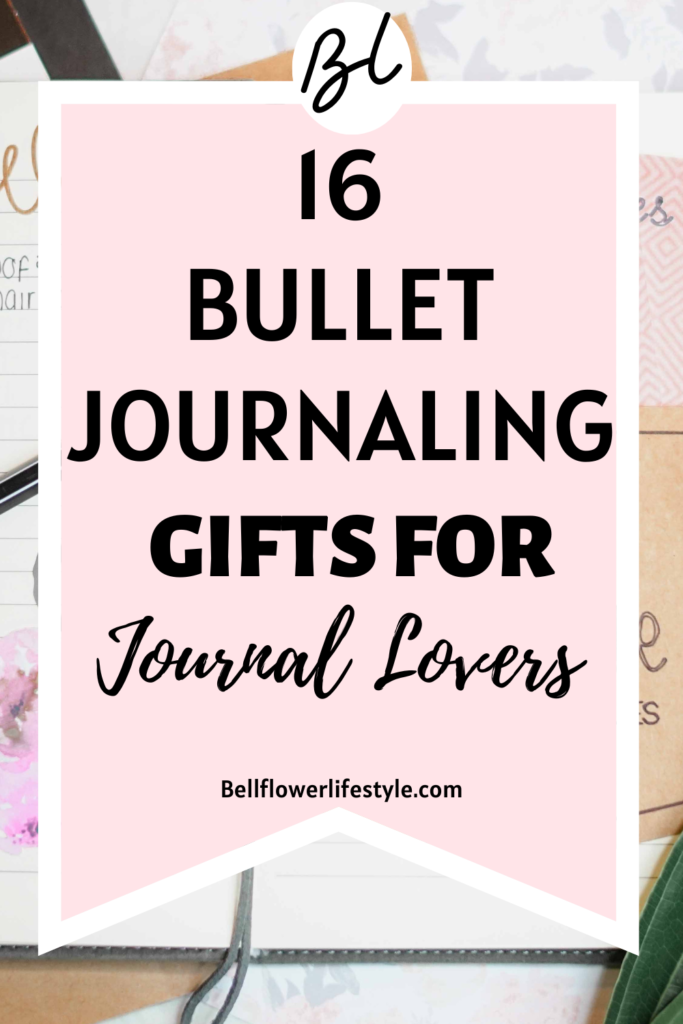 RELATED POSTS