55 Joyful spring journal prompts for Adults for new beginnings
(Last Updated On: February 6, 2023)
Spring is the season of new beginnings and a fresh start! Are you excited about spring? Looking to have a fresh start in this new season? Here are 55 Joyful spring journal prompts for Adults for you must try!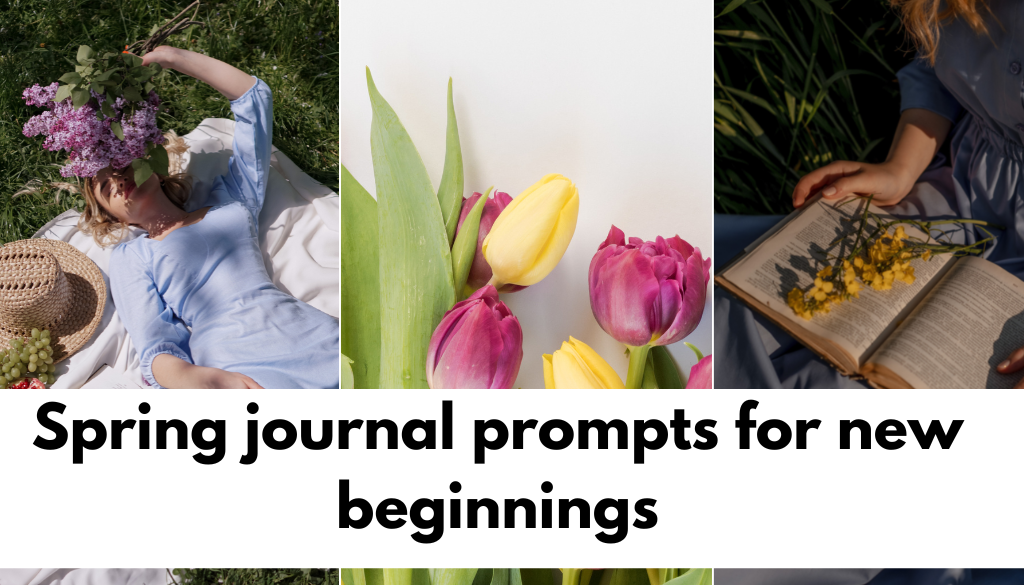 This post may contain affiliate links, which means I'll receive a commission if you purchase through my link, at no extra cost to you. Please read full disclosure here.
Spring is such a joyful, warm, and bright season. It is the season or rebirth AKA new beginnings!
If you missed your chance to make changes in your life and goals during the new year, Don't feel sad.
Because spring is the best time to start fresh and get your life back on track!
Whether it is adding a habit, trying new hobbies or adventures, or feeling more joy
You can do that this season. If you love springtime! You will love these journal prompts for spring!
Spring Journal prompts for Adults
What do you love about the spring Season?
When You think of spring, what is the first thing that comes to your mind?
Is there any feeling you are reminded of during spring?
Write a List of things you are excited to do or experience in spring
What self-care activities, you can do in spring to feel good?
What are some new goals you have for the season?
In what ways do you want to change in this season?
How is your mental health during spring?
How can you improve your mental health and enjoy this season?
What are your intentions for spring
Where are you at with the new year's goals you had set in the beginning?
Do you Practice Spring cleaning or organization? Do you like it?\
How do you plan to work on your physical health this spring?
How is your spring different from previous years
Write in detail about a perfect spring day, its weather, how would you want to feel, and things to do
What is one bad habit you would want to leave behind?
What are your least favorite things about spring?
Have you made any spring plans yet? What would you like to do?
Many people love April fool's day when it comes to spring, Do you have a memory of April fools you cherish?
What is bringing you joy lately?
What are your intentions for spring?
Are you planning to picnic with your loved ones during spring?
What is your favorite flower?
Do you have a special memory of spring with your family?
If you are in college, are you excited about spring break?
What would be the ultimate destination to go to in spring break?
What is your favorite color in spring?
Would you like to change your morning routine for the new season?
Creative Spring Journal Prompts
What can you let go behind as you welcome this new season of fresh beginnings?
What are your thoughts on the rain that spring brings?
What is the difference between spring and summer?
Do you celebrate easter? if yes, How will you celebrate the easter holiday?
What is your favorite indoor spring activity?
What is your favorite outdoor spring activity?
Make a list of things you are grateful for in spring
Write some positive affirmations for springtime.
What are some spring holidays you are excited about?
How much time have you been making on yourself? is this enough?
What are some things you had put off during the winter season?
How can you connect with nature more this Spring?
What challenges are you working on right now?
What one healthy habit you can commit to this spring?
What will you miss about winter?
What style or colors do you want to add in spring?
Do you feel more or less motivated in spring? Why?
What memories remind you of springtime?
How can you heal yourself in this season?
What foods and drinks are you excited to try in spring?
How can you be happier this season
Are there any new exciting projects you want to try this spring?
What are the first things you do when spring hits?
Do you prefer rain or sunshine?
How is your life different compared to last year?
How can you improve your lifestyle in the spring?
What about warm weather that gets you most excited?
Conclusion
So, these were 55 journal prompts for spring season! I am so excited for spring and spend more time in nature and try new clothes!
Write the comments, what are you most excited about spring?
Like this Post? Pin it for later!
If you liked this, you will love these-
Follow me On Pinterest