Easy Digital Declutter Checklist to Simplify your digital life
(Last Updated On: May 8, 2023)
Simplifying our digital life is as much important as our home nowadays, here is a complete Digital Declutter Checklist to help you simplify your digital life and live clutter free!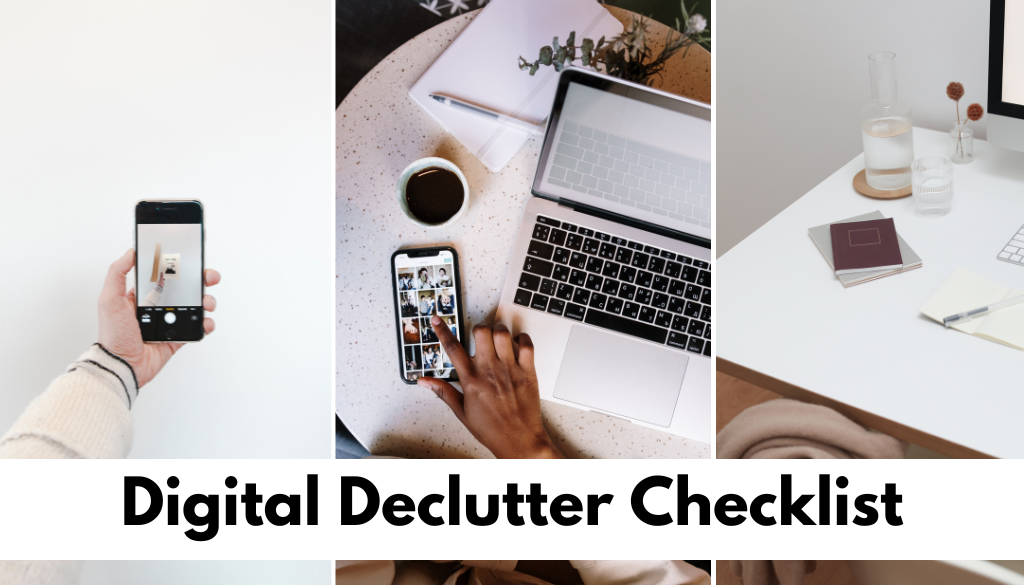 This post may contain affiliate links, which means I'll receive a commission if you purchase through my link, at no extra cost to you. Please read full disclosure here.
With the rise of digital technology in our life, just like our homes, the digital space tends to get cluttered.
Our smartphones, laptop, Ipads, or drives are now overfilled!
From, random screenshots to photos to subscriptions and apps, we have filled up all our appliances.
I am sure in at least one of your devices, you frequently get the notification that your storage is left full now!
isn't it?
Crazy how much we consume and utilize these items every day!
In this post, I aim to help you simplify your digital life so your mind feels less cluttered too!
What is digital clutter?
In case you are confused about what truly is digital clutter, I want to help you understand
Just like our home gets cluttered with physical stuff from clothes, boxes, and products and gets scattered everywhere that
we either get no space and everything is a mess, or we keep buying more storage and furniture to store these items
pretty soon, our space starts feeling small, and we want to move to a bigger place to have more stuff stored
This is what a cluttered life is in real life
Simplify with the rise of digital items in our life – phones, laptop
We have switched to doing so many things on our phone
Our digital devices literally have everything now!
This is why even this has reached a point where we have so much digital stuff stored in our devices that we feel the need for more storage.
Just like, in our home, most of the cluttered stuff is useless, and not actually important.
Our digital appliances also have way too much random stuff that is not important and is simplifying, taking up space, energy, and time!
This is what digital clutter is
Why you must do digital declutter
Just like decluttering our home and mind is important, Decluttering our digital life is equally important.
Cluttered digital space can make the space feel overwhelming and can hold us back from growing.
For example: Having too many distracting apps on our phone
Every time you open your phone to do something important, you end up getting distracted by those apps and feel the constant need to check your phone
When I have more social media apps on my phone, I feel the urge to check on them every now and then
However, if I keep most of them deleted, I tend to get less distracted and focus more on what needs to be done
Apart from personal life reasons like, productivity, and growth
Digital decluttering can also help in speeding up your device, too much storage and apps slow down your phone and make it difficult to use
Hence, it is always great to reset your devices and remove all the unessential from your phone
A minimal digital space also leads to a rested and clutter-free mind!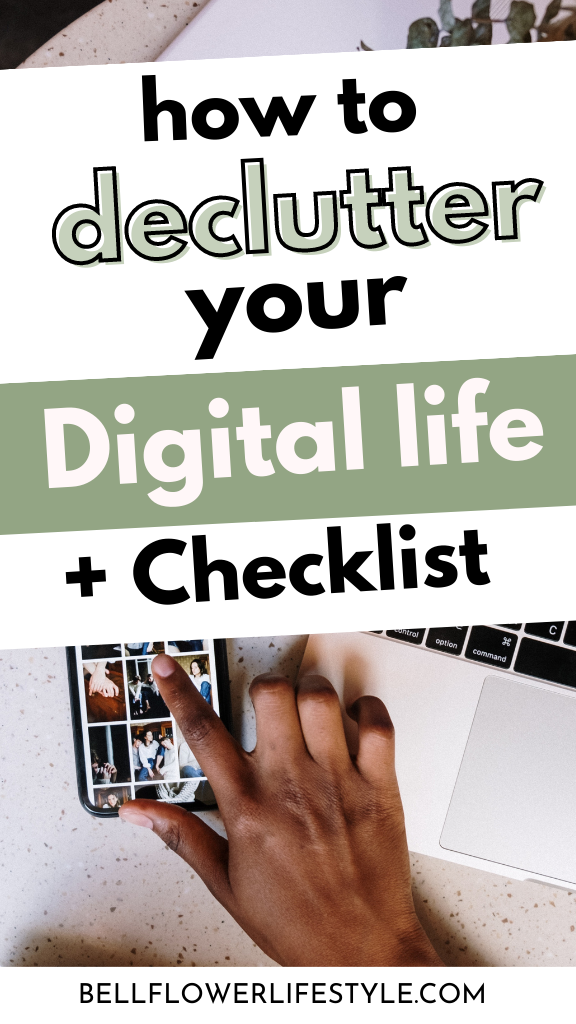 How do you digitally declutter?
Now that you know why digital declutter is important let's know the step-by-step Digital Declutter Checklist to help you simplify your digital life!
PS: If you want to declutter and organize your phone, here is a step-by-step guide
In this post, I share intensively on laptops, but the steps can also be performed on other related devices!
1 Step: Delete items from desktop
First thing first, start by scanning through your desktop or home screen
We usually save most of the items on our desktop so we can easily find, now there might be things lying on your desktop that you may no longer need
Scan through them and delete all the non-important items! From folders, apps, and pictures to anything you think you have not used in ages and
probably won't be using in the future either.
Keeping a clean desktop screen is very important, and it looks also aesthetically pleasing!
2 Step: Create different Folders for all important items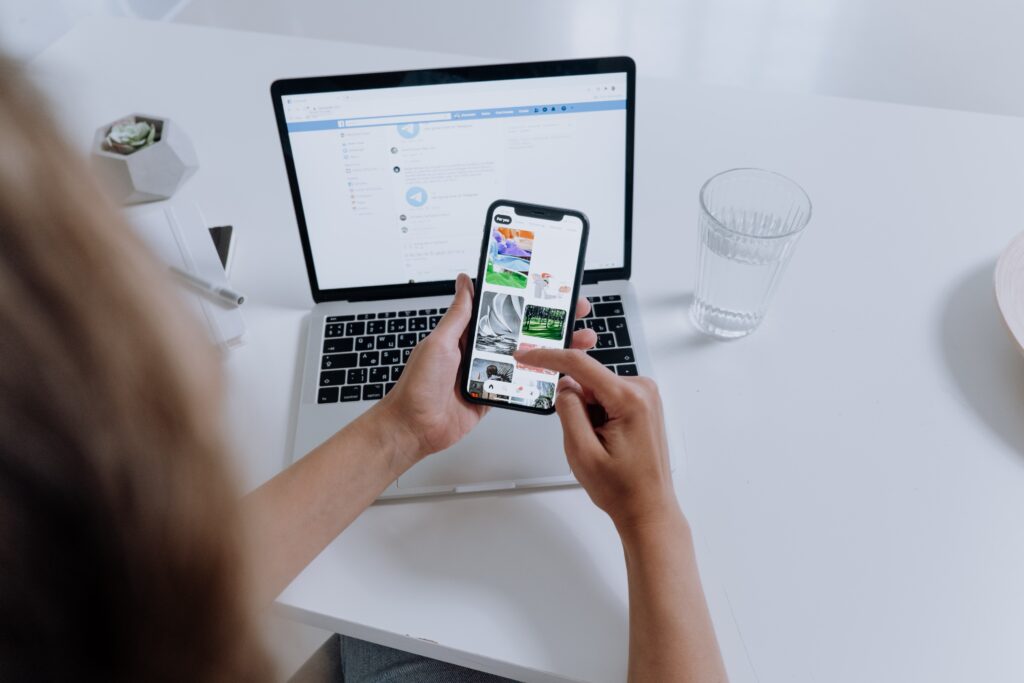 After you have deleted the items you no longer need, I am sure there might be many pictures or documents saved on the desktop of similar categories
Your desktop screen may look like a mess because of this and sometimes we tend to save 2-3 times for just one thing ( like edited version 1, final 2)
For this step, create a folder for everything you have openly saved on screen.
Name the folders as per their categories and put everything in their respective category
It may take about 5-10 minutes only to do that and you will be done!
This way you will be able to find your important documents or pictures easily because they are in their respective folders!
3 Step : Documents:
After scanning through my computer, I found tons of documents from my college.
Now I have passed out, and the ppts and documents are not of any use to me
So it was important for me to delete all those documents and clean up my space
Scan through your computer – to files, downloads, and other sections, and look for the documents, you have
If the documents, are now useless to you, then delete them as well
Second, if you do have, useful documents, do the same by creating folders and sub-folders for them
You must do that because important documents should not be lost and we may need them from time to time!
4 Step Emails:
Ahh! I cannot stress this enough, I am sure we all have not one but many email ids on our computer, and we have subscribed to many newsletters in all of them.
We receive tons of distracting and useless newsletters every day, and it is so frustrating.
I open my mail every day because there are genuinely many newsletters I love to read, but I still have so many useless newsletters that I got subscribed to as a result of shopping once
I am always unsubscribing from them, and you should do
Also, for work-related important emails that you may need in the future, you can keep them by creating a folder there as well, so it is easy to find!
5 Step: Computer Programs:
Back in college, there were so many programs like adobe photoshop, illustrator, that I had to install on my computer.
I don't use them anymore, but they were still taking up space and slowing down my PC
If you also have computer programs you installed ages ago and don't need them, This is your sign to uninstall them now and free up some space!
They are also draining your battery! If you are wondering why your laptop needs charging constantly because the programs are running in the background even if you don't use them!
So delete them now!
6 Step : Subscriptions:
I talked about email subscriptions in one of the above steps, it was important to go through your emails and unsubscribe from useless subscriptions from the theme constantly because they keep getting added!
Apart from emails, there are also so many more, subscriptions we use digitally.
Paid as well as free subscriptions
It could be a software, app for work or entertainment you are subscribed to.
Go through each of them and decide whether it is worth keeping it? Do you use it often? If not
Unsubscribe!
7 Step : Photos:
The next step is to go through your photos! Now whether it is my phone or laptop, they both are flooded every day with photos.
As content creation is my main job, I have to constantly use pics, and download and click new pics almost every day.
My laptop definitely has more photos than any documents, and one of the things I do every month is to delete most of the photos, that I don't need anymore.
Photos can take the most space in your device, from your own pics to random screenshots we take
Scan through your device and delete all the photos you don't need anymore
Next step, you can even go further and create folders for specific photos!
I have a lot of screenshots of book reviews and have them added to a new folder with the name "book recommendation"
So I can check it out whenever I am looking for reading ideas
Similarly, you can assign your pics in different folders to easily get them
8 Step : Apps:
We may not realize it, but apps not only take up storage but so much energy from our devices, You might not be using the particular app, but it is still using up your battery and internet data in the background.
If there are too many useless and distracting apps on your device, it is best to remove them and only keep the ones you use regularly.
9 Step: Browser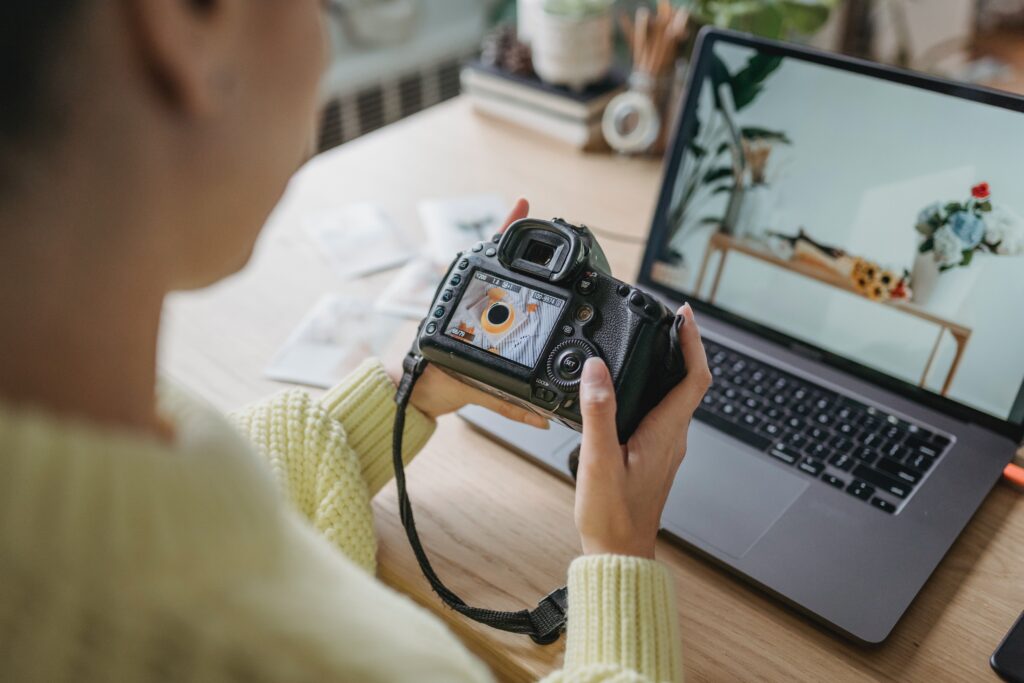 Are you like me, who has multiple tabs always open on your phone or desktop? At some point, I even reach the maximum limit and, that's when I remember to delete all of them one by one, and it is a hassle
Before you run out of tabs too, go through your browser and close the tabs, that are of no use!
They are too overwhelming and waste time when you want to search for something! On top of that, they tend to also slow down your device
10 Step: Update if needed
Our devices need constant updates, while we are trying to declutter and keep our laptops/desktops up to date
Might as well, update them if needed!
11 Step: Close unused accounts
Apart from too many apps, we also tend to create many accounts on different platforms.
It could be mail accounts or social media accounts, and we end up not using most of them but still keeping them.
I find that sometimes having too many accounts can lead to procrastinating and mindless use of them when we don't really need to
If you have any unused account or extra account that might be distracting you, delete it.
12 Step: Scan for viruses and malware
While we are on the topic of making better changes on our devices, Scanning them for viruses and making sure we have an anti-virus installed and running is important.
Desktops tend to easily get viruses, so make sure everything is fine!
13 Step: Delete from recycle bin or deleted folder
The last step on Digital Declutter Checklist is to go to your recycle bin and deleted folders where all the things we deleted are stored
And delete permanently everything from the recycle bin.
If you don't delete from your deleted folders, your storage is still there and fully emptied!
So make sure you do that!
Conclusion
So these were 13-step Digital Declutter Checklists to help you simplify and organize your digital life!
Here is the Digital declutter checklist, that you save on Pinterest or on your phone to check and follow the steps easily!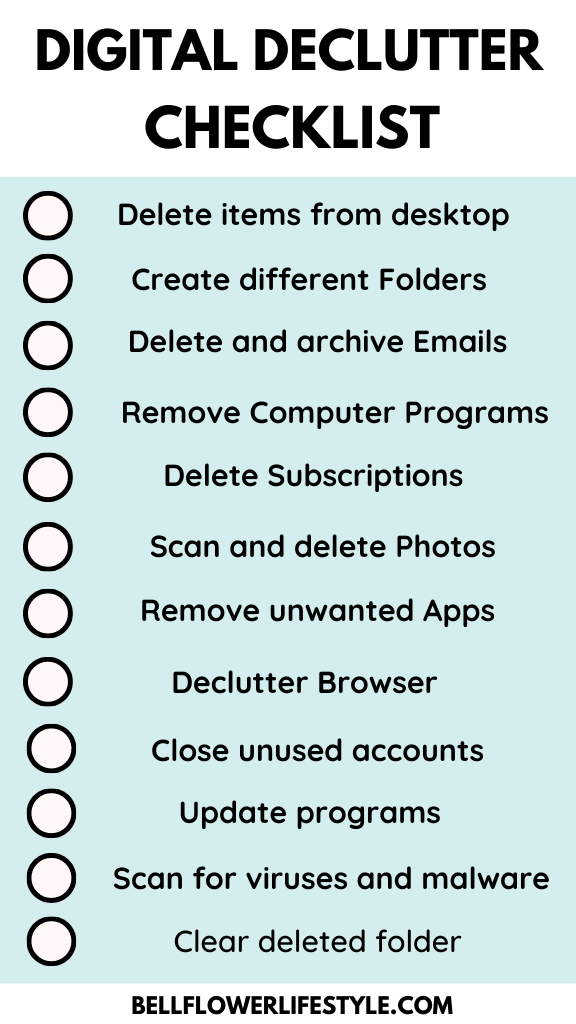 Pin it for Later!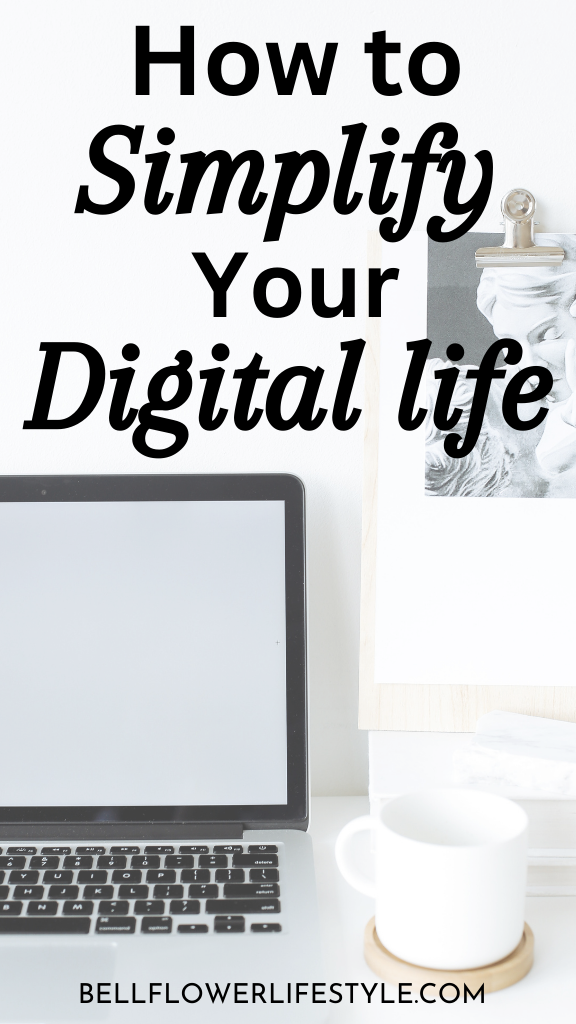 This Post was all about Digital Declutter Checklist
Like this Post? Pin for Later!
If you liked this, you will love these-
Follow me On Pinterest