11 Simple Daily self-care ideas to take care of yourself
(Last Updated On: July 27, 2023)
Want to know some easy and simple daily self-care ideas that don require much effort or bills and that you can do without any hassle? Keep reading!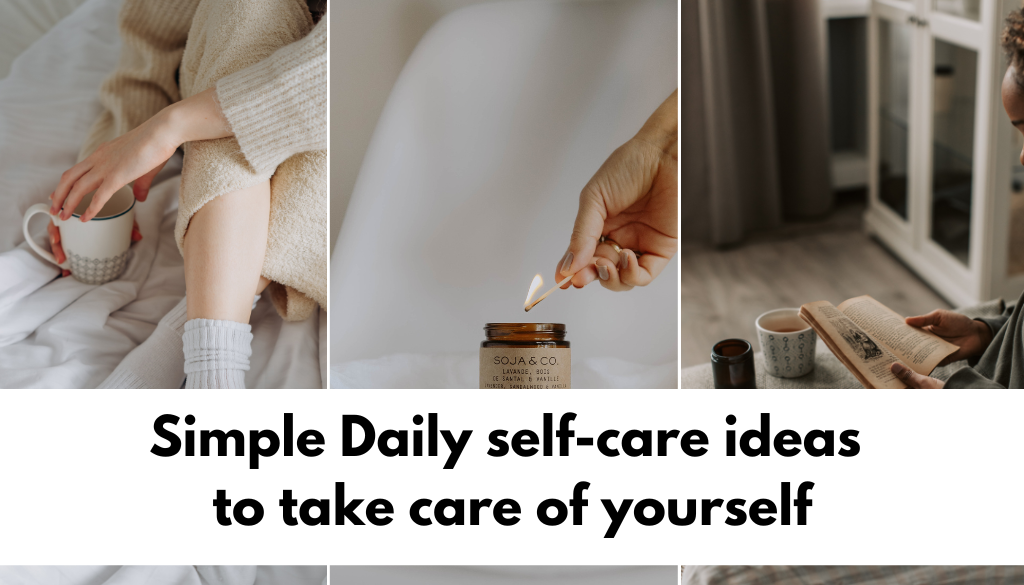 This post may contain affiliate links, which means I'll receive a commission if you purchase through my link, at no extra cost to you. Please read full disclosure here.
The more I move on with my life, I am able to realize the importance of self-care. Whenever I miss out on doing self-care
I tend to get stuck in a mess, filled with either confusion or feeling lost or unhappy.
Practicing self-care every day can be such a booster to help you not only feel good but, at times, enough to help you get through a tough day!
While there are so many self-care activities one can do, here are a few that I find easy to do without any hassle.
Without any inconvenience of finding time, money, or anything else, these can be done easily!
Why is self-care the most important way to take care of yourself?
Before I jump into sharing the activities, it is important to know why is only self-care the most important way to take care of your overall well-being.
Well, just by the name, we know self-care means taking care of yourself ( as in you), whether it is your mental health, physical, emotional, and so on.
We constantly try to take care of people around us or try to live how the world wants to
In the midst of doing everything for others, we sometimes, end up neglecting to take care of ourselves.
We end up getting hurt emotionally or feel burned out from all the work, or get physically sick because we don't take care of our lifestyle.
We also cannot rely on others to take care of us because it is first our responsibility to take care of our own body, mind, and overall well-being.
This is why self-care is the most important way to take care of yourself, and we all must prioritize it!
Want to make self-care a part of your daily life without any hassle?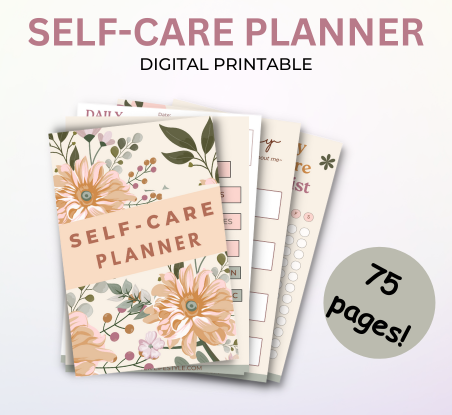 If you find it difficult to prioritize self-care in your daily. You've got to check out my Daily self-care planner journal
it's jam-packed with 75 pages of self-care daily to-do, tracker, affirmations, and prompts for understanding your self-care needs!
A must-have for helping yourself in taking extra care of yourself
Here are 11 Simple Daily self-care ideas to take care of yourself every day, with small efforts!
Simple Daily self-care ideas to take care of yourself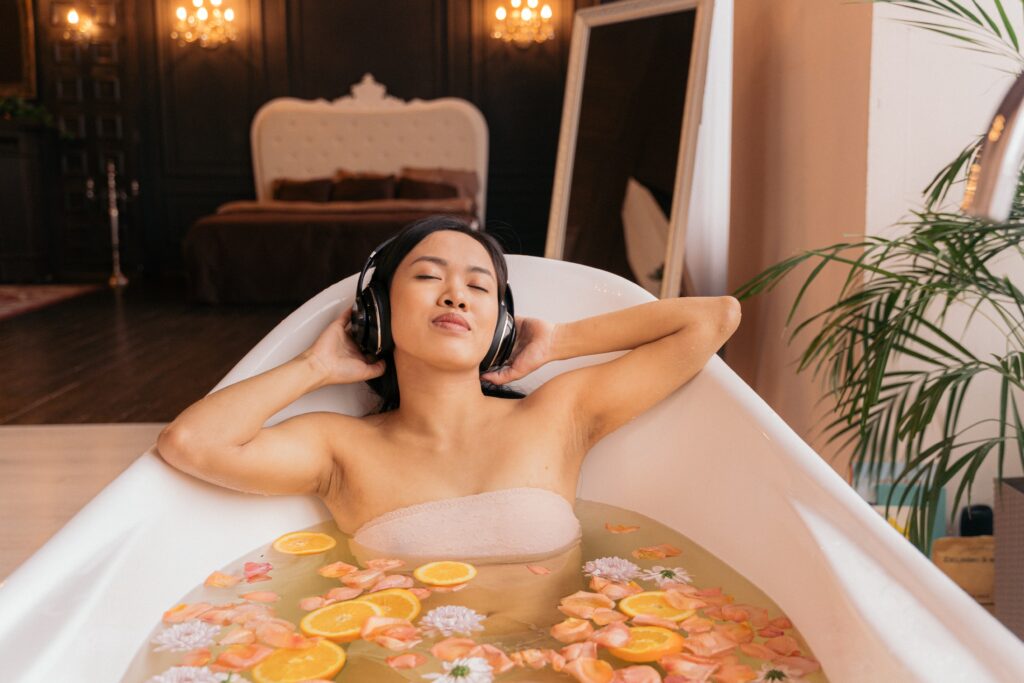 1. Writing a gratitude list when feeling negative
Finding an urge to write something you are grateful or blessed with is very difficult when you are feeling negative but really important at the same time.
This is something I have been struggling with recently
When faced with negative things going on in life, the mind gets so equipped and spiraled around the negativity that is going on
It feels like your life is falling apart, and there is nothing good or right going on in your life
We become more negative, and sulky and complain much more
I found myself feeling this lately and felt like there is nothing left to be grateful for
However, I realized later on that I am in a much better place than I was last year and felt a sign of relief
For you, it can be something else
I know it must be extremely challenging to find something to be grateful for, but I promise you that there is
just think and write down anything that you are grateful to have
it will put you at ease and give you hope that it is not the end of the world and there are still blessings in your life, and you will continue to receive more
The best thing is to write something you are grateful to have received or experienced in the recent few years
It can be something that happened a few months back or a few years,
because something happened, recently you feel grateful for that feel relaxed and positive about future
2. Journaling out your feelings when overwhelmed with thoughts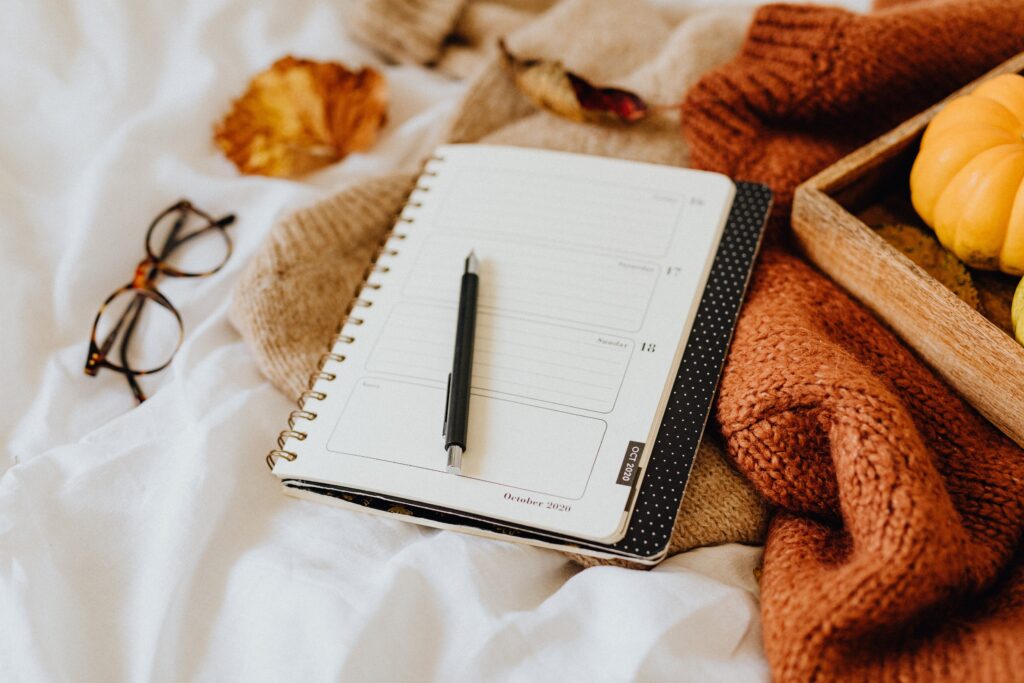 As much amazing as it is to talk and vent to someone when feeling low or equipped with thoughts, we may not always have someone to talk to
or may struggle to share with others due to many reasons.
whether it is writing a few lines daily or pouring your heart out in a journal, it will make you feel good
You will feel lighter and many times even, end up finding clarity
I just take my notes app out and start writing down how I feel, and stuff
I do end up feeling better afterward!
If you are new to journaling, I have also written many how-to guides on journaling-
3. Doing a hobby when you need a boost in your mood
On many occasions, it is not negativity or overthinking that makes me feel low, I am sure that might be the case with you too
sometimes you just have a bad day or need a little push, in boosting your mood after a hectic or boring day perhaps
I simply open my laptop and follow a dance video and dance for as long as I can
It gives me an instant boost and helps me feel better!
Hobbies are key to feeling happy on your own and making life more than just work and fitting in society
Look for hobbies for yourself? Check these 67 hobby ideas for adults
4. Lying down in your bed for a few minutes with lights off and the lighted candle
If you live alone or have enough personal quiet space, switch off your lights and light up a candle instead
lying down for a while can help your body as well as mind feel rested
You could be exhausted from the work, or your body may not be feeling the very best, it happens at times
Lying down to rest your body and mind like this is a really therapeutic way to take care of yourself
5. Going outside to feel fresh and rested
Going outside for a few minutes for a breath of fresh air can help you feel fresh and rested any time of the day.
Especially, if you work from home, mostly or usually go out for work, and do not enjoy that often
you must go out more,
when we are out to relax, we are actively engaged in the present moment, either in walking, meeting up with a friend, and talking
our mind is not thinking for a while, and it helps us feel at ease
Especially being around nature can help you feel so much calmer later on
Go outside for a few minutes whether, in a nearby store or park, you will feel better
6. Exercise or stretch
My favorite self-care activity lately has been exercising at home, I try to do at least a 10-minute beginner workout every morning or sometimes evening when I get time.
It helps me feel instantly good and positive about taking care of my body
Due to my desk job, I sit most of the day, which is not good for my body, so exercising has been what I focus on nowadays the most
If you are a beginner like me, You can do these Beginner workouts by MADFIT!
I have been doing this every day, and it is so easy to do!
7. Doing a 10-minute guided meditation
If you are looking to do one self-care activity every day to get life-changing results in helping you stay more present, give clarity and manage your emotions too
Meditation is what you must get yourself into. We usually get scared from this term as it feels like the most challenging thing to do
However, given its mind-blowing benefits like
Creates awareness
Gives new perspective
Strengthens your memory and focus
Reduces stress and helps manage anxiety
Improves mental health
Meditation indeed takes a few months of consistent work before you start seeing all these results, but later on, the results are really great!
You can just do a simple 10-minute beginner-guided meditation with headphones to keep you focused.
I personally prefer, Headspace, a guided meditation app to help you meditate every day, for a few minutes!
8. Talking with a loved one for a few minutes
Connecting with your loved ones on a daily basis is also another wholesome way to take care of yourself.
While enjoying your own company is extremely important, connecting and building a strong relationship is too.
Having a fun chat with your friends and family can help you feel reset and energized again!
9. Practicing affirmation to fight self-sabotaging thoughts and noises
There are so many instances when we feel confused and underconfident, or maybe someone said something to us, and we feel like a failure.
This is so common, and we all experience it in almost everyday life
Sometimes it is other people's words that leave a deep impact, and sometimes our own mind thinks negatively!
Affirmations can be really helpful if you practice them every day to resist and overcome those thoughts!
Affirmations are basically the positive words you will speak to yourself
If your mind tells you, – it's difficult, and you will not be able to do it
To fight back and not let your mind overpower this thought,
You must say – It is easy to do, I can learn and teach myself how to do it! I can!
Reassure yourself, again and again, to be the positive, noise for yourself every day
10. Eating something healthy to give your body a boost!
Self-care is not just about feeling good and giving positive mental health. Taking care of yourself also includes taking care of your physical health and overall having a healthy living body.
As we all know: it is 80% nutrition that contributes to a healthy fit body and only 20% exercise.
This is why you must make an effort every day to eat healthy nutritious food to stay healthy!
Even if it means, starting with one healthy meal a day or cutting down on sugar or junk food
You must make an effort every day to eat a healthy diet!
11. Unplug from social media to rest your mind
Lastly, an important self-care activity we must aim to do every day is to unplug from social media.
We have gotten so invested in social media every day for hours and sometimes all day that it is affecting our life on a daily basis, and we don't even realize it.
We spend most of the time scrolling down than doing anything real,
Affecting our mental health because, subconsciously our mind is constantly comparing us to the people we see on social media
It decreases our productivity, and we procrastinate all-day
We feel like we are running behind seeing other people's success or our life is not as fun as theirs…
and the list goes on!
Take the step for better health and unplug from social media and spend limited time there!
Conclusion
So these were 11 Simple Daily self-care ideas to take care of yourself! I personally find these to be really helpful and easy to implement self-care in our daily routine!
These are some of the common things we all go through almost every day, and simple activities like these can help us manage our lives better and truly take care of ourselves!
Good Luck!
Pin it for later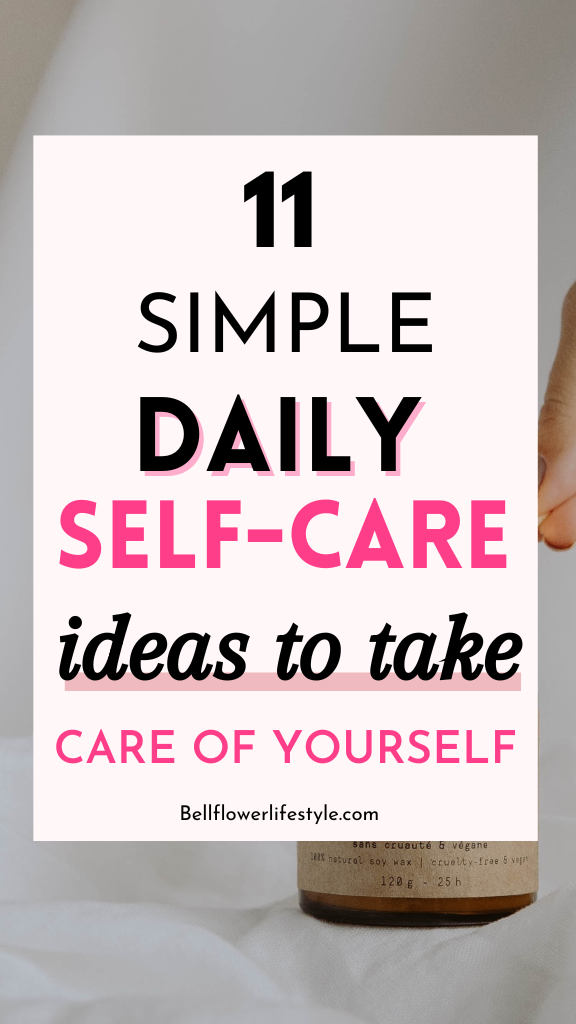 This Post was all about Simple Daily self-care ideas to take care of yourself
If you liked this, you will love these-
Follow me On Pinterest