Quick 5 Minute Self Care Activities When You Are Running Late
(Last Updated On: July 11, 2023)
Self-care is a must have priority in everyone's life and it should be! Every day, you must indulge in at least, one self activity for yourself!
But, Life can be pretty hectic sometimes and for some people it is everyday! hence, Today I will be sharing 5-minute self care activities that you can do when running late!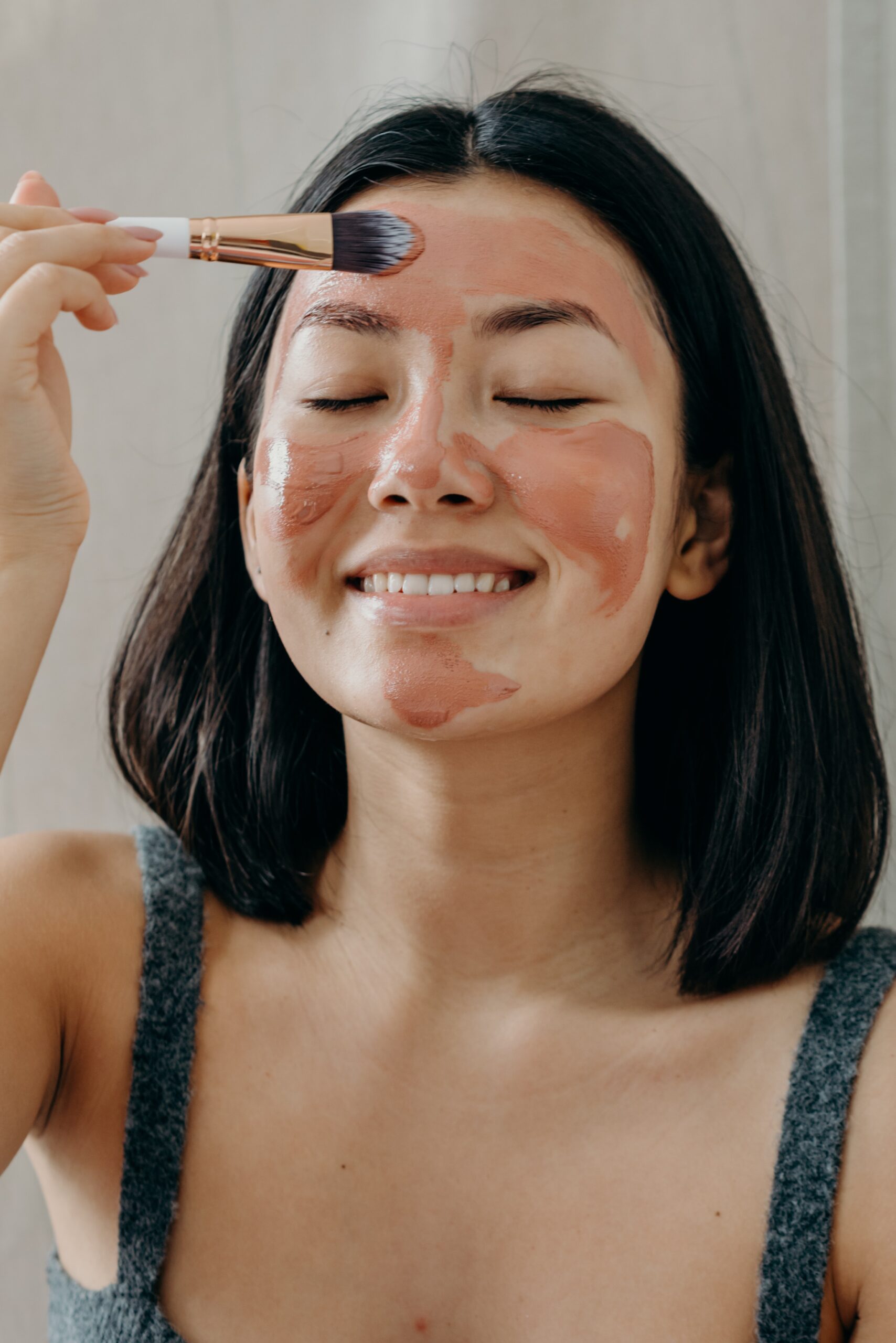 This post may contain affiliate links, which means I'll receive a commission if you purchase through my link, at no extra cost to you. Please read full disclosure here.
What are 5 minute self-care activities?
5 minute self-care routine or activities are my favorite and ideal when running late or having a busy schedule! Although I love having ample self-care in a day sometimes, it is hard!
We get stuck in our busy schedules and unfortunately – me-time is the first thing we push away!
But Not Anymore!
Squeezing even just 5-minute for self-care can make a difference than doing nothing!
How to Practice Self care for 5 minutes?
5 minute self care ideas that I will be sharing with you, are somethings that I have curated and practiced over time
I will be sharing with you ideas and resources that you can practice for 5-minutes and some for less!
Want to make self-care a part of your daily life without any hassle?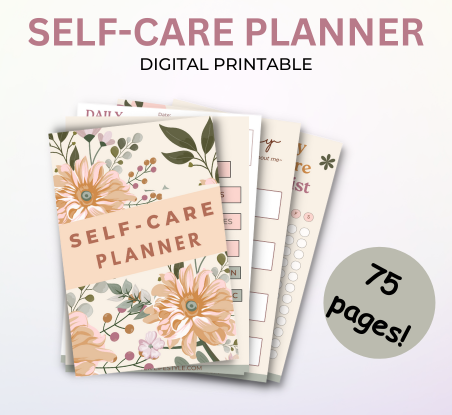 If you find it difficult to prioritize self-care in your daily. You've got to check out my Daily self-care planner journal
it's jam-packed with 75 pages of self-care daily to-do, tracker, affirmations, and prompts for understanding your self-care need to help you have daily, weekly check-in! A must-have for helping yourself in taking extra care of yourself
5 Minute Self Care Activities
1. Five Minute Guided Meditation
Meditations are usually considered to be for long hours, however even doing a small 5- minute of meditation each day can add up over a long time and makes huge difference!
A quick five minute meditation is in fact, a great self care activity as you get to sit in silence and practice deep breathing!
2. Stretch
Yoga can be so beneficial in not only help you stretch your body but also emotionally heal and release any tension in your body
3. Under Five Minutes workout Playlist!
Back in the day, when I use to have a daily busy schedule, i use to do these quick few minutes of daily at home workout!
These really helped me feel amazing, boost my mood and gradually see changes!
"Something is better nothing" that's why doing even a 5 minute workout is always going tp be better than doing nothing at all!
Here is a playlist of all the workouts I have tried that take around 5 minutes of your day!
4. 5 Minute Self Care Hair/face mask
Self-care is incomplete without putting some nice mask on your face or hair and having a nice skin care routine!
They hardly take five minutes and make you feel super refreshed instantly!
5. Reading…
Reading is extremely convenient in terms that you can read anywhere anytime! If you have a book you can keep it in your bag or kindle and make time for reading on your way to work!
6. Take a quick Nap?
In between work taking naps is also a self care on its own! we all need rest and there is absolutely nothing wrong with taking a small 5 minute nap
7. Groom/ Dress up
Dressing up and doing a little grooming session here and there is great! for example painting your nails, dressing up in a cute outfit! trying a new makeup and so on!
8. Make your Bed
Making you bed and tidying your room everyday hardly takes few minutes and can be such a great activity to do everyday
9. Make Lists
Making lists can not only be productive but also great form of self-care activity! There are so many lists that can be made and help you feel organized! Here are 13 Ultimate Lists to Stay Organized In Life
10. Go for a Walk
Nothing a alone walk cant fix! Walking in nature for few minutes can be super refreshing! Giving you fresh air and lost of silence.
11. Five minute Journal
I had to start by sharing my most favourite journal that i talk about in most of my posts! Now is the best time to share this, as you can read by its name- It is designed to practice for 5 minutes every day!
The Five Minute Journal – is a Journal that takes 5 minutes of you entire day- half in the morning and half at night!
Journaling is an extremely important part of self care and what I love most about this journal and recommend to everyone is- it includes all the things in one page!
Affirmations
Gratitude
self reflection
to do list
positive quotes
You obviously don't need to do get this journal specifically, you can do this is on an empty notebook as well
but a guided journal will be more comfortable and wont consume your time in writing prompts! This is definitely worth the investment! Check out the journal here
Affirmations and Journaling can also be done on an empty notebook everyday! If you want something different, then don't worry!
I have Many affirmations and journal prompts guides and ideas that can you can practice for five minutes everyday!
So, these were 5 minute self care ideas
There are no rules to how long and what should self care be like! The best way is to find what activities make you feel great and works for your and just do that!
Let me know what all quick 5 minute self care activities you are planning to do?
Good Luck!
PIN FOR LATER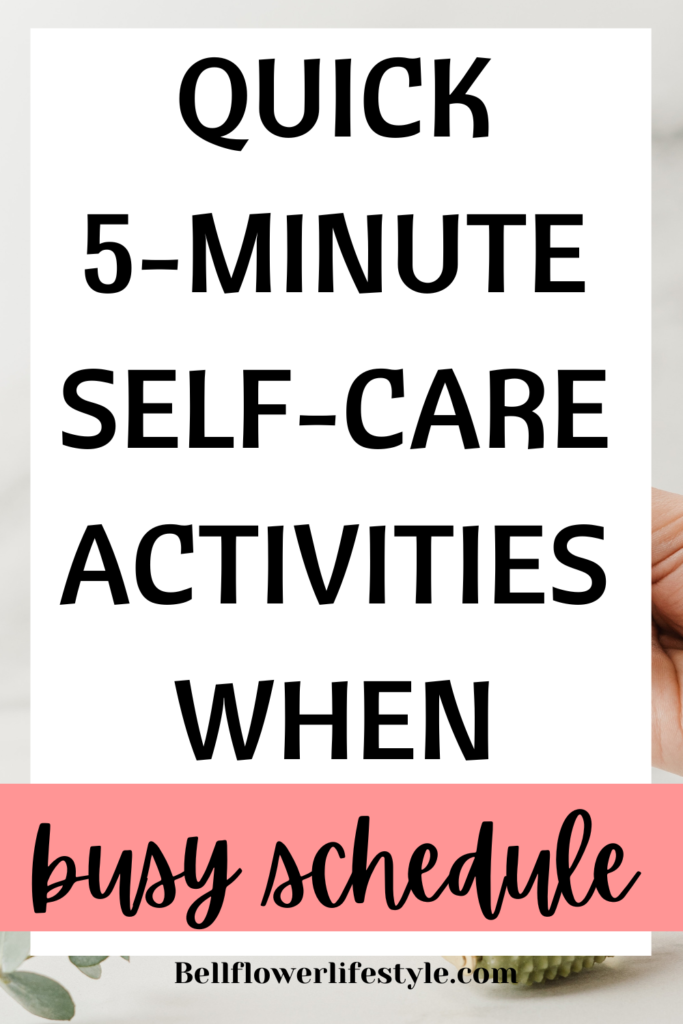 RELATED POSTS
Follow Me on Social Media