39 Ultimate Journal Prompts for the New Year 2023 to have a fresh start!
(Last Updated On: December 21, 2022)
Do you feel excited or nervous about entering the new year? Worries about how to achieve your dream life by next year or excitement to start a new chapter are normal! I feel it too! This is why these 39 Journal Prompts for the New Year are all you need to have a fresh start! 2023 is almost here!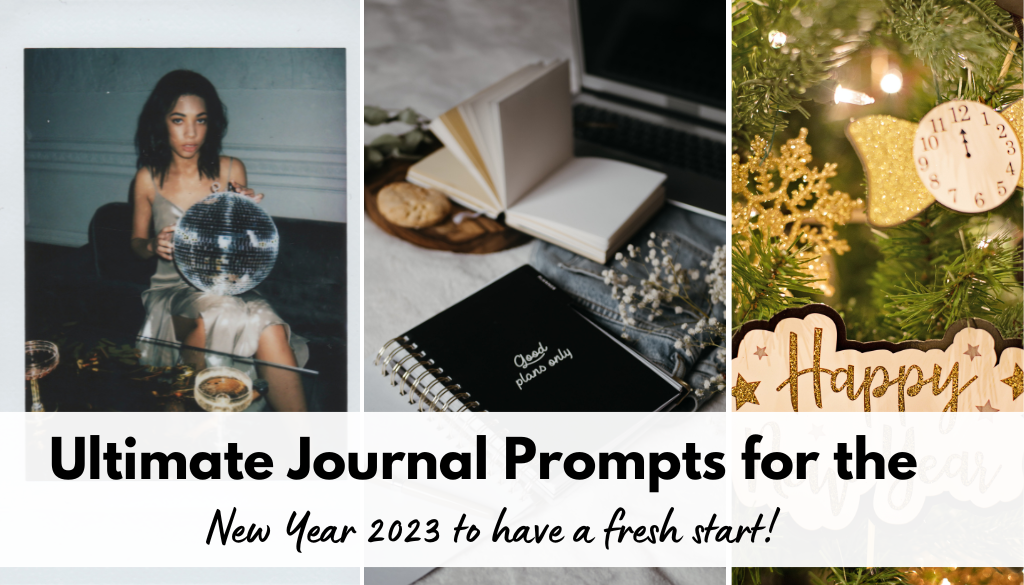 This post may contain affiliate links, which means I'll receive a commission if you purchase through my link, at no extra cost to you. Please read full disclosure here.
We are approaching the new year, which we often associate with new beginnings. The new year is the best time to practice journal prompts; why? These Questions will help you dive into your inner self and make the right move.
Maybe 2022 wasn't that great; you learned your hard lessons and want to start a brand new chapter of your life! The Journal Prompts will help you question and plan out your life accordingly!
Let's Get Started!
How do you start a new year's journal?
The New year Journal Will be divided into 3 Categories – Reflections, Planning and Goal-setting. In these 39 questions, you will find mixed of all these 3 to help you reflect and create new goals and changes for the new season!
Best journals for the new year
Are you looking for a notebook for the new year or a Guided journal to practice? I Got You!
A good quality Journaling Notebook is all you need to practice your Journal prompts for the new year!
LEUCHTTURM notebooks are very sturdy and come with good quality, all you need for your money journal!
I love how it is available in over 28 colors for everyone!
39 Journal Prompts for the New Year 2023
13 New year reflection journal prompts
What are the few things I am grateful for that happened this year?
What was 2022 Like for me?
What was the highlight of this year
What were the challenges I faced in 2022
What are some Lessons I learned that I will take with me?
Did I follow My passion this year? If not, why?
Write about a favorite memory of this year
What was the most significant risk I took this year?
How was my mental health in 2022?
What is something I will leave/ let go of in 2022?
Compared to 2021, how much have I changed in 2022?
What Financial changes I took in 2022, and how did they go?
I forgive myself for…
New year journal prompts
How Do I feel About Navigating to New Year 2023? Am I Excited, or Will I Miss it in 2022?
What are My Goals for Next Year?
What Does My Ideal Life Look Like?
When I Imagine my life next year, What things pop into my head?
What is bringing me joy lately?
What Can I do to follow My dreams this year?
What changes Can I make to be closer to my ideal life?
What Is holding me back from living Happily?
What are my personal goals for the new year?
What are my Financial plans for the next year?
Do I need to slow down or be more active this year?
What is my Theme for the new year 2023?
In 2023, I am most excited for…
New year writing prompts
Do I have any travel plans for next year? Where Do I wish to go?
What are some new hobbies I can expect to try in 2023?
One small thing I want to do this year…
What are some skills I want to learn next year?
A new experience I want to have is…
What are my top priorities for the new year?
What is my why?
How Can I feel more fulfilled in 2023?
What Mindset changes do I need to make the best of the new year?
What are my Physical health Goals for 2023
What are some non-negotiable for me in the new year?
What Bad habits do I want to change in 2023?
How can I make time for self-care next year?
FAQ (Frequently Asked Questions)
What are the 7 most popular New Year's resolutions?
I think For me, the & Most Popular New Year's Resolution has to be
Improve Mental Health
Exercise
Implement Healthy Eating
Organize Your Life
Follow Your Dreams
Take Risks
Be More Present
How do you journal a New Year's resolution?
Tips For Creating Bets New Resolutions are
Be Realistic, but
Don't forget to dream big
Create Systems to help you achieve
Divide them into small tiny monthly, weekly, and Daily Goals
Stay Consistent
Learn From The Best in your Field
This Post was all about Journal Prompts for the New Year
Leave me a Comment and tell me your #1 Goal for 2023!
Good Luck
Pin it for Later!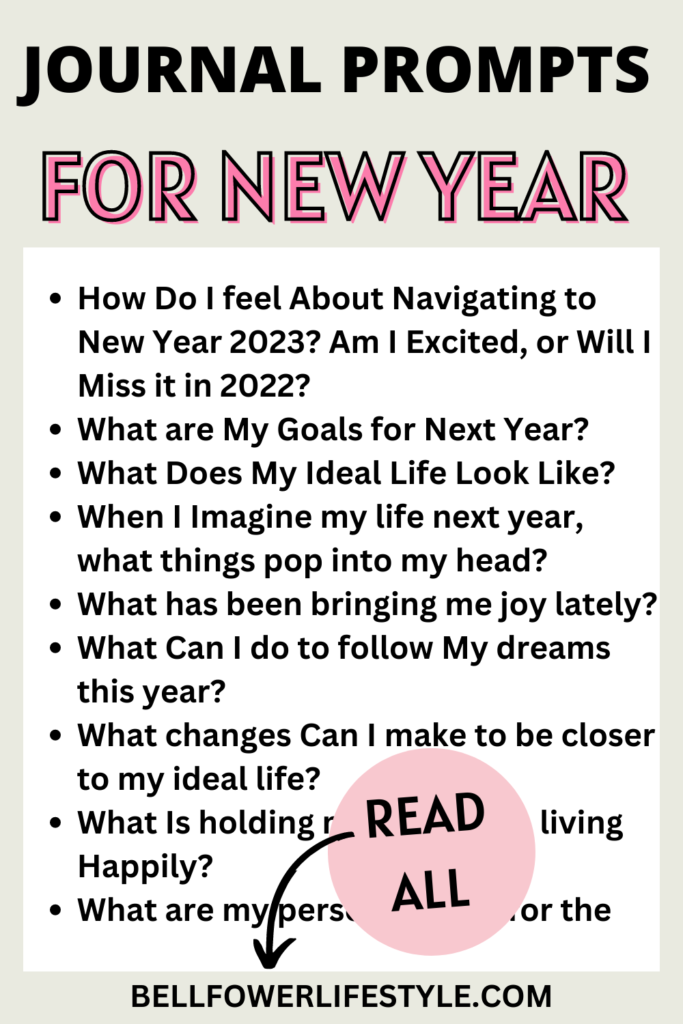 If you liked this, you will love these Journal prompts-
Follow me On Pinterest