Spring organizing Checklist for 2024 to get your life on track
(Last Updated On: November 13, 2023)
Want to Organize your life and home in spring? Check this Spring Organizing checklist for 2024 to reset and get your life together for the new season.
This post may contain affiliate links, which means I'll receive a commission if you purchase through my link, at no extra cost to you. Please read full disclosure here.
Ultimate :Spring organizing Checklist
Steps to Organize And Clean
To get started in cleaning and organizing different areas, these are the few steps we will repeat in all of them!
1. Empty
Empty all the things in that corner and put them aside. Everything!
For example: If you are cleaning your vanity, then take all the products and items in your vanity and keep them on the ground or any other
Empty the vanity fully
2. Dust
After we empty and take out everything. It is important to clean the area before we put things back.
Clean the with a reusable cleaning cloth thoroughly! Also, clean the products a little if you find any dust on them
3. Asses
After the place is cleaned and you have put aside everything. It is time to assess all those items.
Look what items may have expired, or you won't need them in this season, or it is basically of no use.
Keep things you need on one side and the once you don't, on the other. If their items you can sell or donate then put them on the different side
4. Eliminate
After looking around at all your items, you found the ones you can eliminate. This is a very important step in organizing your space for spring!
It is important to be conscious and firm when deciding as people tend to resist putting items away, thinking they may need them in the future.
It is important to declutter and keep things minimal for a pleasant feeling, so make sure to declutter as much as possible
5. Store
After you have eliminated the things you don't need. Store the things you may need in the future or winter season again. Store them in a different place ( like a store room if you have them)
For the ones you need to throw away, put them away in a dustbin, and for those you may need to sell or donate. Keep them in a different box.
It is important to store things in their designated place so you do not make a mess again.
Now the things you need to keep using are put back from where emptied, for example, all the products you emptied from your vanity, out of them the products you will be using every day. Pu them back in your vanity in an organized way.
PRO TIP:
Always keep organizers and storage places for everything. Just don't put them on a desk like that!
All items tend to get messy. Get yourself organizers for everything you need to store. This will look more put together and organized as well as easy to find!
Areas to Organize and Clean
Now we know all the steps to clean each area of life and tips to help you organize them.
Let's look at all the areas that need to be organized for spring!
Bedroom
Our bedroom is a place where we rest when we are tired and a place to recharge our bodies.
The more minimal and clean our bedroom will be, the better we feel when we come home to a nice fresh space to lie down!
Look around for things you can declutter and clean to make it minimal and lively!
Repeat the steps mentioned above in each area of your room!
Kitchen
Our kitchen is one place that can get cluttered and messy easily when we are cooking, and even the items that may expire we may not know unless we look into them.
The fridge and the pantry are also such areas that can be most cluttered and need to be cleaned!
Repeat the process of emptying, cleaning, assessing, and storing on all drawers and columns of your kitchen, pantry, and fridge!
Closet
For me, the closet is the messiest and most cluttered place, and even after cleaning, it tends to get messy all over again!
I am sure this might be the case for many of you as well! That's why organizing our closets is important.
Even though it is challenging to put away your clothes. Try to look for items that you have not used and were simply an "impulse Purchase"
Items that may have gotten faded or defective, eliminate them.
For your winter clothes, if you live in a warmer environment. Store your winter clothes and take out your spring or summer items to keep them in your closet
Living Room
Go room by room and clean each place. Our living room is a great place to socialize and connect.
Sofas usually get dirty, and getting them cleaned as part of the Spring organizing Checklist is a must!
Change up the theme of the living room and add more colors and textures of spring!
Bathroom
Declutter your bathroom and keep the counters clean and minimal!
Add a laundry bin and use organizers to put your items! Put in a beautiful vibrant smelling freshener to bring spring vibes!
Office Space
If you have a home office, then this will naturally be a part of the home cleaning process, but even if you don't. Your workspace in your office should also be cleaned for spring!
Organize your files with folders, Declutter items that are just laying around and are of no use.
Add flowers to the desk to give that spring feels!
Balcony
If you have a balcony where you keep your plants or sitting area, then make sure to clean it too!
Take care of your plants or add more if needed. Prepare your balcony for rain and make your space more lively!
Other Areas
These were the main areas that everyone needs to clean, however, depending on your house, there can be more areas you can organize for spring!
Garage space
Vehicles
Garden Shed
More tips for Spring organizing Checklist
1) Use A Hanging Organizer For Spring Accessories.
2) Create A Theme For Each Area
3) Change And Update Calendar
4) Add flowers and Spring scented Candles to your Space
5) Prepare For Rain
This Post was all about Spring Organizing checklist
Like this Post? Pin it for Later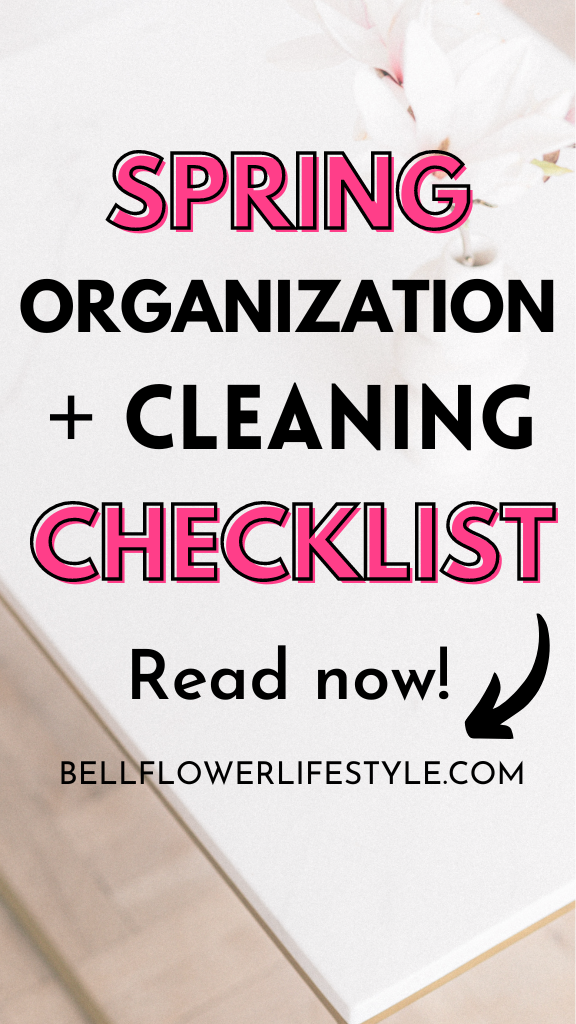 If you liked this, you will love these-
Follow me On Pinterest