My Simple Morning routine : things to do before 8 am
(Last Updated On: November 6, 2023)
If you are looking for a simple morning routine or things you can do before 8 a.m. to make your morning fruitful through easy and simple things. Continue reading…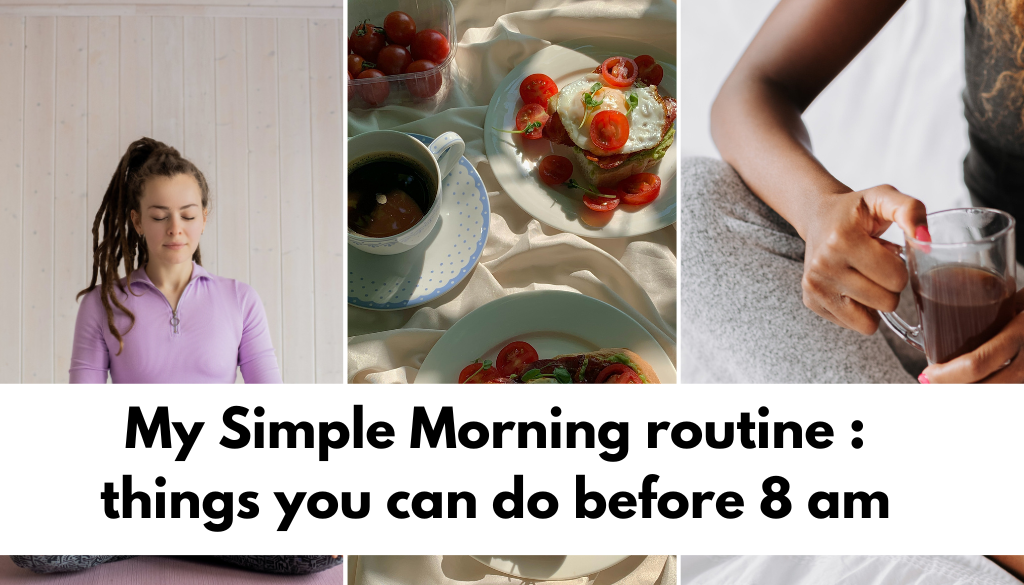 this post may contain affiliate links, which means I'll receive a commission if you purchase through my link, at no extra cost to you. Please read full disclosure here.
If there is one thing that I am doing right and positive in my life right now and one that makes up for all the bad days, it is my current morning routine!
More than 2 months ago, I was struggling with something in my life, somewhere I felt stuck and felt the need to grow and change my life.
I wondered a lot about what I should do that could push me for growth, and I could not really think of anything, honestly.
That's when a friend of mine told me that I should learn how to drive now because it is something I always felt afraid of.
Deep inside, I wanted to learn to, as my parents have been telling me to as well.
So, the very next day, I started waking up at 6 a.m. to learn how to drive.
And that was the start of change for me and my morning routine!
Now, not only i have finished learning to drive, but I have also been able to, still maintain my healthy and simple morning routine that has been improving my life daily.
Let's see how! but first!
Pint it for later!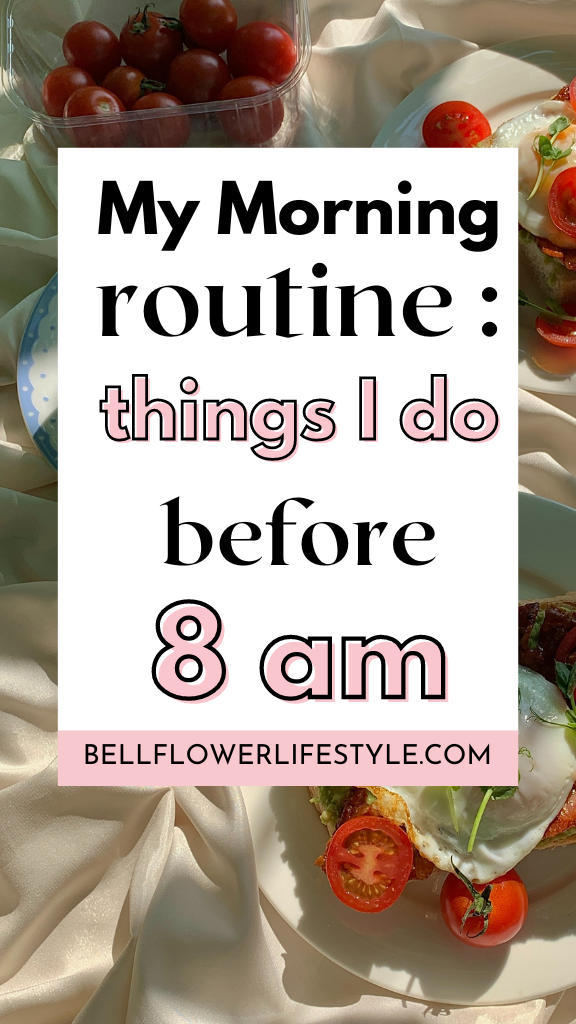 Simple Morning routine – things to do before 8 am
Get up at 6 am -7am
I would not say, that I wake at 6 a.m. because it's winter now, and I tend to doze off again. But before 7 a.m., I managed to wake up.
It is a huge change in my life because I was never an early riser, I would, normally wake up at 8 am but could never before
But now I manage to wake around 6-7am, and even though I hate to say this because I love my sleep. I truly make a better change in your life!
You can get more done and get an early start to the day! Most importantly the later you wake the more tired you feel of doing things.
If you are wondering how to become a morning person – here is a post where I share my experience and tips!
Brush your teeth first thing in the morning.
Usually, for years, the first thing I would do after waking up was drink warm water.
But, recently, my health coach mentor told me that it is wrong, you should not drink or eat anything in the morning until you have brushed your teeth and flossed.
The reason is that, at night, our body does a lot of detox work, which builds up bacteria in the morning in our mouth as well.
So if we are drinking water or eating anything before taking those bacteria out of our system, they will go back again inside ;(
Hence, now I scrape my tongue, brush my teeth, and then take any water!
Have warm water
As I mentioned, After brushing, I have my warm water, which is very important in my morning routine.
I feel, extremely thirsty after waking up, and that is again because our bodies are working so much at night, which leads to a lot of water loss
so we wake up feeling thirsty, and even if we don't feel, you should have some lukewarm water to hydrate your body and make up for all the water loss for the previous night.
Get tidy up
Then, I usually take AROUND 15 minutes to get tidied up and change into my yoga clothes.
Yoga/exercise and stretching
This has been the best change currently in my routine as I get to dwell on moving my body, in the morning itself!
I get personal yoga training at home with my sibling every morning. We need to move our bodies and spend a few minutes in physical activity
getting a personal trainer has been a game changer for me, as it helps me stay consistent and do yoga asanas right.
I have already started seeing so much in my body and how I feel mentally through yoga, and looking forward to it!
Depending on the day, I do a 30-60 minute session.
No phone till breakfast
One activity, I have been trying to implement in my morning routine strictly is to not use my phone till breakfast,
I already get a lot of screen time due to my work, and it's been my concern to avoid using screens as much as possible.
Creating this rule for myself, that I will not scroll through my phone until breakfast helps me spend my morning and get a few hours off-screen!
It's been challenging to keep it up, but I am pushing every day.
Get sunlight for 10 minutes
It's not my everyday routine, but whenever there is sunlight out on my balcony, I try to spend 5-10 minutes there to get my daily dose of vitamin D!
Get ready for the day.
The next part of my routine is a shower and getting ready for the day. It does not take much time, and I can quickly get ready.
Pray
For almost two months now, I have added a new spiritual regime in the morning, and that is doing or praying.
It is very simple and helps make my day more positive and stay connected to god.
As I come from a traditional Indian family, we do a simple activity of lightning up Diya in our temple at home and do aarti (prayer to go)
Make nutritious breakfast
Lastly, my morning routine ends with eating a healthy and tasty breakfast.
I usually make my members breakfast at home, which is different from what other family members eat.
iI consists of chia pudding and pancakes almost every day, and I don't really get bored because I love having them
For a change, I do eat other things like pasta or rice paper dumplings or poha.
I try to aim for a healthy breakfast because the first I want to take in should be nourishing for my body.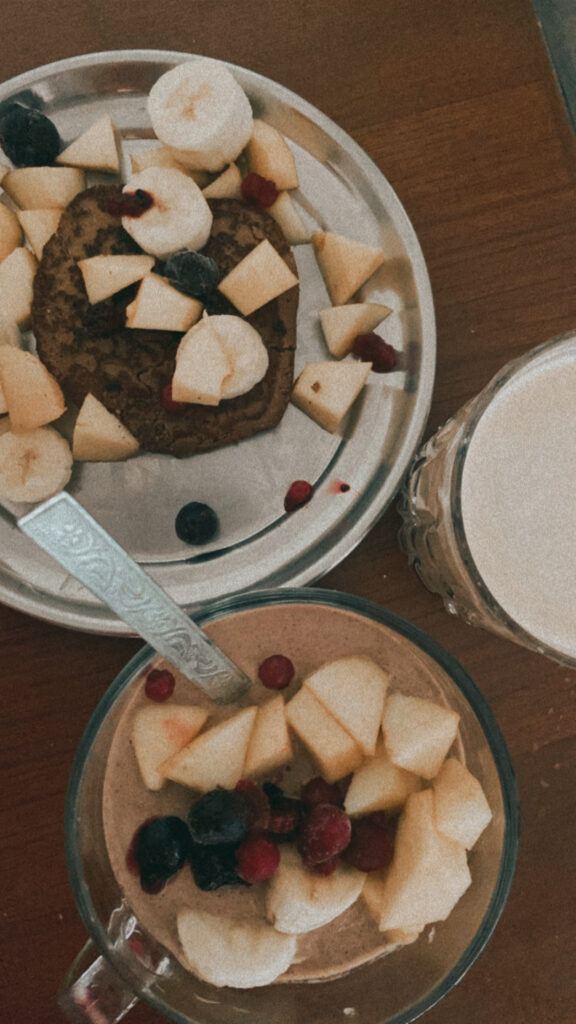 So that was my morning routine
I aim to complete these things to do before 8 am but sometimes it exceeds more than that as well. And I do not really mind it.
For me getting a thorough morning routine is more important than timings so sometimes it ends up taking even 9 or 10 am until I have my breakfast but that's okay!
Being flexible with your schedule is also important so you can stick to it long-term!!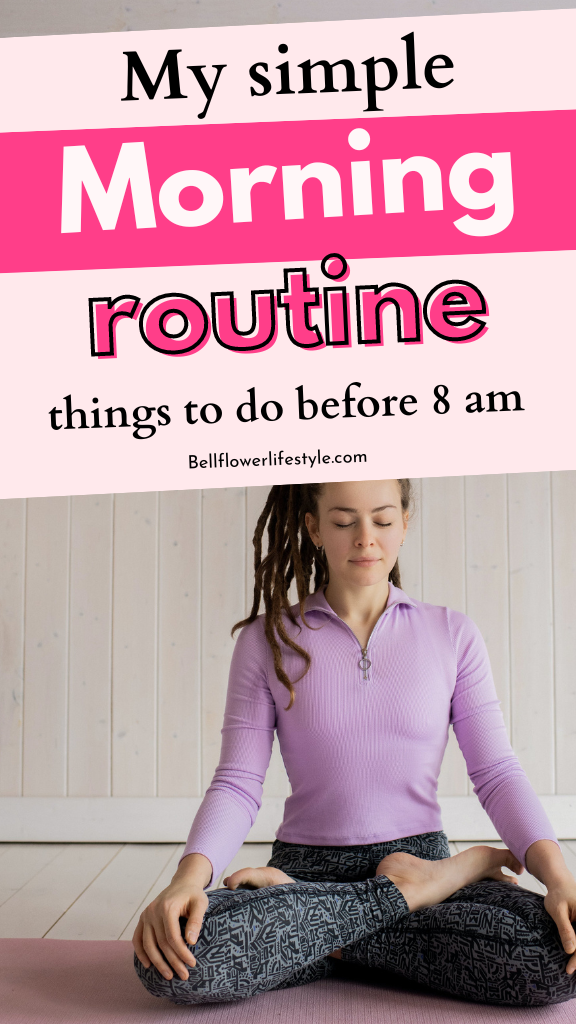 This post was all about things to do before 8 am
If you liked things to do before 8 am , you will love-
Follow me On Pinterest