Best 7 day glow up challenge to naturally glow up in a week
(Last Updated On: August 16, 2023)
If you want to have a glow up and you have no clue how it works, The 7 day glow up challenge is all you need to begin with!
This post may contain affiliate links, which means I'll receive a commission if you purchase through my link, at no extra cost to you. Please read full disclosure here.
Somewhere deep down, all of us wish to have to glow up, we all have thought about it multiple times growing up, i am sure,
When summer is around the corner or your birthday. Wanting to have a complete glow-up is something we all wish to do.
I can surely, say, I do! As a teenager, I would follow a summer glow up routine, and when my birthday or a new year would begin,
I would promise myself to have a major glow-up this time.
This inspired me to write this post because I feel many like me wish to do the same, and if you do, here is a little 7-day glow challenge for you to begin with!
What Is A Glow Up Challenge?
Before we get into the 7-day glow-up challenge, what us first understand what glow-up even means?
I feel we tend to have our own definition of this term, Looking pretty, or fit.
But if I have to say what glow-up means from my perspective
I think of a woman when you look at her, she is glowing like sunshine now, I don't mean her face.
But her aura, meeting someone who is glowing from the inside out, you feel naturally optimistic around because something in them is sparkling.
That's why the term glow up for me, is not having a pretty face or body but having an overall spark that glows within
hence This 7 glow challenge is a challenge to help you glow up from the inside out, a challenge in which every day we will focus on a particular area of your life
Benefits of 7 Days Glow Up Challenge
If you manage to stick with this challenge for a full seven days, here are some of the benefits you may experience!
Build Confidence
Improve your mindset
Healthy Lifestyle
Better Grooming and Personal Care
Improve Mental health
Build a wellness routine that you can follow
Personal Growth
Feel good after the challenge
Motivation
Sense of Accomplishment
Building long-term Habits
How can I glow up in 7 days?
A glow-up can take some time, it requires consistent work and patience, It takes to see results, whether it is your body, mind, or skin!
It is simply how our body overall functions, we cannot see a huge clear difference in a day or two but with consistent work, it builds up over time, and after a while, we can see a clear difference.
So glowing up is an ongoing process, you have to keep working on yourself to better your overall well-being, this 7-day glow-up challenge will help you get a taste of what goes behind a glow up
And how it can feel, this can set a base for you so you can continue working on it, and eventually, you can see a huge glow up within yourself!
How To Start Your 7-Day Challenge!
Day 1: Skincare glow up
On day 1, we will start with an easy plus fun activity and work on having a skincare glow-up!
Now this does not mean in a day, your skin will glow, but on day 1, we will create good skin care, which will not be super satisfying but will be easy to follow every day so we can see real results.
Skincare is a huge part of my life, and I believe, that it should be everyone's too!
You absolutely cannot ignore skincare in your life even if you don really care about looks, skin care is about our skin health!
As someone who had acne all my life, this was obviously something I was very serious about
I have learned many things about skincare, and one thing I want to share is to
Good skin is a combination of your internal health, genetics, and skincare routine.
One alone cannot do everything! As much important as a good skincare routine is, having a proper diet and a healthy body is!
If something is going wrong in your body, it will show in your skin too!
Creating a good skincare routine
Understand your skin type – oily, normal, combination, or dry
Buy products as per your skin type and concern
Read all ingredients before buying any product
Skincare order to follow
Facewash – Make sure it is a gentle facewash you can use every day
Toner: If you want to add an active ingredient to your routine look for toners (rice toner is best)
Serum: again to include activity in your skincare, serums can be a great way that sits on your skin for a long time
Moisturizer: Choose a soothing moisturizer per your skin type that you can use every day
Sunscreen: A must to apply every day in the morning to protect your skin from Uv rays that can damage your skin
Toners and serums are optional as they can be used, only if you are trying to target a particular skin concern and are used, 1-3 times a week only.
Day 2: Glow up your Body
One day I want to shed light on something we all wish to focus
A body glow-up can be different from person to person, I would never promote being slim or certain body type and take this as a reason for the glow-up physically
Being physically fit is what is most important so not only our body can, function properly, but also we can feel confident and comfortable in it
However, I also do know, that we tend to have body goals like having toned arms and muscles and stuff which is normal to consider as a body glow-up if you do
Now it's not possible to see a vast change in your body in a day or even a week
Our body is so different and unique that it works differently for everyone, that's why if you wish to have a physical glow up
You will have to, consistently work on your body for a long period.
I remember when I lost 7kgs, it took me almost 6 months of following a diet and workout
Today on Day2: I would like you to start by setting a realistic body glow-up goal for yourself
Don't focus on the months but more on how you can work on it every day!
Look up YouTube workouts, join a gym or a Pilates class, as per your needs, and build a healthy routine!
The idea is to work on your body every day and keep it active!
Some of the easy exercises you can begin with from day 2 itself
Walking for 30 minutes
10000 steps in a day
20-minute beginner workout at home
Running
Ditch the elevator and take the stairs.
The goal is to move your body more and more, and it will automatically keep you fit over time
it is an easy way to stay consistent as well!
Day 3: Do a mental glow up
One of the most important, glow-up in my opinion, is to glow up mentally!
Remember I talked about what glow-up means to me in the beginning? Someone who radiates from within!
It comes from having positive mental well-being.
Even if you are fit and have the best skin, but feel insecure and uncomfortable in your body, It will show,
The glow is visible when your heart and mind speak confidently! That's what real beauty is like
There are some things, you can do to achieve a mental glow, and on day 3, we will be trying out these activities.
However, again it should be noted that to see visible differences, it takes time and consistency!
Mental glow-up guide!
Positive affirmations: Positive affirmations are my #1 tried and tested method!
Back in 2021, when I struggled with low self-esteem, it was practicing positive affirmations consistently, that helped me feel confident and comfortable in my body!
Positive affirmations work by reversing the negative self-talk that we tend to tell ourselves, like "I am not good enough", I look ugly and so on
As you start speaking with yourself more positively, over time your subconscious mind will start believing in it.
Your mindset and way of looking at yourself will change dramatically, and that will help you love yourself again, be confident and overcome low self-esteem.
Here are 170 Life-changing Affirmations for glow-up you can practice today on your day 3 and every day!
Start journaling for self-expression
Our mental affects our mood, behavior, and habits, Even if you look the best, but are not feeling mentally okay, it would not feel like a glow-up, would it?
You need to feel great, positive, and happy!
Journaling is one such way to focus on your mental health that does not cost anything.
You can use journaling to express what you have been feeling, and quite, often it gives you a solution to what you have been worrying about!
To start journaling, I would recommend reading some of my posts that explain in detail!
Practice self-love and compassion
More than others, we tend to be harsh on ourselves, which results in poor mental health.
Loving yourself is so important and a basic thing we need to do to be happy, Be kind to yourself and listen to your heart.
Here is a full guide on how to start a self-love journey
Day 4: Holistic health glow up
We worked on physical health and mental health, on day 4 we needed to work on another important thing without which a glow is impossible.
And that is your internal health that happens with a good nutritious diet!
No matter how much your workout, It is always 80% nutrition that brings in the result
In mental health as well, it is the kind of food we eat that affects our moods! Some foods tend to trigger anxiety and make you feel lazy
whereas, some foods help you feel energetic and help in healing you!
So following a healthy superfood diet is so essential to have a complete glow-up!
Nutrition is a whole complete topic on its own, but on day 4, here are a few things you can start implementing!
Drinking 8-10 glasses of water a day
Have leafy greens and lots of fruits (which we tend to avoid)
Get your daily protein!
Avoid eating processed food
Avoid sugar as much as possible
Eat your dinner early and light
Eat according to your body's needs
Read
Day 5: Wardrobe makeover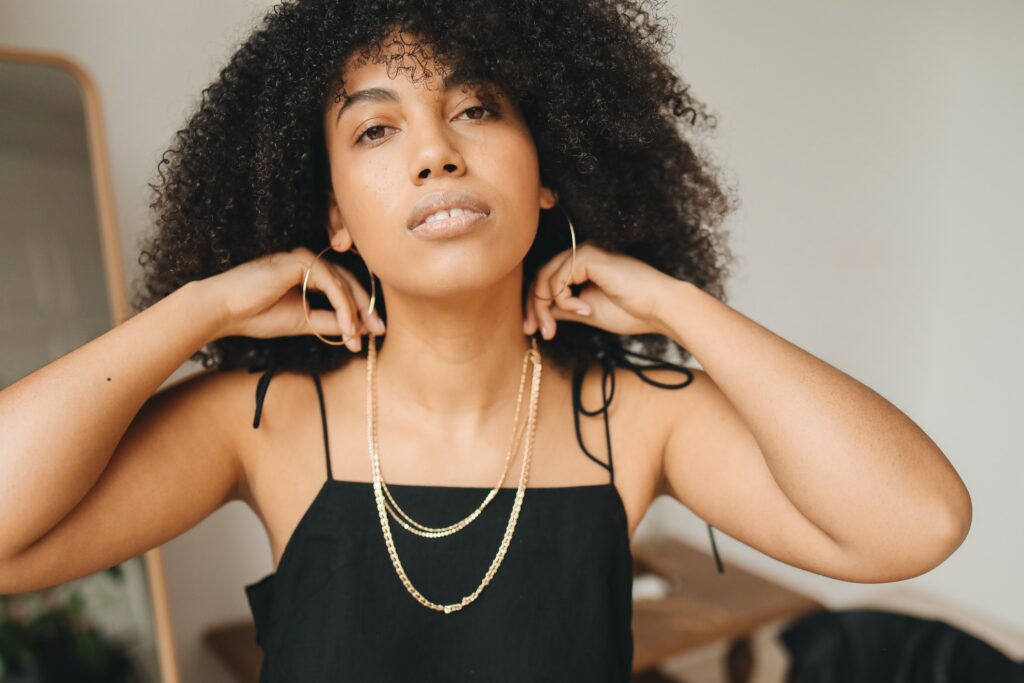 Day 5, is going to be super fun because we will be doing a wardrobe/makeup/style makeover!
This is a more quick fix like dressing as per the style that looks good on you, makeup style that enhances your looks and features, and putting effort into dressing up a little more
Trust me, our clothing style can totally elevate our look! Here are some things to glow up your wardrobe!
Dress according to your body type
Do color analysis and find what colors look good on you
Try different fashion styles and find one that you feel comfortable in as well as enhances your look
Always accessories your outfit, with earrings, necklace, sunglasses, bags, and belt!
Do makeup that suits your face!
Experiment with different hairstyles
Wear your footwear as per your style to complete the look
Day 6: Self-care glow up
On day 6 we will pamper ourselves by practicing lots of self-care activities.
Self-care is an important part of Glow Up because it helps you, take care of yourself!
The more you work on improving yourself and feeling good, the glow-up will naturally happen with time!
On days when you are not feeling good about yourself, self-care is all you need because what else should you do?
Self-sabotaging yourself and feeling worse is not something to opt for it?
Especially when you easily feel better and turn around your bad day by doing simple self-care activities!
here is something to do to pamper self-care day
Taking a long relaxing bath
Taking a long nap
Listening to good cheerful music
Indulging in a hobby for hours
Dress up and go out for fun or…
Stay at home all cozy watching a movie.
The options are endless! It is all about showing up and doing something for yourself, caring for yourself.
I tend to have bad days and negative thoughts, and what helps at that moment is indulging myself in something interesting that helps me not dwell on those endless negative thoughts.
If you are looking for some more self-care ideas to practice, I have got tons for you!
Day 7: Create a Daily glow-up routine
Wow! We have reached the last day of 7 days glow-up challenge already!
On the last day, I don't want you to do any glow-up activity as such but create a daily glow-up routine for yourself from the past 6 days
I am sure by the end of this challenge, you would have understood how important each factor is in a glow-up, and they all need to be done consistently to see visible changes.
So how about you collect all the factors and create a daily routine for yourself where you can focus on doing daily glow-up activities
For example:
in physical glow-up, creating an activity that you can easily do
in mental glow-up, working on yourself by doing any one activity like affirmations for 10 minutes daily
One self-care activity for each day
following your skincare routine consistently every day
Building healthy eating habits to holistic glow up
Every day put 0% more effort into dressing up!
This was just an example, you need to create a daily routine that works for you!
All of this will build up over time and not only but others will see the change as well!
My experience
In 2021, I had a glow-up myself, I know this because I remember my friends complimenting me that I look more confident and comfortable in myself.
I am happier, and radiant now, and I will tell you that this glow-up for me happened.
Because I focused on overall inside-out glow-up, from mental, physical, spiritual, skincare, makeup, everything
It did not happen in a day or two but throughout one year of working consistently,
Who Should Take 7 Day Glow Up Challenge?
This glow-up challenge can be done by anyone who wishes to try it to experiment with how it feels at the end of a week.
And of course, for anyone who has been thinking about a glow-up for a while, this simple 7-day glow-up challenge is perfect for you to start with 7 days will pass by easily, and you will get a taste of what goes behind it!
Overall, if you have read the complete post, you would know this challenge, is very basic in terms of building a healthy life too.
If you have been wanting, to simply level up your life or personality, this challenge can be great!
You don't need any incentive to glow up your whole life. but –
Anyone who has been wishing to better and embrace your life by changing your lifestyle
Individuals seeking a confidence boost
Individuals aiming for a healthier lifestyle
Those in need of a positive routine
Anyone looking for a major life transformation
This Challenge is for you!
Tips for sticking to a 7 day glow up challenge:
Lastly, if you are anxious about whether you will be able to stick with the 7 day glow up challenge or you have completed the 7-day challenge but are worried about sticking to it after that
Here are some tips to help you stick with the challenge!
Find a motivation or source of inspiration to continue with this glow-up challenge
Start with only one simple activity in a day that you can follow easily
Make the habits fun for you to do you don't feel like procrastinating!
Be patient with yourself! Keep reminding yourself that it takes time, and it will happen! All you need is to be consistent
Make actionable steps for each day so you know what you have to do
Join a friend to stay motivated
Don't focus on the result but on the process of doing it! If you keep thinking and looking for results, staying consistent will become difficult.
Let's glow up Now!
We have completed the 7-day challenge! WoHOO, if you have already done the challenge, I hope you found it helpful and would love to know your experience in the comments!
For those who will be starting this challenge now, All the best! Cant for you to glow and grow this week!
By the end of this challenge, I am sure you will be left feeling positive, more confident, and grateful for your body!
Like this Post? Pin it for later!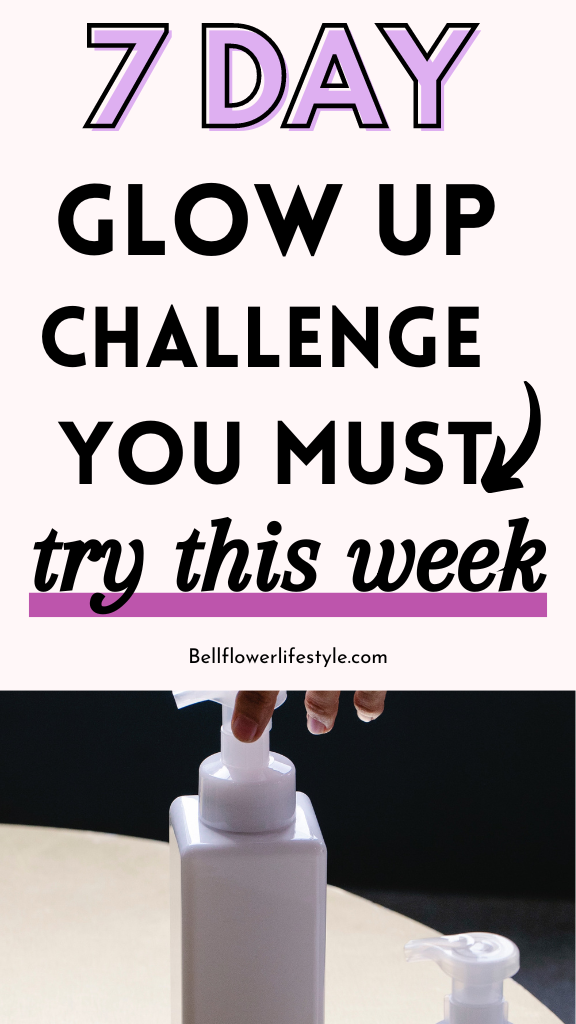 If you like this, you will love-
Follow me On Pinterest