50 Cozy Fall Self-care Ideas to Be Happy
(Last Updated On: September 18, 2023)
Fall is here! There is no better time to indulge and make the best of autumn with these fall self-care ideas!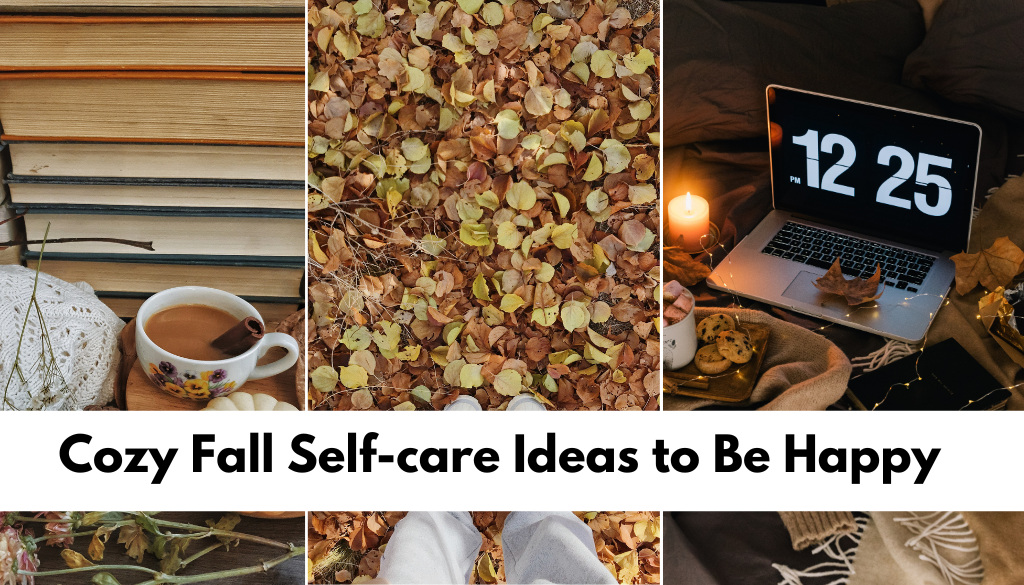 This Post is all about Fall Self-care Ideas
This post may contain affiliate links, which means I'll receive a commission if you purchase through my link, at no extra cost to you. Please read full disclosure here.
As the new season has begun, it is a great time to make changes in your life, it's a great opportunity to enjoy self-care even deeper through seasonal activities and the warmth of fall.
There is something more special about fall than any season, I don't know if it's the leaves, the color of fall, or the cozy feeling it brings
But it makes me truly happy to enter this new season!
Self-care is really important even in fall, the weather changes although, it makes you feel good in areas with extreme winter, can also lead to seasonal depression.
These fall self-care ideas will absolutely help you get out of the seasonal blues and take care of yourself!
How do you take care of yourself in the fall?
50 Fall Self-care Ideas
1. Start your morning slow and cozy
We know summer mornings are always emphasized to be rushed and productive, we have more days, so we should work more hours.
But fall is different, the coziness in this season makes it legal for all of us to unapologetically wake up slowly and start our day without any rush!
Do not feel guilty and allow yourself to enjoy your morning in bed, doing stretches, making pancakes, or any favorite meal of choice.
Do some stretches or read a book before you start your actual day!
In case you are looking for a step-by-step, cozy fall morning routine
Read this post – Cozy Fall Morning Routine You are guaranteed to Love
2. Soak up the last days of warm weather
Fall still has some level of warmth in some parts of the world, so it's not all wintery.
It is personally, a great season because it's neither too hot nor too cold! It's perfect
As summer and hot weather leave us, instead of feeling sad or excited about it, let us soak and enjoy every bit of it while it's there
When winter begins, some of us might miss this moment, so why not soak in all of it while it's here?
3. Enjoy a warm cup of apple cider or hot cocoa.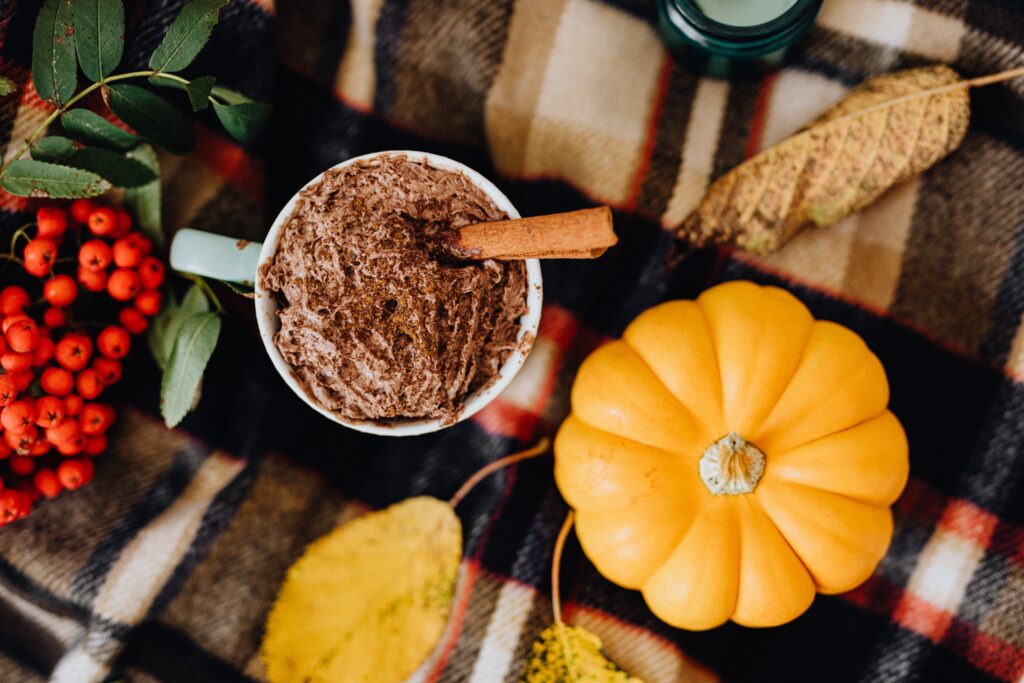 One thing that is so soothing and special about fall is the fall drinks! Sipping each sip just feels like another type of bliss!
Whether you like apple cider, hot cocoa, or any other drink, it's your choice!
Enjoy the process of making and sipping it slowly and being present in the moment
either enjoying the silence
reading a book on a fuzzy blanket
Watching a comfort show
talking a friend
4. Update your skincare routine
As the new season changes, we have to update our skincare routine as well.
Like if you have dry skin, your skincare in summer is going to be different than one in winter!
Make sure to get skincare as per your skin type and how the weather will affect your skin!
5. Have a cozy movie night with your favorite fall films.
I love cozy movie nights with my best! I watch tons of Korean movies though but since its fall.
You can even go ahead and plan a fall movie night! Having fall-inspired snacks and watching on a weekend is the ultimate cozy vibe for the season!
6. Go for a Solo date
There are so many activities in fall that can be done alone at home, which is cute, but it is also important to feel complete in your own company when going out
Don't be dependent on others to enjoy this season with, go out on a fall date with yourself and explore around!
This will nourish and deepen your relationship with yourself!
If you are confused about what to do on a solo date – Here are 100 solo date ideas
7. Read a book by the fireplace.
You are lucky if you have a fireplace at home! Make the most of it by creating the ultimate cozy vibe.
Doing the famous, book reading by the fireplace is the tradition of the season! Don't miss it!
Get yourself a drink, blanket and sit by the fireplace, and enjoy!
8. Go for a leisurely walk in the crisp fall air.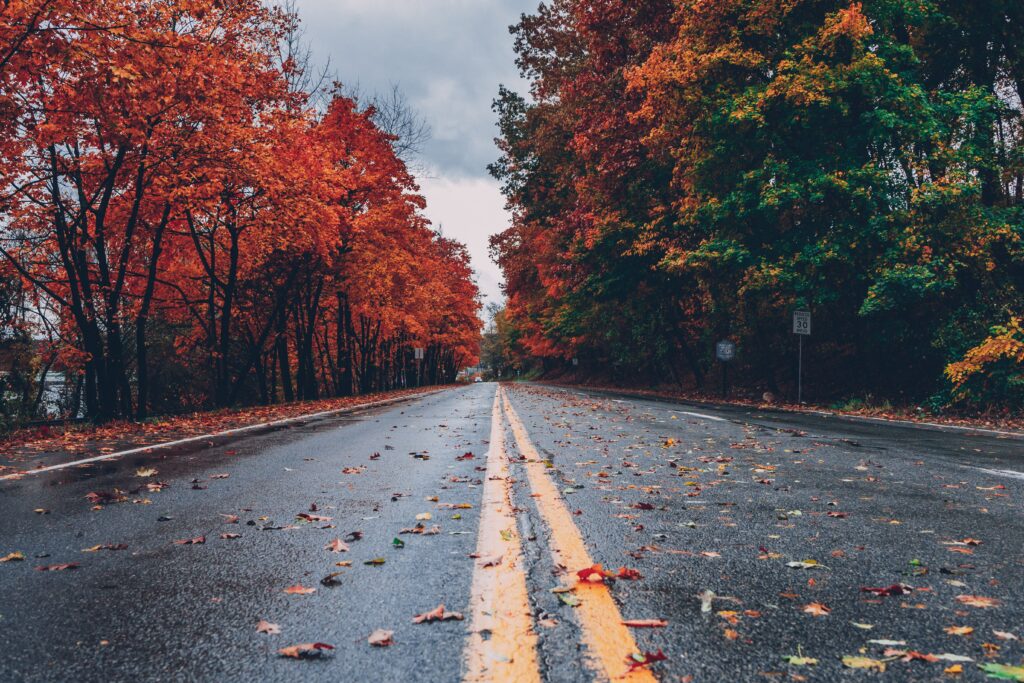 The most beautiful part of the fall season is not just the cozy vibe but the nature!!!
The beautiful leaves, the trees everything is so beautiful and healing!
The more time you can spend in nature in this season, the happier you will feel!
Go out, for a walk and enjoy the air, the leaves, and the autumn beauty around you!
9. Make a vision board for the last few months of the year.
Don't give up on the year in terms of your goals and dreams, there is still much that can be achieved in the last few months of the year.
Make a vision board of the things you can REALISTICALLY achieve in the last few months!
It includes one main goal and many tiny happy experiences you wish to include for the next few months!
Here are a few posts to help you make a vision board in case you need a guide
10. Visit a pumpkin patch and pick your own pumpkins.
Follow the exciting fall tradition of going to a pumpkin patch and picking your own pumpkins.
Carve them, and use them during the fall as much as possible!
11. Indulge in Positive affirmations for fall.
While the season feels super cozy and happy, the feeling does not stay all day, right?
Life happens, we feel all kinds of emotions!
Whatever you experience, you can still manage to feel good!
Affirmations are my favorite way to do so!
Practice Affirmations for the fall season to beat the holiday blues or any stress!
12. Rest
Resting your mind and body is very important so make sure to get lots of rest in the season!
13. Try a new fall-themed recipe.
If you love cooking or have been interested in getting into cooking then, use this season to make exciting fall-inspired recipes!
You can check out this post for ideas – 85 Best Fall Recipes That Are Full of Autumnal Flavor
14. Add healthy rituals to your routine
Fall self-care is all about taking care of yourself! So, it's a must to add healthy rituals to your day!
Eating healthy! Make sure you don't overindulge in junk food and still maintain a nutritious diet.
Make sure you are getting plenty of sleep and rest!
Make sure you are prioritizing your mental health first and foremost.
15. Explore a nearby forest or nature reserve to see the fall foliage.
Use the weekend to go and explore any forest or nature reserve around you getting all the fall feels!
Plan a day and a bunch of activities you can do while you are there! If you enjoy painting or want to give it a try
You can spend time there painting the scenic beauty around you!
16. Have a picnic in a park surrounded by autumn colors.
Don't feel sad if you can't find a forest or nature reserve around you! You can still go to a nearby park and have a picnic day!
Solo or with your friends, that's up to you, but make sure you do this because it feels super relaxing and healing for you
17. Practice yoga or exercise
Don't forget to include yoga or exercise in your routine because that is one of the most important parts of self-care!
The season can make you stay in bed all day and feel lazy
While there is no need to feel guilty for doing so, make it a point to do 10-minute stretch, yoga, or any form of exercise if your choice
It will make you feel even better!
Here is a yoga stretch you can do on your bed!
18. Organize your life for fall.
The new season does require some changes and fall organization!
It could be revamping your wardrobe by taking clothes for the new season and packing up your summer clothes.
It can be decluttering and organizing all things at your home!
19. Add fall-inspired clothes to your wardrobe.
As you are revamping your wardrobe, make sure to add a few pieces of fall-inspired clothes!
A sweat, color, or anything that makes you feel cozy and speaks autumn season!
20. Take a break from being productive to do fun fall things.
Work is still going to be on in the season, and it is easy to slip away from the productivity zone and forget about enjoying.
Make sure you take breaks from working all day and do fun fall things!
21. Take a scenic drive to enjoy the changing leaves.
Another on the list of Fall Self-care Ideas is driving around and soaking in the beauty of fall!
The leaves and the decorations are all around the time of fall, and Halloween is so beautiful!
22. Take up knitting or crocheting or any hobby.
To really add fall self-care in this season and feel happy, one thing to never miss is,
indulging in a hobby is the happy place or safe place that will always exist to make you feel good, no matter what happens outside in life
For the season, you can try knitting or crocheting if you want to do just any hobby that you personally enjoy
Here are
23. Have a spa day at home with pumpkin spice-scented products.
Plan a soothing spa day at home with all things pumpkin spice-scented products!
How cool and exciting it is! It will truly make you feel the season!
24. Make a list of fall things that make you happy.
Journaling is one of my favorite ways to practice self-care whenever I feel down.
There are so many light and easy ways you can journal, and one such tiny way you can practice in this season is by
Making a list of all things fall that make you happy, will work as a reminder to you of your happiness and experience those things whenever you feel down in the season
25. Practice mindfulness meditation to stay present
A key to seasonal self-care is being present in the moment, that is the purest way to enjoy and take care of yourself.
Practicing mindfulness in everything so you don't let negativity or overthinking enter your mind. It will let you push away those things at the moment!
26. Create a fall-themed playlist.
Music is a great way to enjoy the season and boost your mood even more If you love listening to music.
You will enjoy this activity even more! Create a fall-themed playlist and include all the songs you love that remind you of the season
27. Do a digital detox and spend a day without screens.
One of the healthy Fall Self-care Ideas for your brain and mental health is doing a digital detox.
Get rid of all the digital clutter in your life! And spending your day without any screen
It may seem like a difficult task, but once you complete, it you will be thanking me! I swear!
You will realize how beautiful your day was
Here is an Easy Digital Declutter Checklist to Simplify your digital life
28. Make a fall bucket list
There are so many things you can try in the fall that are super exciting and unique!
I feel like I have already shared many in this post, but there is still so much more!
Make a fall bucket list and plan to tick them off in the season one by one!
29. Plan a weekend getaway to a cozy cabin.
Take the weekend and book a cozy cabin to truly celebrate the beauty of fall!
30. Have a bonfire with friends or family.
Have a friend and family get together and enjoy the bonfire!
31. Have a fall monthly reset.
The new month calls for a reset routine to reset your life for the new season.
I truly believe in doing a monthly reset every month to start afresh and plan your life better with a relaxed mind!
Hence, a monthly reset in the fall is a must too!
Powerful monthly reset routine + checklist you need to reset your life
32. Have a cozy night in with a good book and a fuzzy blanket.
Have a lowkey, cozy night by yourself just reading a good book!
33. Have a cozy breakfast in bed.
Don't we all dream of cozy breakfast-in-bed vibes sometimes? How about we try to have it for ourselves this season?
34. Plan a cozy, at-home date night with your partner.
A cozy date night at home with your partner is so pure and beautiful! So intimate and helps you deepen the relationship by getting that quality time!
35. Volunteer at a local charity or food bank.
Self-care also comes by spreading kindness out in the universe!
You can make this fall season filled with goodness by even volunteering in a food bank or local charity
It's the small things that make you feel wholesome!
36. Start a new book series.
Reading in the winter season hits differently, it is just so cozy after all!
A perfect way to relax in your day-to-day routine! If you love reading, you will, of course, enjoy it 10x!
However, if you have never gotten into reading, this is a great opportunity, to start a good book series that will get you hooked!
37. Get in touch with a therapist or mentor.
Mental health is the most important part of self-care,
things, happen in our lives that leave us feeling sad emotions we can't seem to overcome. if you feel, that you have been going through something like this
It's always great to get in touch with a therapist who will comfort you and guide you to overcome this phase!
38. Try your hand at photography and capture the beauty of fall.
If you love clicking pictures, which I am sure many of you do at this time in the social media world
Capture the beauty of fall and keep it as a memory in your life, to look back on!
39. Tick something off your to-do list
Plan days in this season to tick something off from your to-do list!
40. Explore a new park or hiking trail in your area.
Spending time out, exploring new parks in the autumn nature, and even just for a few minutes each day, can really bring you joy!
41. Find a new podcast
Find new podcasts to listen to and feel inspired in life again, podcasts, that bring you comfort, motivation, or a daily dose of entertainment!
42. Create a new nighttime routine.
Apart from the morning routine, having a fall-inspired, cozy wind-down nighttime routine is a must!
Think, about how would you like to end your day in this season. Something special, and relaxing to instantly fall into deep sleep later on!
43. Make a list of your goals for the remainder of the year.
An amazing, and personal growth-boosting self-care activity you must do in the fall is making a list of goals for the rest of the year.
There is still so much that can be achieved in the last quarter! Do not give up on goals, and find something you can achieve
44. Take a long, relaxing bath.
Why not take a hot shower in the cold fall season and relax? Take it slow and let your body relax as much as possible
45. Set boundaries
Setting boundaries is an important part of self-care and self-love
Many people push your boundaries, which can truly affect your energy and mental health
It's important to set clear boundaries and learn to say no!
46. Have a spa night with DIY face masks and treatments.
Fall Self-care ideas must include lots of soothing and relaxing pampering days.
Have a spa night by putting on face masks and doing a thorough, relaxing skincare routine!
47. Form a new habit
Add a new habit in the fall season to boost personal growth and take care of yourself,
A new habit in a new season will help you grow as a person and find the motivation to achieve something by the end of the year.
Just choose one habit that you wish to incorporate in the holiday season!
48. Enjoy alone time
Spend more, and more alone time to deepen and nourish your relationship with yourself and increase self-love!
Spending alone time will help you get to know yourself more and enjoy your company, so you never feel dependent on others to be happy!
Here are 23 me-time ideas to enjoy alone time
49. Find a fall festival or carnival to go with loved ones
There are many fall festivals hosted in the world, and if you happen to find one in your city, go ahead and enjoy it with your loved ones!
50. Make a list of things you're grateful for.
Gratitude is an important thing to include every day and every season, make sure to make a list of things you are grateful for in this season.
You remind yourself how much goodness you have despite some sad circumstances, there is always something to be thankful for!
Also read the A to Z gratitude list: 300+ things to be grateful for in the fall.
Final Thoughts on Fall Self-care Ideas
So these were the 50 Fall Self-care Ideas that I feel will truly make you enjoy the season and take care of yourself.
Remember to be kind most of all in this season and do things you love.
Did you like this Post? Pin it for Later!
This Post was all about Fall Self-care Ideas
If you like this, you will love these-
Follow me On Pinterest